A joy ride in the Minors' busiest ballpark
Florida's Roger Dean Stadium preparing for 170-game season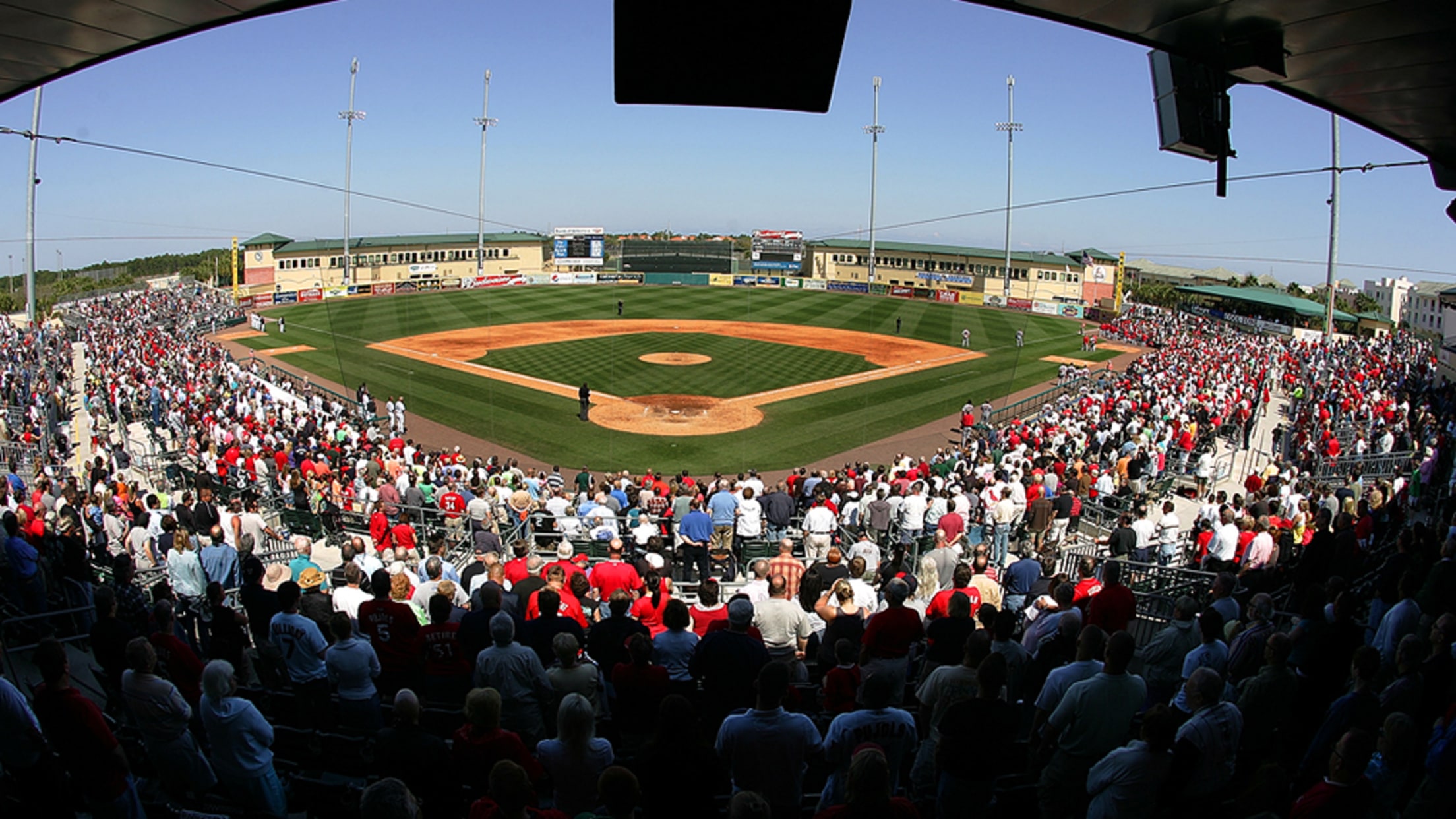 Roger Dean Stadium is host to two Spring Training teams and two Florida State League teams. (Danny Wild/MLB.com)
Walt Disney World has long branded itself "The Most Magical Place on Earth," but a similarly hyperbolic slogan could be applied to Roger Dean Stadium: "The Busiest Ballpark on Earth." Located in Jupiter, Fla. (approximately 150 miles south of the Magic Kingdom), the stadium stands alone in the world of
Walt Disney World has long branded itself "The Most Magical Place on Earth," but a similarly hyperbolic slogan could be applied to Roger Dean Stadium: "The Busiest Ballpark on Earth."
Located in Jupiter, Fla. (approximately 150 miles south of the Magic Kingdom), the stadium stands alone in the world of Minor League Baseball when it comes to use. While most Minor League front offices are gearing up for the grind of a 70-game season, those who work at Roger Dean are gearing up for the grind of a 170-game campaign. The 16-year-old facility serves as the Spring Training home for the St. Louis Cardinals and Miami Marlins and then goes on to host the Class A Advanced Florida State League affiliates of both teams (the Palm Beach Cardinals and Jupiter Hammerheads respectively).
That amounts to 15 Spring Training games for both Major League clubs, then 70 each for the two Minor League teams that call Roger Dean home. (They played each other 19 times last year). As if that weren't enough, the stadium also hosts the Cardinals and Marlins' Rookie-level Gulf Coast League affiliates on its surrounding back fields -- admission is not charged for these games -- as well as a wide variety of tournaments and community events.
Mike Bauer, Roger Dean's general manager, sums it up in an understated fashion: "We stay busy."
Roger Dean Stadium is located in Abacoa, a "live, work and play" planned community in Jupiter that includes 17 neighborhoods (each possessing a distinct architectural style) and some three million square feet of commercial space. Bauer refers to the stadium as "the centerpiece of an enormous Leave It to Beaver-type environment," and says even after 16 years of heavy use, it is still "state of the art."
Roger Dean Stadium was built in 1998 with the specific intent of accommodating two teams, and therefore each tenant has its own clubhouse, practice fields and training facilities. During its first six seasons of existence, the ballpark hosted the Cardinals and Montreal Expos, but after the latter team dissolved, a series of transactions resulted in the Marlins organization taking their place.
"What we have is a partnership between the two teams called Jupiter Stadium Limited, and I'm the general manager of that partnership," said Bauer, going on to explain that the "Roger Dean" moniker is the result of a naming rights deal with a local car dealership.
After graduating from the University of Florida, Bauer landed an internship with the Tampa Bay Devil Rays and then spent five seasons with the NHL's Tampa Bay Lightning. The Lightning were owned by Palace Sports and Entertainment, and after Palace purchased the Asheville Tourists, Bauer moved there to run the team. That's a formidable amount of front-office experience, but nothing could quite prepare him for the realities of running Roger Dean Stadium.
"It's grueling, I'm not going to tell you it's not. We have 170 professional baseball games as well as the GCL going on in the back," he said. "We also host regional youth tournaments as well as more high-powered ones like the USA Baseball and Perfect Game Tournaments. ... We've hosted a beer festival, had high school football in the outfield, and done boxing, bar mitzvahs, weddings and celebrity softball."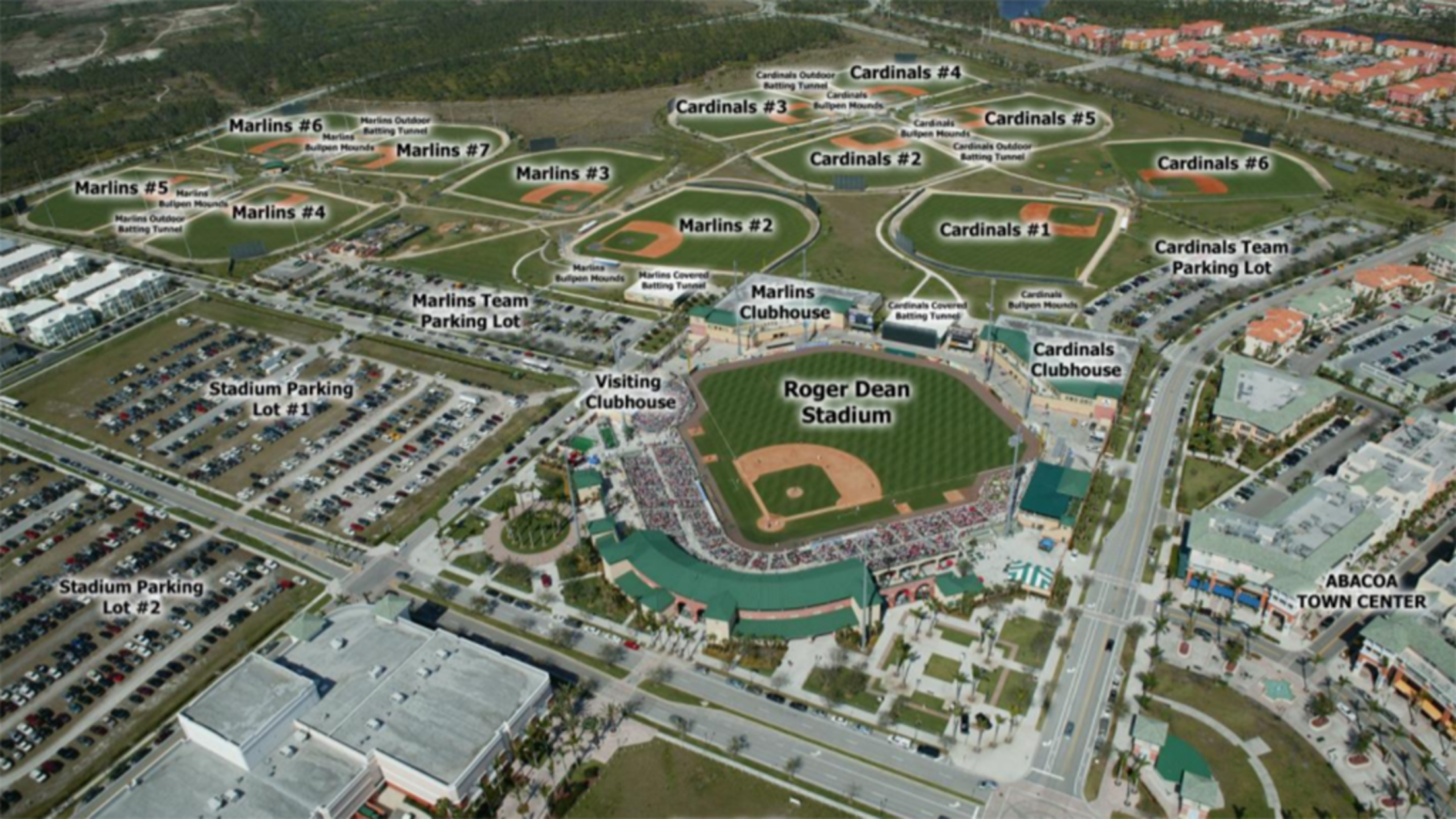 The offseason at Roger Dean Stadium, to the extent that it exists, is currently in its final stages.
"Things are slowest in December, January and into February, but that's our top sales time. The offseason is such an important aspect, because that's when we're building partnerships and forming relationships," said Bauer. "In a perfect world, sponsors would get with us for both Spring Training and the Florida State League, but it depends on the partner. If it's a local business, they might focus on the FSL, but if it's somebody national, then they'll probably want Spring Training. ... We find out what their goals are, what they're trying to accomplish and build a package around that."
Of course, Spring Training will soon be upon us. At Roger Dean, both the Cardinals and Marlins will play 15 games before heading north -- well, south, in the Marlins case -- for the regular season.
"We're phasing into execution mode, doing things like part-time hiring," said Bauer. "Spring Training is such a fun experience, a great starting point. After a grueling winter, you can be in the sunshine, have a beer and just enjoy baseball."
But for the Roger Dean Stadium staff, it's the summer that's grueling. The Palm Beach Cardinals and Jupiter Hammerheads don't have separate front offices, but there is a distinct division of labor so that the overall operation can run more smoothly. Alex Inman and Ryan Moore are both assistant general managers for Jupiter Stadium Limited, with the former serving as GM of the Palm Beach Cardinals and the latter as GM of the Hammerheads. Each team also has a different PA announcer and press box staff, although things can get a little confusing when the two teams play each other in what have been dubbed "Feather vs. Fins" games.
But in a broader sense, the Cardinals and Hammerheads are run as one team. Revenue from games that take place at Roger Dean Stadium are split equally between the Cardinals and Marlins franchises, and as such Bauer and his staff don't differentiate between the two FSL clubs when it comes to marketing. For example, the recently released "Great 8" promotional schedule, highlighting eight premier theme nights and giveaways, doesn't even mention which of the two teams will be playing.
"We promote them both -- see the Hammerheads or the Cardinals," he said. "But one of the challenges when you're dealing with 140 games in Minor League Baseball is that there's a tipping point where having more games isn't necessarily better. It's just more expenses."
It also means that off days can be hard to come by.
"This is our world, we're used to it -- you have to deal with it," said Bauer. "But you do hit a wall, and employees have to know when they're burned out so that they can come to me and say that they need some time off. ... I'm good at giving four-day weekends, because 170 games -- that can be a tough pill to swallow."
That said, there are distinct positives as well.
"You get a taste of big league action during Spring Training, and then the fun and zany atmosphere of the Minors," said Bauer.