Royals' Dozier comes through in clutch
2013 first-rounder smacks grand slam in ninth for Blue Rocks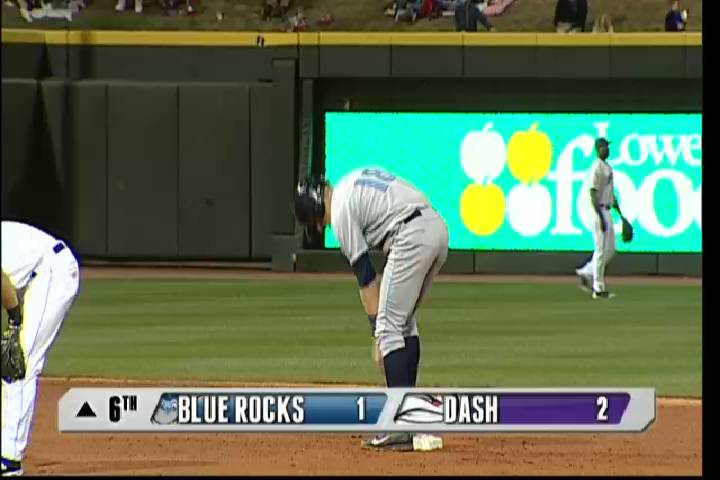 By Sam Dykstra / MiLB.com | May 6, 2014 4:26 PM ET
With April comes spring. With spring comes baseball. With baseball comes pressure.
Hunter Dozier, playing in his first full season since being drafted eighth overall last June, felt that pressure, and it showed. He batted .235 over 23 April contests with only four extra-base hits and 20 strikeouts in 81 at-bats.
But now, it's May. The calendar has flipped and so have the results.
The Royals' No. 7 prospect smacked a game-winning grand slam in the top of the ninth inning Tuesday afternoon in Class A Advanced Wilmington's 6-3 win over Salem. He finished 2-for-3 with the homer, four RBIs and two walks in the winning effort.
Making his third start of the season at DH, Dozier was given the chance to play the hero in the game's final frame after Daniel Rockett and Raul Mondesi both reached on singles -- the latter on a bunt attempt -- and Bubba Starling walked on four pitches to load the bases against Red Sox right-handed reliever Austin Maddox.
Despite Starling's free pass, the right-handed slugger swung on Maddox's first-pitch fastball, sending it over the wall in left field for his second homer of 2014 and his first professional grand slam.
"I did a good job of laying off the breaking balls earlier in the game, so I thought it'd be a good idea that they start with the fastball," Dozier said. "That's what I was looking for, and luckily, I made it count.
"[Maddox] was kinda all over the place with Starling, but I wasn't going to change my approach just because of that. In that situation, I wanted to be aggressive. So when I got my pitch, I tried to hit it."
Both of Dozier's home runs have come among his six May games (His first of the season was on May 1). In those six contests, he's 9-for-19 (.474) with the two homers and seven RBIs. The uptick isn't a mistake.
"Early in the season, everyone wants to start well and get the ball rolling," he said. "I put a little too much pressure on myself to perform and was a little too aggressive at the plate trying to make that happen. I've moved on from that now, and these past couple of series, I'm starting to feel more comfortable up there."
The numbers back up Dozier's claims of over-aggression. Since April 28 -- his last game in the season's first month -- the former Stephen F. Austin State standout has walked nine times and struck out only once in seven games. Not only has he raised his OBP from .337 to .402 (sixth-best in the Carolina League) in that span, but with a more relaxed approach at the plate, he's also raised his season average from .241 to .280.
Dozier knew there would be bumps in his first full season in the Minors, and now that the first ones seem to be out of the way, he's hoping there are more Mays to come and fewer Aprils.
"It's a process, you have to know that coming in," he said. "It's a long season. But as long as you keep the same approach, you'll find success, and that's something I'm trying to do here."
Royals No. 6 prospect Miguel Almonte allowed three runs on four hits and two walks. He struck out five in six innings for Wilmington.
Sam Dykstra is a contributor to MiLB.com. This story was not subject to the approval of the National Association of Professional Baseball Leagues or its clubs.
View More