Royals' Gasparini on track for breakout year
Italian shortstop acclimated to Minors and finished strong last season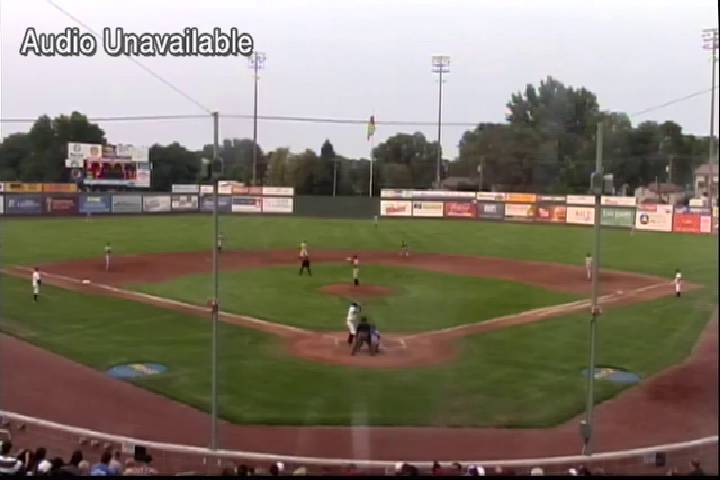 By Tyler Maun / MiLB.com | March 25, 2016 10:30 AM
SURPRISE, Ariz. -- Marten Gasparini sat on the back of a golf cart in the shade after wrapping up an extended morning practice session in the Arizona heat. In Royals' blue from head to toe, a similar shade to the legendary azzurri blue of his home country, he spun a yarn of one of those Minor League moments when the 18-year-old phenom from a small town in the Italian province of Udine knew he'd arrived in professional baseball.
"We had this really old bus," said Gasparini, Rookie-level Idaho Falls' shortstop last year. "It consistently went worse during the season. In August, we had our bus just break down in the middle of the way to Ogden. It's this lonely place, a little steakhouse on the road in the middle of ... I don't even know, Utah or somewhere. We stayed there for two hours like, 'What's going on? Are we even playing tonight?'"
It was night. Late. Gasparini and the Chukars had defeated the Raptors hours earlier in Idaho Falls, sweeping the first half of a four-game home-and-home set. The team filed into the restaurant to await a replacement bus that would ferry them to that night's contest. Someone ate steak and got sick. The night drew later.
"Two hours later, this new bus comes in. We look at it from a distance and everybody's speechless," Gasparini said. "We can't believe it. It's even older than the one we just got off. The driver comes out and he's like, 'You know guys, be respectful of this bus. It has more than a million miles on it, OK?' Everybody's just rattled. We get down to Ogden, get dressed, go play, and we won the game."
Gasparini smiled.
"That's definitely a memory I'll keep with me."
A hint of an Italian accent is all that suggests Gasparini's uncommon baseball pedigree. Growing up close to the Slovenian border, Gasparini stormed onto the prospect scene as a 16-year-old in 2013 when he inked the largest deal ever signed by a European-born prospect: $1.3 million. But the Royals' No. 8 prospect isn't a novelty. He's widely considered the best prospect to come out of Europe, a tantalizing mix of speed and defense with run and arm tools that register 60 grades on MLB.com's 20-to-80 scouting scale.
Years before he was on the radar of the scouting world, Gasparini was just a kid looking for something fun to do.
"[Baseball] was something different than soccer and volleyball, which are the most played sports in Italy," he said. "I was in that age where you want to try everything, so I gave it a try just for fun in my backyard. On TV, you see the big stadiums and the people chanting. I thought that looked really fantastic and that's how I got fascinated with it. I thought about giving it a try."
Italian baseball has one of Europe's proudest histories. The country's 29 European Baseball Championship medals (including 10 golds) dating back to 1954 are second only to the Netherlands' 30. Italy has taken two of the tournament's past three golds. The Italians have won at least one game in all three editions of the World Baseball Classic, including stunning victories over Mexico and Canada in 2013. The Italian Baseball League boasts nine teams and is considered the top league on the continent. Italian Riccardo Fraccari is the current president of the World Baseball Softball Confederation, the sport's international governing body. Baseball's Italian foundation is impressive, though most Americans -- and maybe even most Italians -- might not know it.
Getting inspiration
As a kid, Gasparini's exposure to the game came from VHS highlight videos of Yankees World Series wins from the late 1990s and early 2000s. After getting himself started with a tennis ball and a stick in his backyard, Gasparini joined a grade school friend in a youth league a short drive from Ruda and took to the sport instantly. At 11, in his second year of Little League, Gasparini's team journeyed to Kutno, Poland to play for the right to represent Europe in the Little League World Series. After seeing him play, scouts approached him for the first time.
"That's when I kind of understood that I could do something, and I started to get serious about what I was doing a little more," he said. "I always thought I wanted to do this for a living after I started playing. Not for the money, of course. I just thought that there's this sport and what's the highest level where you can play it? Play in the Major Leagues. Well, that's where I want to play it. As a kid, that's how you think. You just want to be the best."
Gasparini didn't just fall in love with a game from those Yankees highlight tapes. He also found a hero to model himself after, like so many young shortstops of his era: Derek Jeter.
"Not as much of a technical point, but definitely attitude-wise," he said of the cues he took from watching the five-time World Series champion. "He's the best example that anyone could take and make his own. The way he went about his business and the way he takes care of himself as a professional, it's unprecedented and unrivaled.
"Just thinking about what Derek Jeter would do helps me out to figure out what I should do day in and day out coming to the field."
The son of an Italian father and a Jamaican mother born in the United Kingdom, Gasparini didn't lack support for his unlikely dream. His parents encouraged him to keep playing, to travel, to chase the big leagues.
He did. Gasparini got Italian youth national team exposure during tournaments in places such as Seoul and Chihuahua and headed to the Federazione Italiana Baseball & Softball Academy in Terrenia, where he caught the eye of the Royals. Living at the academy prepared him for being away from home, but life in the Minors is always a different story.
The Minor League existence
Gasparini made his stateside debut in 2014 with Rookie-level Burlington and batted just .191/.225/.250 in 19 games. He fared better in a four-game cameo to finish the year at Idaho Falls, hitting .455/.500/.727. Last year, he went back to the Pioneer League and broke out late. After batting .205/.275/.346 in the season's first 32 games, Gasparini raked at a .357/.448/.529 rate in his final 22. A plus runner, he also swiped 26 bags for the Chukars and drastically cut down his strikeouts in the back half of the season.
"They moved me down in the lineup from hitting second to hitting sixth, and that helped me a little bit to ease into the game a little more," he said. "I started not to take it as hard on myself. Starting to understand the flow of the season, there's going to be hitting streaks and slumps and to just deal with both of those without getting your head too wrapped around one or the other. It really helps to just put everything aside and focus on what you have to do."
Gasparini won't be 19 until May 24. By that time, he could be nearly two months into a South Atlantic League campaign with Class A Lexington if the Royals challenge him with a full-season assignment.
"I definitely spent this offseason trying to get stronger, and more than that, to stay healthy and keep up with my stretches and stuff like that," he said. "This is an important time, and I feel good right now in Spring Training.
"I'm excited. That's all there is to it. I can't wait to start the season. If it is Lexington, then I'll be super excited for that, to get to live over there and see a new state and play some ball."
Tyler Maun is a contributor to MiLB.com. Follow him on Twitter @TylerMaun. This story was not subject to the approval of the National Association of Professional Baseball Leagues or its clubs.
View More