Sabourin completes cycle as Mudcats roll
After rare triple, Indians prospect caps feat with ninth-inning double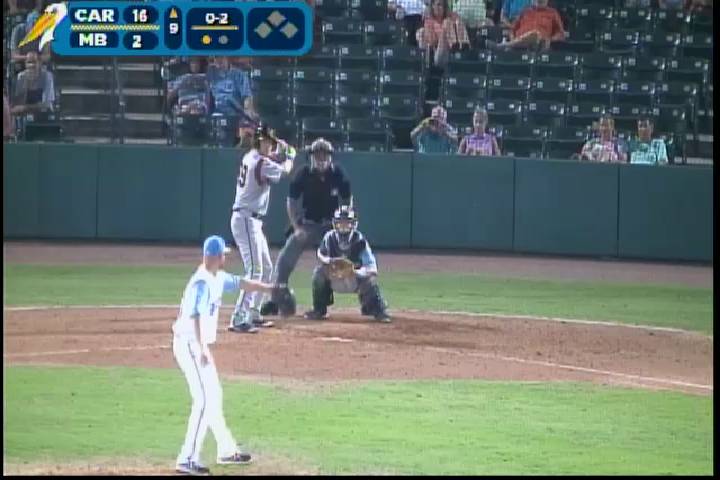 By Mark Emery / MiLB.com | July 20, 2014 12:46 AM ET
Jerrud Sabourin didn't need to do anything with his last at-bat on Saturday to feel good about his performance.
He already had posted four hits, including his first triple of the season and his first home run since June 4, in a game that Class A Advanced Carolina led by 14 runs.
With one out in the ninth inning, Sabourin's night went from good to historic. After falling behind in the count, the Indians prospect shot a knuckleball from reliever Kevin Pucetas down the line toward the left-field corner, allowing himself to coast into second base with a cycle-completing double. He came around to score Carolina's final run in a 17-2 win at Myrtle Beach, at which point the other Mudcats could celebrate the Minors' 18th cycle of the season with him.
"Honestly, it's pretty surreal, man," Sabourin said. "I wasn't thinking double, but I knew the situation. I was just trying to hit the ball hard somewhere.
"When I hit it, I definitely knew there was a chance. I saw it go over the bag and I was pretty excited because I knew that it was pretty much a double as long as I ran hard. So it was pretty exciting."
The 24-year-old outfielder became the fourth player in team history to hit for the cycle and first since Rene Reyes did it on June 10, 2002 at Greenville. The cycle is the second in the Carolina League this year and the fifth in the Minor Leagues in the last six days.
"I think that's the first time I've had five hits in a game as well," Sabourin said. "So that's an accomplishment, too. And I don't even think I've had a cycle in my life. ... It was an act of God."
After flying out in the second inning, Sabourin went yard in a six-run third, launching his third homer of the season to right field off Pelicans starter Luis Parra. He picked up his first single during a six-run fifth and collected another in the sixth. With two on and two out in the seventh, Sabourin ripped his first triple since last July 21.
"I don't usually get too many. I usually have one or two a year," he said. "I hadn't had one this year yet, so I knew I'd probably get one at some point. It felt good, too. It was just a hard hit down the line and I just happened to get it in the right spot, where the right fielder had to run enough. I was running hard to try to get there. It just worked out well."
Batting seventh and playing left, Sabourin finished with three RBIs and three runs scored. Through 63 games at Carolina this season, he's batting .298/.360/.400 with 26 RBIs. His success comes after struggling at the outset, when he hit .152/.189/.182 with three RBIs in 12 games at Double-A Akron. He signed with Cleveland as a non-drafted free agent on June 14, 2011.
Those April woes must have been far from Sabourin's mind as he crossed the plate with the Mudcats' 17th run and headed toward his buddies on the bench, who had a cycle to celebrate.
"They were going pretty crazy," Sabourin said. "I have some good teammates on this team. When I got back to the dugout, they were congratulating me and they got the ball for me. They were happy for me, so it felt good."
Catcher Jeremy Lucas homered and scored five times, joining Matt Holliday (2002) and Cameron Maybin (2008) on the list of players in Carolina history to achieve that feat. Designated hitter Alex Monsalve fell a triple shy of the cycle, going 3-for-5 with four RBIs.
Every member of the Mudcats lineup collected at least one hit and one RBI. The run total and victor margin set Carolina League-era records for the club, which also racked up more hits than in any game this year.
Ryan Merritt (10-3) became the first pitcher in the league to reach double-digit wins after allowing two runs and four hits over 6 2/3 innings with a season-high nine strikeouts. He hit two batters but did not issue a walk.
Parra (7-6) was charged with 11 runs on 10 hits and three walks with two strikeouts in 4 1/3 innings. Rangers top prospect Jorge Alfaro and Preston Beck both went yard for the Pelicans.
Mark Emery is a contributor to MiLB.com. Follow him on Twitter @Mark_Emery. This story was not subject to the approval of the National Association of Professional Baseball Leagues or its clubs.
View More