SAL notes: Guerrero starts to gain steam
Undefeated left-hander enjoying a breakout campaign in Kannapolis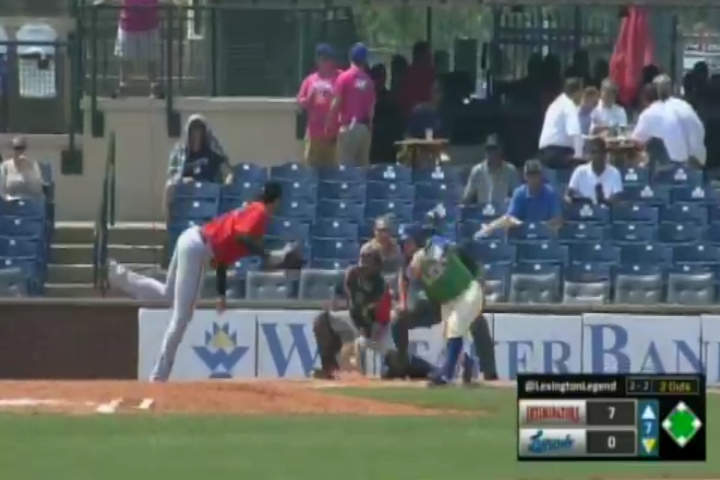 By Bill Ballew / Special to MiLB.com | May 28, 2015 10:00 AM
Jordan Guerrero's progression through the Minor Leagues has been methodical since the Chicago White Sox drafted him in the 15th round in 2012. Yet chances are the left-hander is on the verge of jumping on the fast track to the game's highest level.
Currently in his second season with the Kannapolis Intimidators, Guerrero has dominated the South Atlantic League unlike any pitcher on the circuit. He owned a 6-0 record with a 1.24 ERA through his first eight starts, surrendering only 33 hits and 10 walks in 51 innings. The southpaw did not allow a run in five starts and yielded one in two of his outings. His lone difficult appearance came May 4 against Rome when he gave up five earned runs on 12 hits over seven innings while receiving a no-decision.
As a result, in addition to leading the loop in ERA, Guerrero ranked first in the SAL with a 0.84 WHIP and a .188 opponents batting average. He also was second in innings pitched and strikeouts (56) and tied for second in wins.
"I feel really good, strong and healthy," said Guerrero, who turns 21 on May 31. "Everything is working. I feel good all the way around."
Guerrero appeared on the radar of scouts early in his senior season at Moorpark High School in California when the velocity of his fastball jumped to the low-to-mid-90s. His speed then decreased just prior to the Draft, which led to some skepticism and caused him to fall to the 15th round. Nevertheless, the White Sox were intrigued with his ability to throw three pitches for strikes, and Guerrero was thrilled to have a chance to do what he always wanted.
"This has always been my dream," Guerrero said. "Ever since I was little, I told my mom and dad that I wanted to play baseball. When I was little I would run around the softball fields while my mom played in the games. I loved being out there and I wanted to do anything I could to stay around it."
After getting his feet wet at Rookie-level Bristol in 2012, working nine innings over seven relief outings and going 0-1 with a 3.00 ERA, Guerrero made five starts back in the Appalachian League in 2013 and went 0-3 with a 4.26 ERA. He was shut down with shoulder fatigue and discomfort following his appearance an July 20 of that season. Guerrero said that the fatigue and discomfort was the result of overuse earlier in his career and included failing to take proper care of his arm.
"In high school, I would pitch and then go straight to the outfield the next day and play there," Guerrero said. "I never gave [my shoulder] a rest. I was playing nonstop. I never wanted to sit on the bench or take any days off. I wanted to keep playing."
The White Sox were cautious with Guerrero upon promoting him to Kannapolis for the 2014 campaign. He piggybacked with Andre Wheeler in the Kannapolis rotation while gradually building the strength in his shoulder. He responded by going 6-2 with a 3.46 ERA in 27 games, including a 4-0 record and 2.65 mark in 18 relief outings.
That showing set the stage for his breakout start to the 2015 season. In addition to his solid low-90s fastball, Guerrero has a plus changeup with excellent fade and depth that serves as his out-pitch and a slurvy slider that has become much harder and sharper. He credits White Sox pitching coaches who have worked with him since signing, including Kannapolis' Jose Bautista.
"I feel I'm stronger and more mature, and everything is just coming together for me," Guerrero said. "My maturity level on and off the field has really improved. I did a lot of work in the offseason to prepare for this season, and so far this year my mechanics are a lot better after working with the coaches and doing the things they told me. I've been sticking to that and doing everything day by day while not trying to do too much. I'm going out there and competing to give our team a chance to get the win."
In brief
More 'Intimidating' pitching: Guerrero is not the only hot Kannapolis pitcher. Yency Almonte has allowed only one run in his last 20 innings after he tossed a career-high seven innings in a 4-1 victory over Lexington on May 26. Acquired by the White Sox in February from the Angels for Gordon Beckham, the right-hander also matched his career best with six strikeouts. Almonte is 3-0 with a 0.45 ERA in his last three starts after going 0-2 with a 7.27 ERA in his first five outings of 2015.
Another reversal of fortune: Savannah's Brad Wieck retired 14 straight Asheville batters in a 5-1 win May 26 at Historic Grayson Stadium. Wieck worked a career-high 6 2/3 innings and equaled his second-best mark of the season with nine strikeouts. A seventh-round pick of the Mets in 2014, the left-hander has allowed one earned run in 13 1/3 innings while winning his last two outings after posting an 0-4 record and a 4.15 mark in his first six starts. He leads the SAL with 58 strikeouts and 12 whiffs per nine innings.
Pulling away from the pack: Lexington first baseman Ryan O'Hearn leads the SAL with 12 home runs -- three more than his closest competitor -- thanks to a recent outburst in which he hit his third big fly in three games May 25, which was also his fourth in his last five outings. The Sam Houston product has found his rhythm at the plate after struggling during the first month of the season. O'Hearn is hitting .325/.412/.663 with eight home runs and 19 RBIs in May after batting .203/.272/.392 with four round-trippers and five RBIs in April.
Wild thing: Asheville left-hander Helmis Rodriguez had a start to forget May 26 when he allowed five walks and uncorked four wild pitches in 2 2/3 innings during a loss to Savannah. Rodriguez leads the SAL with 15 wild pitches. Aside from his latest outing and his occasional lack of accuracy, the southpaw from Venezuela is putting together an impressive season. Rodriguez is 3-2 with a 3.04 ERA in his first nine starts while allowing 47 hits in 50 1/3 innings.
Bill Ballew is a contributor to MiLB.com. This story was not subject to the approval of the National Association of Professional Baseball Leagues or its clubs.
View More