SAL notes: Jones' skills shining through
Power shortstop starting to meet high expectations in second half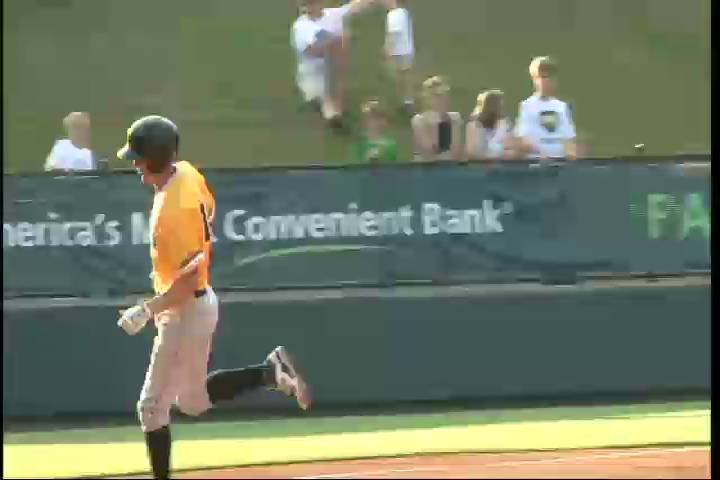 By Bill Ballew / Special to MiLB.com | August 14, 2014 10:00 AM ET
The West Virginia Power own the lowest overall winning percentage in the South Atlantic League through Aug. 12 at .370, thanks in large part to a 20-48 (.294) first-half performance that landed them in last place in the Northern Division. The Pittsburgh affiliate, however, has put together a decent second half showing at 24-27 and has had several players make impressive developmental strides, headed by shortstop JaCoby Jones.
A third-round pick of the Pirates in 2013, Jones has blossomed in his first full professional season while spending the entire campaign to date with the Power. Through games of Aug. 12, he was tied for third in the SAL with 18 home runs and ranked fifth with 197 total bases. The LSU product also had a slash line of .289/.351/.482 with 21 doubles, two triples and 60 RBIs in 409 at-bats.
"I've had a pretty good year so far," Jones said. "I've worked with our hitting coach [Keoni De Renne] on changing a few things. The leg kick in the first half didn't work so well and we've shortened that. The second half has been a lot better as far as my power numbers are concerned. I've been seeing the ball real well lately and everything feels good. I come out to work hard every day and have fun, and right now everything is going in the right direction."
Coming into the 2014 campaign, Jones had a reputation as a solid all-around player who did not excel at any phase of the game despite his obvious talent and tools. Scouts were quick to note that, though he displayed above-average power in batting practice, his power numbers were unimpressive, both in college and during his initial taste of pro ball at short-season Jamestown, where he had five extra-base hits in 15 games.
"I've heard that and I hadn't hit a lot of home runs in the past but I have some power," said Jones, who has hit 10 home runs since the mid-June All-Star break. "I have quick hands and I've been using them to my advantage. I've heard a lot people say that I haven't reached my full potential, but this year I think I've done a pretty good job of doing what I've needed to do. Hopefully I can keep it up."
Scouts and other observers also projected Jones to play center field this season, but instead he has spent the entire campaign at shortstop, the position he played through high school. At LSU, he toiled for most of his three years at second base, yet saw some time in center with the Tigers and in the Cape Cod League. Even though he may end up there down the road, Jones admits he is enjoying the challenge of being in the middle of the action at short with the Power.
"I played shortstop my entire life while growing up," Jones said. "I can play anywhere. I really don't care, as long as I'm in the lineup and hitting is all that matters. Shortstop, center field, second base -- anywhere is fine with me. Right now the Pirates want me at short, and I'll keep working hard to get better there. I love playing there because I feel at home. I'm feeling more comfortable there at this level every single day."
Jones' performance at shortstop is more impressive considering the challenges he faced with a knee injury. Jones was limited to 15 games at Jamestown due to the ailment and was sidelined for six months. With the injury happening shortly after being drafted, which also caused him to miss the instructional league, Jones was apprehensive regarding how the knee would respond prior to this season.
"I was a little bit concerned about my knee coming into Spring Training because I had never had a serious injury," Jones said. "But since the beginning of spring, it's felt great and back to normal. I've had no problems with it."
Having made so much progress in so many different areas of his game this season, Jones has attracted the attention not only of the Pirates but numerous other teams as well. Throughout the trading deadline, Jones' name was mentioned frequently as a potential commodity should Pittsburgh look to upgrade its Major League roster. Jones admits he heard the rumors but remains unconcerned.
"I saw it a few times on Twitter and here and there but it didn't bother me," Jones said. "If I get traded, I get traded. If that happens, then I'm going to a team that wants me. It's not my call. I'm going to keep doing the things I need to do to work my way to the big leagues. I love what I'm doing and I intend to keep working hard to get there."
In brief
Welcome back! Catcher Chad Wallach and second baseman Avery Romero rejoined Greensboro, first-half winners of the Northern Division, on Aug. 12 after the pair spent time at Class A Advanced Jupiter following a promotion to the Florida State League. Wallach was hitting .328 in 12 games while Romero batted .320 with 10 RBIs in 26 contests with the Hammerheads. "It was fun playing in Jupiter," Romero said, "but I'm excited for the chance to play for a championship. [The Marlins] asked us if we would mind coming back and we both said we would be glad to. I love this group of guys."
Making it count: Charleston's Abiatal Avelino hit a three-run homer against Hickory on Aug. 11 to lead the RiverDogs to a 5-3 victory over the Crawdads. The blast was Avelino's first in 181 at-bats with Charleston this season and only the second of his career.
Pitching intimidation: Kannapolis snapped a six-game losing streak Aug. 11 as three pitchers combined for the 10-0 victory over Lexington. Andre Wheeler started and limited the Legends to one hit over five innings. Matt Abramson proceeded to scatter four hits over three frames before Andrew Mitchell sealed the shutout with a scoreless ninth. Toby Thomas gave the Intimidators a 3-0 lead in the second inning with a three-run homer, his second round-tripper in as many days.
Bill Ballew is a contributor to MiLB.com. This story was not subject to the approval of the National Association of Professional Baseball Leagues or its clubs.
View More