Salem wins on Romanski's late homer
Controversial two-run dinger results in three Myrtle Beach ejections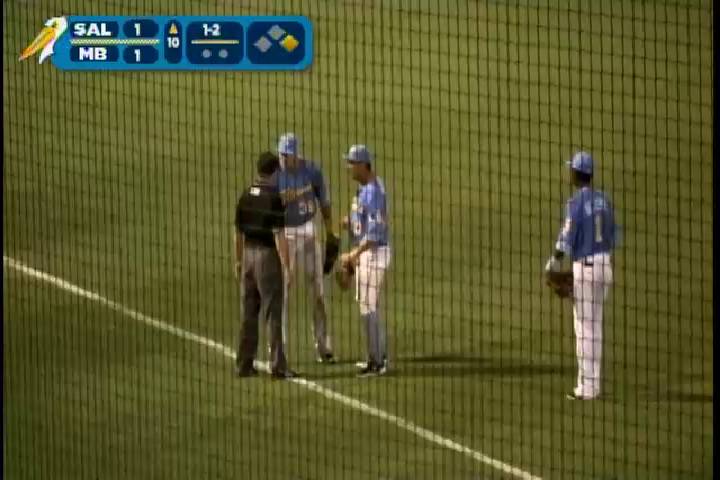 By Josh Jackson / MiLB.com | September 4, 2014 12:09 AM ET
Jake Romanski may have had a little help from the umpire crew Wednesday night, but the Red Sox prospect has no mixed feelings about his go-ahead home run in extra innings.
"It feels awesome," he said. "But we had nine or 10 guys out there busting their humps, so it feels good most of all to help them get the win."
In the top of the 10th inning of the first game of the Carolina League's Southern Division series, Romanski hit a controversial two-run homer down the left-field line to give Class A Advanced Salem en route to a 3-1 victory.
The long ball was initially ruled fair by third-base umpire Rich Grassa. Romanski himself wasn't certain.
"When I first hit it, I was 100 percent sure it was fair and that I had a double," the 23-year-old catcher said. "I started running and when I looked up around first base, it looked like it hooked around the foul pole. But obviously, the umpire had a better view of it than me."
Pelicans left fielder Ryan Cordell immediately ran in and began arguing. The umpire crew conferred and let the original call stand, and the cause was taken up by manager Joe Mikulik, batting coach Josue Perez and third baseman Nick Vickerson. All three were ejected by home-plate umpire Travis Godec. Mikulik removed third base from the infield and placed it several feet into foul ground.
"There's a two-foot gap between the foul pole and bleachers and I'm hearing it went in there," Romanski said, "but I don't know and I can't really comment on it."
The blast came following a single by Mario Martinez with nobody out in the inning. Red Sox manager Carlos Febles originally had something else in mind for Romanski's at-bat against Pelicans reliever Abel De Los Santos.
"Our manager came up to me and said if Martinez gets on, we're going to be bunting. I said, 'OK, you got it. I'll get it down,'" Romanski said. "After two attempts, I took a ball and didn't get the bunt down. I went up to our manager and he told me to just swing away. The guy threw a breaking ball and I put a good swing on it."
The homer was Romanski's only hit in four at-bats, but he also served a key role behind the plate, helping batterymate Jacob Dahlstrand through seven scoreless innings. The 22-year-old righty gave up two hits and struck out eight.
"Dahlstrand's stuff is top-notch stuff. His fastball was really there and he had a little movement on it," said Romanski. "Everything looked awesome. I called a pitch and he threw it, and he threw it exactly where I wanted it. He had a lights-out game."
Kyle Martin permitted one hit and struck out three over 2 1/3 innings of relief to earn the win.
No. 8 Rangers prospect Lewis Brinson hit a game-tying homer for Myrtle Beach in the eighth.
Sam Wolff allowed a run on three hits and two walks while fanning six over six innings for the Pelicans.
In other Carolina League action:
Nationals 4, Hillcats 2
Randolph Oduber socked a go-ahead solo homer in the sixth inning for Potomac and No. 12 Nationals prospect Pedro Severino doubled to start a two-run rally in the seventh. Hector Silvestre gave up a run on five hits and three walks while striking out five over seven innings to earn the win. Jose Martinez was 3-for-4 for Lynchburg. Box score »
Josh Jackson is a contributor to MiLB.com. This story was not subject to the approval of the National Association of Professional Baseball Leagues or its clubs.
View More