Sampson comes within two outs of history
Pirates' No. 19 prospect loses no-no late, settles for one-hit shutout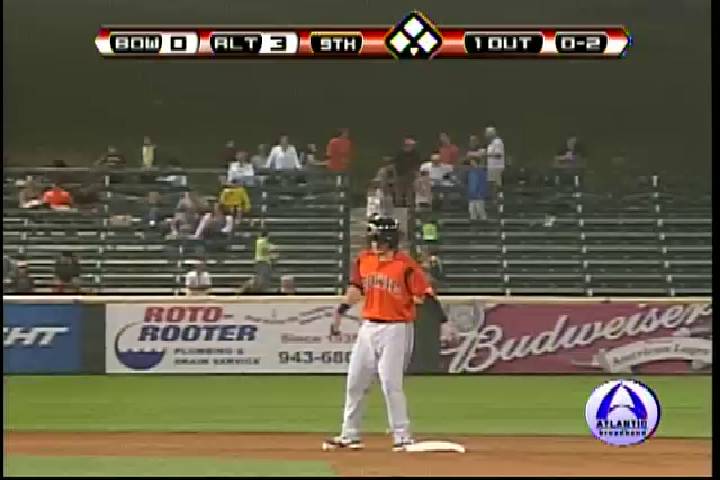 By Mark Emery / MiLB.com | July 19, 2014 2:01 AM ET
It's not often that Adrian Sampson gets to pitch with his family in the crowd. It's unlikely that his family had ever seen him pitch quite so well as he did Friday night.
With relatives in town from Washington state, the Pirates' No. 19 prospect came within two outs of a no-hitter as Double-A Altoona blanked visiting Bowie, 3-0.
Baysox leadoff man Mike Yastrzemski broke up the no-no with a double down the left-field line in the ninth inning, but Sampson retired the next two hitters to complete the Curve's first nine-inning shutout since Brad Lincoln beat Bowie on May 21, 2009.
"You know they're there. You try not to think about it," Sampson said of his family. "On the back burner, though, you realize you're having a good game. It makes it even more special, not for me as much as for them. They're coming out to see their one game of the year. And it just so happens that in that game, you have one of your best starts ever. I'm happy for them, that they got to be here and see me. It's a really cool experience."
The 22-year-old right-hander struck out two batters and walked one, requiring 98 pitches -- 70 strikes -- to get through nine innings. It was his second straight complete game after holding Harrisburg to one run on four hits over seven innings in the first game of a doubleheader on July 12. Sampson had one nine-inning complete game on his resume before Friday, accomplishing the feat for Class A Advanced Bradenton last Aug. 18.
Yastrzemski's opposite-field double was all that came between Sampson (8-5) and the first complete-game no-hitter in Altoona history.
"Funny thing, I got him 0-2," Sampson said. "I went up on a fastball, up and in. Called strike. Then I went slider in the dirt, on a good pitch, and he swung and missed. And my catcher actually called for another fastball up. And I shook to the slider in the dirt.
"I tried to locate the pitch too much, I think. I was really eager to get it in the ground. It was a good pitch, it was very low. It was probably about shoe-high. It probably would have landed on the plate, but he just reached out there and got a good piece of it. You've got to tip your cap to him. It was a good pitch, but sometimes you've just got to trust your catcher a little bit."
Aside from Yastrzemski, the only other Baysox to reach against Sampson were Niuman Romero, who got aboard on an error by first baseman Stetson Allie with one out in the first inning, and Kyeong Kang, who drew a one-out walk in the seventh. In between, the 2012 fifth-round pick retired 18 batters in a row.
"Those middle innings, you lose yourself in the game a little bit," he said. "You don't lose focus, but you stop thinking about your surroundings and everything. It's hard to explain. But you zone in on the hitters and you know the hitters are on their heels and you're on your toes, attacking the zone. Those middle innings -- that two, three, four, five, six or whatever -- they go by real fast."
Sampson lowered his ERA to 2.58, which ranks third in the Eastern League. Over four July starts, the midseason All-Star is 3-0 with a 1.55 ERA.
The success is certainly being appreciated by the pitcher, who knows what it's like to struggle.
"It's been fun. It's hard to explain," said Sampson, who went 5-8 with a 5.14 ERA in 25 games last year. "You go through all these games all the time. It's hard to find a bad outing that I've pitched in. I feel like every outing I've been in, I'm competing and I'm giving our team a chance to win. So it's fun. It's fun to be that guy who everyone looks up to, like, they know that they're ready for a win."
Despite being selected as an All-Star for the first time in his professional career, Sampson did not pitch in Wednesday's exhibition contest -- which took place at Altoona's Peoples Natural Gas Field -- because the Pirates did not want to alter his routine and schedule.
Though his family members present surely would have gotten a thrill from seeing him compete in the All-Star Game, Sampson did not disappoint with his most recent turn. And it happened just in time, too.
"My mom's birthday is on Sunday," he said. "I haven't gotten her a present yet. I had to figure something out. So I thought if I just pitched well that she'd just use that as her present.
"She was happy. They were all happy. It was really nice to have them in town."
The Curve defense supported Sampson with several impressive plays, at least two of which were made by third baseman Jarek Cunningham. Offensively, Drew Maggi, Allie and Dan Gamache each drove in a run.
Baysox starter Anthony Vasquez (4-6) took the loss after yielding three runs on seven hits across five innings. He walked three and fanned four.
Mark Emery is a contributor to MiLB.com. Follow him on Twitter @Mark_Emery. This story was not subject to the approval of the National Association of Professional Baseball Leagues or its clubs.
View More