Sanchez called up, joins Blue Jays' 'pen
Toronto promotes top prospect after eight Triple-A appearances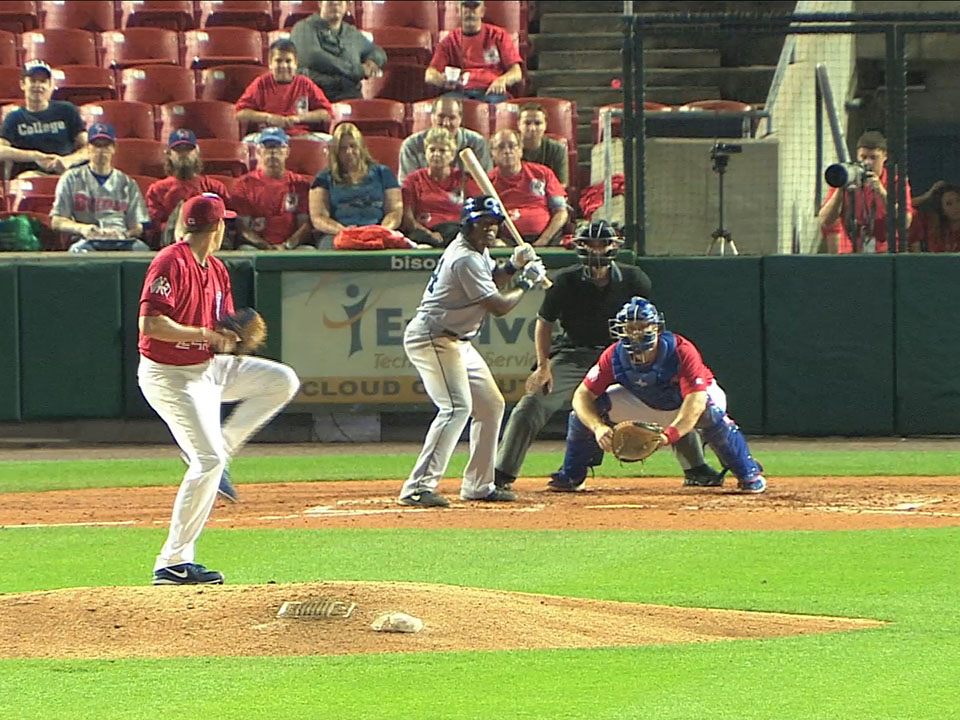 By Sam Dykstra / MiLB.com | July 22, 2014 10:08 PM ET
The Blue Jays promoted top prospect Aaron Sanchez to the Majors on Tuesday to help boost a bullpen that ranks 27th in the Majors with a 4.50 ERA as Toronto tries to close a four-game deficit in the American League East.
Sanchez just moved to the bullpen at Triple-A Buffalo after working primarily as a starter during his five seasons in the Blue Jays system. He started the year at Double-A New Hampshire, going 3-4 with a 3.82 ERA, 57 strikeouts and 40 walks in 14 starts (66 innings) before being promoted last month to the International League, where he was the circuit's youngest hurler.
"I was caught off-guard, just as much as probably everybody here was," Sanchez told MLB.com. "But I'm excited to be here, I'm ready to contribute any way that I can."
The 22-year-old right-hander had a 4.18 ERA and 25 strikeouts against 17 walks over 32 1/3 innings as a starter with the Bisons and was transitioned to a relief role last week in an attempt to limit his innings -- his 100 1/3 frames already constitute a career high. He allowed two runs -- one earned -- on four hits with two strikeouts in two innings out of the bullpen.
Sanchez has been one of the top pitching prospects in the Blue Jays system since they drafted him 34th overall in 2010 out of Barstow (California) High School.
"This is what I dreamt for my whole life," he said. "I don't think the age for me matters, it's about hard work and dedication to this game, always wanting to learn, staying hungry. And I think that's what it took."
Sanchez didn't make his full-season debut until 2012 at Class A Lansing, where he posted a 2.49 ERA with 97 strikeouts in 90 1/3 innings and formed quite the trio with fellow 2010 draftees Noah Syndergaard and Justin Nicolino. The Jays made a series of trades the following winter, bringing in the likes of R.A. Dickey from the Mets and Jose Reyes, Mark Buehrle and Josh Johnson from the Marlins. While Syndergaard and Nicolino headed to New York and Miami, respectively, the Jays refused to deal Sanchez, believing he was the prize of the bunch. He will become the first of the three to make his Major League debut.
Branded as the team's top prospect entering 2013, the right-hander was impressive at Class A Advanced Dunedin last season, posting a 3.34 ERA with 75 strikeouts and a .202 average-against in 22 games (20 starts). Shoulder issues, however, limited him to only 86 1/3 innings, and he made six appearances in the Arizona Fall League to make up for lost time, posting a 1.16 ERA in the prospect-laden circuit.
Sanchez has always received high marks for his stuff on the mound. MLB.com gave him an impressive 70 grade on his mid-90s fastball on the 20-80 scale last offseason to go with a 65 curveball and 60 changeup. At the time of his promotion, MLB.com had him pegged as the No. 18 overall prospect in the game. The only thing holding the 6-foot-4 hurler back has been control concerns. In five Minor League seasons, he's average 4.8 walks per nine innings, and that stat has actually gone up this season -- it's at 5.1 between Buffalo and New Hampshire.
While Sanchez will begin his Major League career in the bullpen, where his killer stuff should play up in short spurts, it's expected that his future remains as a starter even if he doesn't return to the role until 2015.
Toronto also called up outfielder Ryan Goins and right-handed long reliever Esmil Rogers on Tuesday.
Sam Dykstra is a contributor to MiLB.com. This story was not subject to the approval of the National Association of Professional Baseball Leagues or its clubs.
View More