Schugel carries perfecto into sixth
D-backs righty retires first 17, loses shutout in eighth for BayBears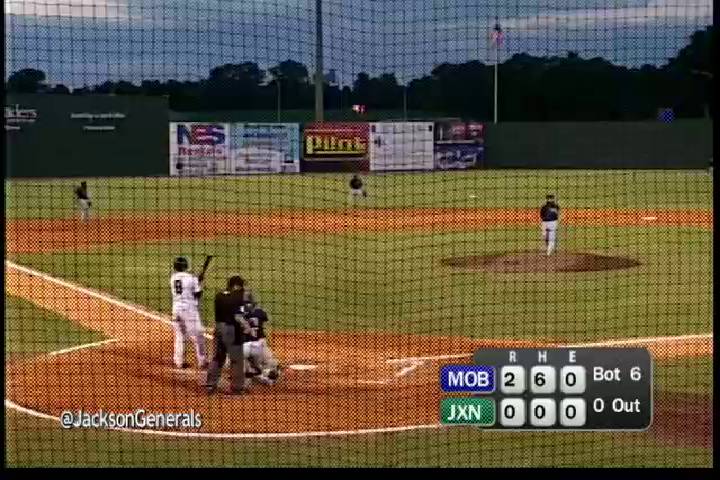 By Ashley Marshall / MiLB.com | July 4, 2014 2:35 AM ET
For almost six innings Thursday night, Mobile starter A.J. Schugel was pitching the game of his life.
Schugel (4-1) retired the first 17 batters he faced as he carried a perfect game into the sixth inning, but he ended up not factoring in the decision in the BayBears' 4-3 win over the host Jackson Generals. He wound up allowing three runs on four hits over seven-plus innings.
First, his bid for perfection came to an end. The shutout was the next to fall. And just three batters later, he was watching from the dugout when the lead slipped away and his win was unobtainable.
"It was a good game. I threw a lot of strikes and let my defense work," the 25-year-old right-hander said. "As far as the numbers go, it was probably [my best start], but they were swinging early and often and that helped me. I got guys out early on with my fastball, whether inside or outside and that worked for seven innings. They figured me out in the eighth, but that's baseball."
Schugel was masterful through the first two-thirds of the ballgame. He didn't need more than 14 pitches to get through any of the first seven innings and he retired eight consecutive batters on three pitches or fewer between the fourth and sixth frames. He only threw more than five pitches to three of his first 22 batters and he got to a three-ball count just twice.
Brock Hebert broke up the perfect game with a two-out, two-strike single to right field in the sixth. "Ground ball through the hole," Schugel said succinctly. "Sometimes they're outs."
The Florida native got Leon Landry to fly out to center field and he pitched a perfect seventh to carry the one-hitter into the eighth. Then the wheels began to rattle.
Patrick Kivlehan smacked the first pitch of the eighth over the left-field fence, Daniel Paolini followed with a base hit back up the middle and John Hicks ripped an RBI triple to center field to trim the lead to 3-2.
Patrick Schuster replaced Schugel, sent to the D-backs from the Angels in a three-team trade with the Rays in December, but pinch-hitter Jack Marder hit a sacrifice fly to center field that plated Hicks and closed the book on Schugel's outing.
"I felt good. I wouldn't say I was [tired]," Schugel said. "They were just seeing me better. I threw a lot of fastballs. The majority were fastballs and occasionally I threw a changeup or breaking ball. I threw [Kivlehan] a fastball down the middle and he didn't miss it.
"Every time out, you can take something from it and work on it. I probably could have mixed it up a little more. It was mostly fastballs, especially in the eighth. But I'm happy with it and I'm glad we got a win out of it."
Schuster (3-2) picked up the win after working a hitless eighth and Kaleb Fleck struck out two batters over a 1-2-3 ninth for his ninth save.
Jackson's Stephen Shackleford (5-2) allowed one unearned run on two hits and a walk while striking out three batters over an inning of relief. Starter Matt Anderson allowed three runs on eight hits while fanning nine batters over eight innings.
Ashley Marshall is a contributor to MiLB.com. Follow him on Twitter href="https://twitter.com/ashmarshallmlb"@AshMarshallMLB. This story was not subject to the approval of the National Association of Professional Baseball Leagues or its clubs.
View More