Scottsdale notes: Travis shows Hoosier pride
Red Sox first baseman trying to carry IU banner along with Schwarber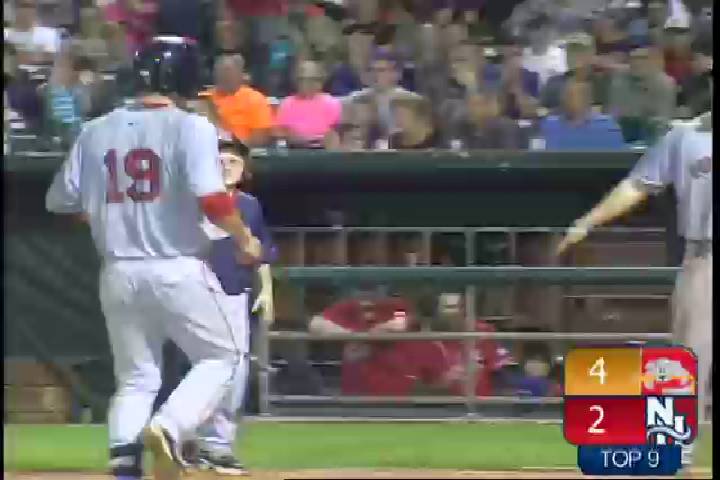 By Sam Dykstra / MiLB.com | October 21, 2015 10:00 AM
It's funny to look back on the video now. A Big Ten Network package from 2012 features two promising Indiana University freshmen whom Hoosiers head coach Tracy Smith had grown to call the "Bash Brothers" after the A's duo of Mark McGwire and Jose Canseco. In the clip, when the pair is pressed for the origins of the nickname, they both believe it's from a Mighty Ducks movie in which a pair of hockey enforcers earn the moniker.
You may have become aware of these naive Indiana hitters during the three years since. One is Kyle Schwarber, the rookie whose prodigious power helped propel the Cubs to their first NLCS since 2003; the other is Sam Travis, the 2015 Red Sox Minor League Offensive Player of the Year and Boston's No. 11 prospect.
The clip illustrates not only how young they were at the time but also how promising, despite playing at a non-traditional baseball power. A year later, Schwarber and Travis would lead Indiana to its first College World Series, and a year after that they'd each be taken in the first two rounds of the Draft. This year Schwarber hit 16 homers in 69 games for the Cubs and became one the Cubs' all-time leader with five playoff homers, while Travis has moved to the cusp of making his own Major League impact with a spot in the Arizona Fall League.
"I'm keeping track of every at-bat," Travis said of his former college teammate. "When the game's on and I'm not playing a game myself, you know I'm watching. It's been absolutely incredible. Everyone loves home runs, and that's what he does. I know he's the type of player that when it's win or go home, he's going to step up. True colors come out in the postseason, and you're seeing his."
Schwarber and Travis aren't the only former Hoosiers who are changing the perception of the program at the pro level. Alex Dickerson and Micah Johnson each made their Major League debuts in 2015, and 10 Indiana players were picked in the last two Drafts -- including right-handed pitcher Jake Kelzer, who was taken in 2014 and 2015 but will return to Bloomington for another season -- the most over a two-year span in school history. Within the next decade, it seems unlikely that Mickey Morandini (9.7) will still top Hoosier alums in bWAR.
"We're always gonna bleed red and white," Travis said. "It's not so much just me and Schwarber. We've got a lot of guys in the pros now, especially after last year's Draft. Once you play at IU, you become family. We're a bunch of brothers. ... If I'm considered a small part of creating that culture, that's definitely something special."
Travis isn't quite there at the top level like Schwarber or Dickerson or Johnson. The Red Sox started the right-handed first baseman, known for hitting without batting gloves, at Class A Advanced Salem before a midseason promotion to Double-A Portland, and he performed well at both stops, finishing with a .307/.381/.452 line with nine homers, six triples, 32 doubles, 78 RBIs and 19 steals in 131 games in his first full Minor League season. Despite his position, he doesn't quite have the power of his Indiana brethren -- Schwarber has gone deep 36 times between the Minors, Majors and playoffs in 2015 -- but his contact and on-base skills make him an above-average hitting prospect, one who now gets to show off that skill set against some more advanced arms in the AFL.
Through Monday, Travis has handled himself well at the prospect finishing school, going 5-for-18 (.278) with three doubles in his first four games with Scottsdale. As for the game's next level, the Red Sox first-base situation is in flux entering the offseason. Travis Shaw (13 HR, .822 OPS) outperformed expectations in his rookie year, but the club has said it's moving Hanley Ramirez over to the position ahead of the 2016 season. If Shaw returns to earth and Ramirez can't handle a second new position in as many years, the calls for Travis in Boston could come loud and clear. Just don't expect one Bash Brother to draw his confidence from the other.
"Confidence is nevery really an issue for me," he said. "I've always been a believer that I can hit no matter where I am. It doesn't surprise me to see what he's doing, but for me, I'm just taking it day by day. I've got to focus on the present, and right now, that's performing here."
In brief
Jones shows Tigers his growl: Detroit acquired JaCoby Jones from the Pirates at the deadline for reliever Joakim Soria, and in his third game for Double-A Erie, the shortstop prospect homered three times. It's taken a similarly short period for him to show off his power with the Scorpions as he's gone deep twice in his first three AFL contests. As of Tuesday, Jones, who is getting time at third in the AFL, is 7-for-13 with the two dingers, four RBIs and five runs scored.
Giants production: Giants No. 2 prospect Christian Arroyo, by contrast, isn't a shorstop known for his power, but the 2013 first-rounder has also gone deep twice while posting a .308/.333/.846 line in his first three games with Scottsdale. San Francisco had been taking the slow road with the 20-year-old, but a strong AFL showing could be the start of his catapulting up the chain.
To me, you're perfect: Following Monday's play, Scottsdale/Tigers right-handed reliever Montreal Robertson was one of only two qualified Fall League hurlers without a blemish on their resume. (Peoria's Zack Weiss is the other.) Robertson retired all eight Glendale batters he faced -- each on a ball in play -- and earned the win in the Scorpions' 9-2 victory last Thursday. The 25-year-old posted a 3.31 ERA and 1.44 WHIP with 58 strikeouts and 35 walks in 68 innings at Double-A Erie and Class A Advanced Lakeland in 2015.
Sam Dykstra is a reporter for MiLB.com. Follow and interact with him on Twitter, @SamDykstraMiLB. This story was not subject to the approval of the National Association of Professional Baseball Leagues or its clubs.
View More