Nuts' Rizzo perfect in first five-hit game
M's No. 20 prospect boosts average seven points to .294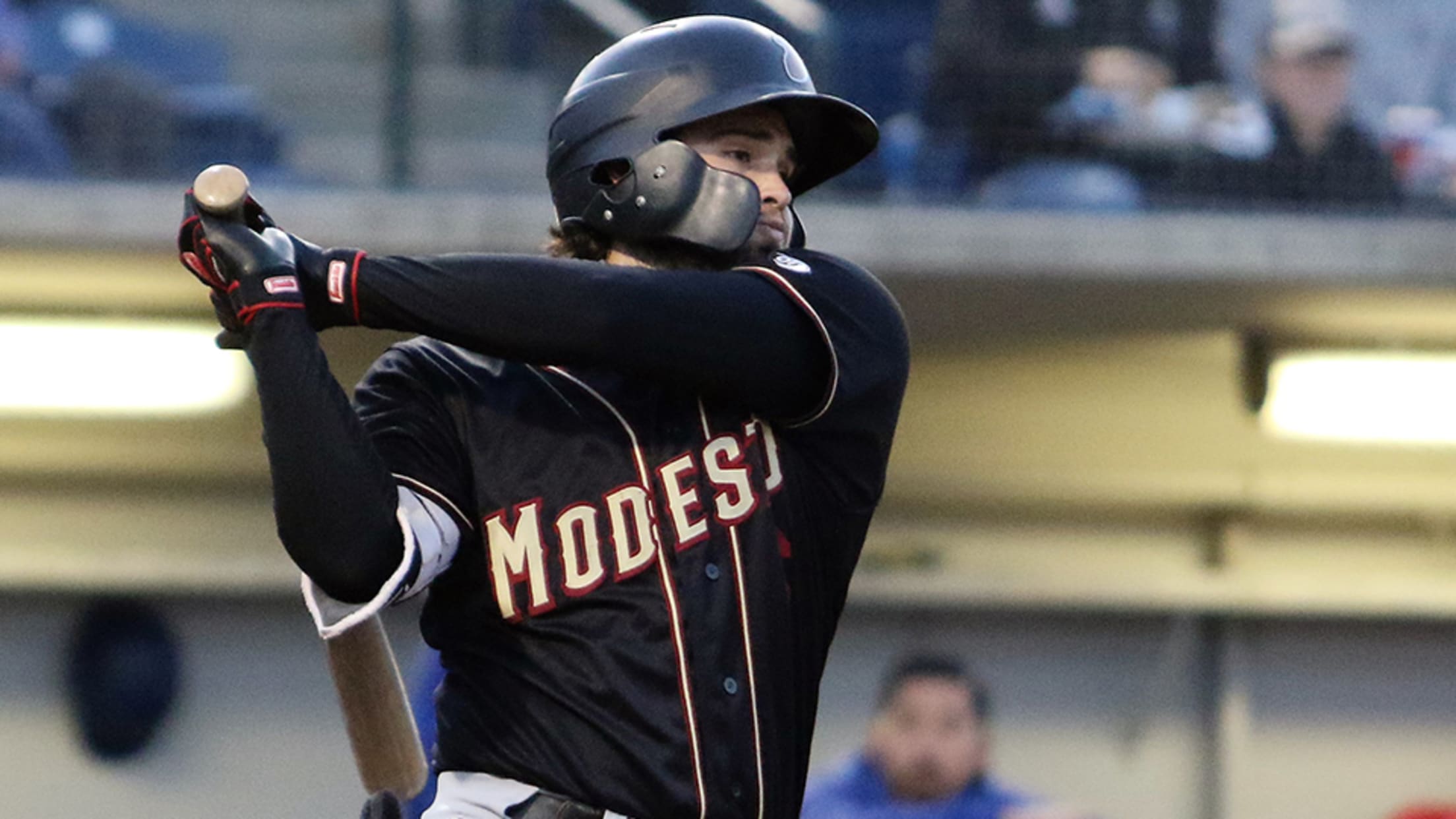 Joe Rizzo is batting .393 with 15 runs scored in 19 games in August. (Jerry Espinoza/MiLB.com)
It's been a career year for Joe Rizzo, whose average has jumped more than 50 points in his second season with Class A Advanced Modesto. But with a little over a week left in the regular season, it seems as though he may be saving his best for last.The Mariners'
It's been a career year for Joe Rizzo, whose average has jumped more than 50 points in his second season with Class A Advanced Modesto. But with a little over a week left in the regular season, it seems as though he may be saving his best for last.
The Mariners' No. 20 prospect racked up a career-high five hits, scoring twice in the Nuts' 9-3 win over Visalia on Saturday at Recreation Park. He'd logged four hits five times before, most recently on Aug. 8 against Inland Empire.
Gameday box score
Rizzo raised his average to .294, tying him for sixth in the California League and marking an improvement of more than 50 points from the .241 clip he posted with Modesto in 2018. He's had his share of memorable performances during the season, but this one might take the cake.
"A 5-for-5 night, it doesn't really get much better than that," he said.
Rizzo hit the ground running, singling twice in the first three innings after seeing only three pitches from left-hander Bryan Valdez. He didn't bat again until the sixth, when he followed a leadoff single by Julio Rodriguez -- MLB.com's No. 52 overall prospect -- with a knock of his own. Both came around to score one pitch later when Jake Scheiner cranked a three-run homer to left field, his 13th of the year.
The 21-year-old singled again in the eighth but was erased on a fielder's choice by Scheiner. It looked like he wouldn't bat again, but the Nuts rallied for six runs over the final two frames to bring him up one more time. He stepped into the box with a new career best in his sights but wasn't feeling much pressure.
"It's almost easier to hit when you've got a couple under your belt," Rizzo said, "because you're almost playing with house money kinda, you know what I mean? And so like with the other four at-bats, I was just trying to get a good pitch to hit."
He fell behind, 0-2, against right-hander Ryan Fritze, then sent a high chopper softly up the middle. Fritze reached but had it hit his glove and deflect into no man's land in the infield as Rizzo made it safely to first.
Rizzo was ecstatic to have gotten his fifth hit, but only after some reassurance.
"I immediately looked to the scoreboard to see if they'd given it a hit or an error," he joked. "That was the first thing I did. I saw the 'H' pop up on the board, and then it was big smiles from there."
In his five trips to the plate, Rizzo saw 12 pitches. The 2016 second-round pick attributed much of his success to that keen eye.
"I was seeing [the ball] pretty well," he said. "I thought I was picking up spin pretty well. I was looking at a certain part of the zone and I was sitting on a couple pitches, and I ended up getting them."
In addition to his three-run homer, Scheiner drove in Rodriguez with a fielder's choice in the eighth and Rizzo and Rodriguez with a single in the ninth. He finished 2-for-5 with a career-high six RBIs.
"He was very clutch tonight," Rizzo said. "He had a very good night, too."
Rodriguez went 3-for-4 with three runs scored, while Jack Larsen was 3-for-5 with a pair of RBIs. In total, the Nuts racked up 15 hits. According to Rizzo, it's easier for him to succeed when the rest of his team is as well, and vice versa.
"When we just put together good at-bat after good at-bat, it makes life easy and we put runs up on the board. We were all just kind of playing loose and having fun," he said.
Jordan Wolf is a contributor to MiLB.com. Follow him on Twitter @byjordanwolf.