SeaWolves turn club's third triple play
Skipper calls for defensive gem ahead of the seventh-inning feat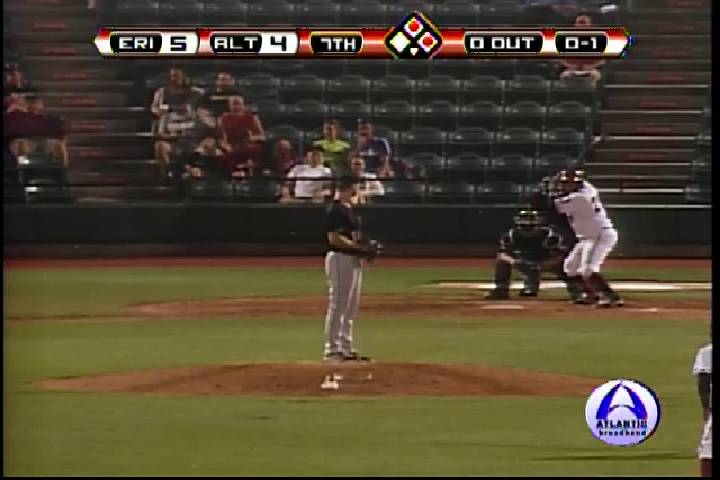 By Ashley Marshall / MiLB.com | July 10, 2014 1:57 AM ET
Ask and you shall receive.
When Erie manager Lance Parrish walked out to the mound during a pitching change, incoming reliever Guido Knudson asked his skipper if he was going to have his infielders guard against the bunt. The response? "Why don't we just get him to hit into a triple play?"
Two pitches later, Parrish smiled in the visiting dugout like a baseball savant after the Double-A SeaWolves turned the third triple play in franchise history in an eventual 6-4 victory over the Altoona Curve in front of 2,778 fans at Peoples Natural Gas Field.
"Everybody was pretty excited," said first baseman Corey Jones. "A few guys said it was their first one and our trainer, T.J. Saunders, said he had never seen one before. It was a huge momentum builder for us and a killer for them.
"They say a double play is an inning killer, but a triple play is as good as it gets. I ran right up to [Parrish] and said, 'You told us you wanted a triple play, so you got one.' The only other people who knew what I was talking about were the pitcher, the catcher and the other infielders who were there during the mound visit. It was pretty funny."
Trailing through three innings, 4-0, Erie clawed two runs back in the fourth and forged ahead by plating a pair in the fifth. The Curve threatened to rally themselves when No. 5 Pittsburgh prospect Alen Hanson and Dan Gamache singled against Jeff Ferrell to begin the home half of the seventh.
With both runners on the move on the hit-and-run, Altoona catcher Elias Diaz lined Knudson's 0-1 offering to right field. Detroit's No. 20 prospect Steven Moya, known more for his power bat than his defense, caught the slicing line drive and threw to Corey Jones at first base to double off Gamache. Jones then relayed the ball to shortstop Dixon Machado, who stepped on second to erase Hanson and complete the rare defensive gem.
It was the first SeaWolves triple play in nine years. The last one also took place in Altoona on April 17, 2005. On that occasion, pitcher Mark Johnson snared a comebacker and flipped to second baseman Gilberto Mejia, who fired to first baseman Juan Tejeda.
The first triple play in team history came on Aug. 26, 1995 against Oneonta, GoErie.com reported.
"It was pretty unbelievable," said Jones, who was involved in a triple play at both Cal State Fullerton and Adolfo Camarillo High School. "It was perfect timing. Any triple play has to have perfect timing. It was a well-hit ball right at Moya's chest. The runners were in motion and they got a good jump. The guy on first was over half the way to second.
"I was thinking we would get the double play, which would be awesome. Then when I caught it, Machado was yelling, 'two, two.' The runner was nowhere near. It took me a moment to realize what had happened. It happened really fast. It was pretty cool."
Moya, who leads the circuit with 22 homers and 49 extra-base hits, cracked a two-RBI triple and walked twice. Jones, second baseman Marcus Lemon and designated hitter Dean Green also chipped in two hits apiece.
The native of Puerto Rico, who also ranks second in the Eastern League with 72 RBIs, has 23 doubles and 51 runs scored in 87 games. His .547 slugging percentage and .841 OPS are on pace to be career highs.
Ashley Marshall is a contributor to MiLB.com Follow him on Twitter @AshMarshallMLB. This story was not subject to the approval of the National Association of Professional Baseball Leagues or its clubs.
View More