Segedin quickly acclimates to Triple-A
Yankees' third baseman clubs grand slam, plates five for RailRiders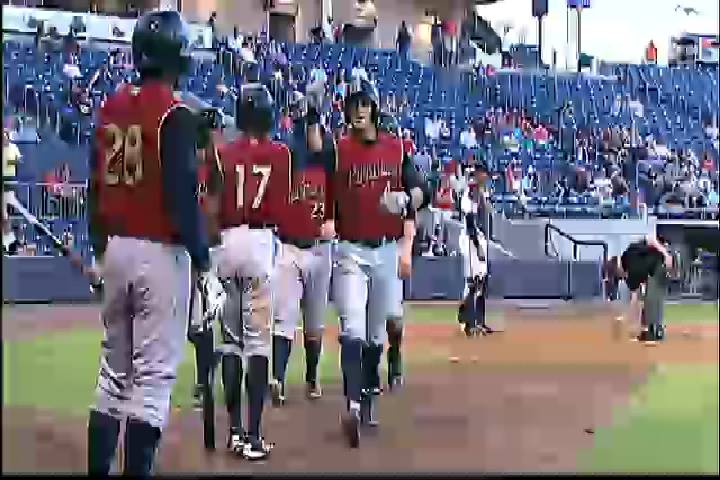 By Ashley Marshall / MiLB.com | July 23, 2014 12:59 AM ET
Hip injuries are not particularly common in baseball, but a series of such problems has plagued Yankees prospect Rob Segedin for the better part of the past decade.
Surgery 15 months ago caused the third baseman to play just 18 games last year, and while he was not happy to miss so much time during the necessary rehab, he can reflect on his time on the disabled list knowing that it ultimately was best for his career.
Segedin smacked his first Triple-A homer -- a grand slam -- and plated five runs Tuesday in the Scranton/Wilkes-Barre RailRiders' 7-0 win over the host Gwinnett Braves at Coolray Field. It was only his second game at the highest rung on the Yankees' Minor League ladder.
Selected by the Yankees in the third round of the 2010 Draft out of Tulane University, Segedin recorded his first International League hit with a two-out RBI single to left field that plated John Ryan Murphy.
In his next at-bat, he picked up an even bigger milestone. Kyle Roller, Murphy and Austin Romine loaded the bases to begin the sixth and the New Jersey native chased them home with a grand slam to left off former Major Leaguer Pedro Beato.
Segedin also hit into an inning-ending double play in the seventh and drew a walk to fill the sacks in the ninth.
The 25-year-old batted .275 with seven homers and 44 RBIs in 80 Eastern League games with Trenton prior to his promotion. This year marked the third season that the 6-foot-2 right-hander has seen time at Double-A, in large part because he missed most of 2013 due to the injury and subsequent surgery.
In an interview with NorthJersey.com last fall, Segedin said he has suffered from hip problems since he was a teenager.
An MRI scan last year showed the torn labrum in his hip as well as extended damage, which Dr. Bryan Kelly -- the same surgeon who treated 14-time big-league All-Star Alex Rodriguez -- believed dated back to his middle or late high school years.
"I don't know how long I've had this condition, but from the MRIs and everything it was pretty evident it was just damage over a long period of time," Segedin said. "Dr. Kelly suggests it was from 14 to 18 years old when it started.
"I've always been very tight in my hips. Actually, I missed my entire sophomore year in college because of a back injury, and it's not proven, but Dr. Kelly thinks it's related to the lack of range of motion in my hips."
RailRiders second baseman Robert Refsnyder went 3-for-5 with a double to lift his average to .301 and first baseman Romine plated two runs and scored once out of the No. 7 spot. Starter Bryan Mitchell (1-1) allowed six hits and a walk while striking out three batters over five innings to pick up his first Triple-A win.
Gwinnett's Aaron Northcraft (0-4) gave up three runs -- one earned -- on six hits and two walks while striking out six batters over five innings.
Ashley Marshall is a contributor to MiLB.com. Follow him on Twitter @AshMarshallMLB. This story was not subject to the approval of the National Association of Professional Baseball Leagues or its clubs.
View More