Snell soars through three levels to MiLBY
Rays' No. 2 prospect started with scoreless streak, ended in Durham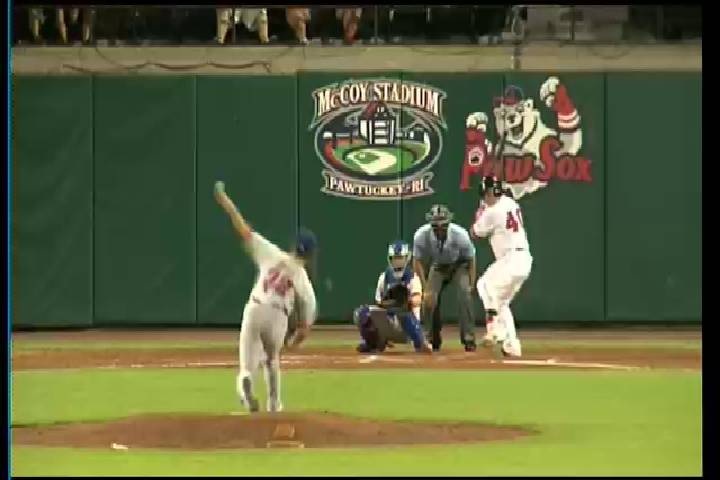 By Tyler Maun / MiLB.com | October 28, 2015 10:00 AM
Blake Snell's biggest opponent two years ago when he struggled in the Midwest League wasn't in the batter's box 60 feet, 6 inches away. It was in the six inches between his ears. Ever since realizing that, the Rays' No. 2 prospect has been a revelation.
Taken with the 52nd overall selection in 2011, Snell posted a 4-9 record and a 4.27 ERA in 23 starts for Class A Bowling Green in 2013. Then he came upon an epiphany.
"I really thought about, from a hitter's view, the best hitter on my team gets out all the time," Snell said. "It makes no sense why I never really thought about that. As a hitter, you're going to get out more than get on. They have to have a perfect swing pretty much, is how I feel, to really hit the ball good. Even on their perfect swings, they're going to mess up. Maybe the ball will go off of the end of the bat or the inside of the bat. There's so much that can happen that I just thought, 'Who cares? Just throw it. If they hit it, they hit it.'"
Armed with a new mentality, Snell began to break out in 2014, registering a 3.90 ERA over 24 outings between Bowling Green and Class A Advanced Charlotte. The 2015 campaign was something different entirely, though. Snell rocketed through three levels and went a combined 15-4 with a 1.41 ERA over 134 total innings for Charlotte, Double-A Montgomery and Triple-A Durham.
Matt Boyd, Toledo
Though the headliner for Detroit in the deal that sent David Price to Toronto was Daniel Norris, the Tigers got another good one in Matt Boyd, the fans' choice for our 2015 Top Starting Pitcher honor. The Oregon State product dominated Double-A while in the Jays system, going 6-1 with a 1.10 ERA in 12 starts for New Hampshire. After one outing with Triple-A Buffalo, he moved over to Toledo where he continued his stellar work with a 3-1 record and 2.77 ERA in six outings. Boyd finished his season in the big league rotation in Detroit and should contend for a spot there in 2016. Voting results »
"When I came into this year, I was more of an aggressive pitcher -- I wanted contact," he said. "I wasn't scared of it anymore. My whole mindset was, 'Put the ball in play -- I don't care. I'll throw it down the middle. I don't care. Hit it.' That helped me, as a pitcher, just throw strikes. That's why my walk rate wasn't as crazy as it was because I used to pitch where I didn't want them to hit the ball at all. This year was way different."
Snell walked 6.6 batters per nine innings in 2013 and dropped that number to 4.4 a season ago, but correcting control remained a major point of emphasis. This year, his command continued to improve along with his ability to keep traffic off the basepaths entirely. Between his three levels, Snell struck out 163 batters against 53 walks in 134 innings -- a career-best 3.08 strikeout-to-walk ratio -- while posting a 1.02 WHIP, also a personal best.
"I just felt like '13 and '14, I was so much in my head where I had to be so perfect. When '15 came, it was like I didn't have to be perfect. I just had to do the best I could and just realize my strengths and know that they're really good strengths to have and that I can be so much better if I don't try to fool around with hitters, I just attack them."
Snell started 2015 on fire, putting up 21 scoreless innings in the Florida State League to start the year before a promotion to Montgomery. There, he added 25 more for the Biscuits.
"The first month, I didn't really think about it," he said of the streak, which ended May 23. "I was more focused on getting out of high-A.
"It almost felt like I couldn't miss. My pitches were hitting where I wanted to hit the whole time. I felt like I couldn't miss. I knew where I was throwing the ball. It was like the ball was jumping out of my hand. It was crazy to really see how good my stuff was. It was a cool moment to have because I really felt like it was such a short moment, but it lasted for two months."
An outstanding 12-start stretch with Montgomery, during which Snell went 6-2 with a 1.57 ERA, led to a Futures Game selection and a call to Durham.
"I felt like, at the beginning of the year, my name was getting out there and people were listening and watching and seeing that. Once the Futures Game happened, I feel like after the Futures Game was when I felt more attention, more recognition," he said. "I was like, 'Wow -- I got to the Futures Game. This has been a dream of mine since I was so young.' When I got there, I think that fueled me even more to be even that much better."
At the Minors' highest level, Snell worked under the tutelage of Durham manager Jared Sandberg, who also had the young lefty while managing in Bowling Green two years ago.
"You saw back in 2013 when I managed him in the Midwest League and then again in 2014, he was able to lean on those experiences those two years where it didn't really come all that easy to him," Sandberg said. "You saw the dominant stuff; definitely a possible top-of-the-rotation guy in the big leagues stuff-wise. It all clicked this year."
At just 22 years old, Snell allowed one or zero earned runs in his first eight Triple-A starts after joining the Bulls in late July and only allowed two in his final outing. Overall, the southpaw went 6-2 with a 1.83 ERA, striking out 57 batters while walking just 13 in 44 1/3 innings and putting up a miniscule 0.95 WHIP.
"I think it comes down to confidence, having that success that he had early on in the Florida State League, taking that streak up to Double-A and absolutely dominating Double-A, then coming up to Triple-A knowing that he could compete at that level," Sandberg said. "When the confidence is high, he's also humble as well. He's hungry to get better. The work ethic is outstanding."
Snell articulates the reasons behind his success well. Whether it's a more aggressive mental approach, mechanical adjustments or a commitment to taking care of his body, the Seattle native fuels his future with the positive results he's already seen over the last two years.
"It's so easy when you're doing good," Snell said. "When you're doing bad is when it's the hardest. It was weird. I always was finding ways to be better. I had a really bad year in '13, but I stuck to it like, 'Look, you're going to be better. Think about the bigger picture.'"
Sandberg agreed.
"In 2013, the eating habits weren't quite there," he said of Snell. "The sleeping habits weren't quite there. He thought he could just go out there with his ability and his talent and just dominate. It wasn't the case. ... He got humbled. He knew he had to be more professional, not only in-season but out of season.
"I think he tried to be too perfect and didn't allow things to happen [in 2013]. He could only command the ball to a couple of different areas around the strike zone, and he wasn't very consistent. When he started to make some solid mechanical adjustments and mental adjustments, he was getting the ball more in the strike zone, able to use his swing-and-miss pitches."
Being honored as Minor League Baseball's Top Starting Pitcher is just the latest accolade for Snell who, in addition to his Futures Game selection in July, was a midseason and end-of-season Southern League All-Star, the Southern League Pitcher of the Month for May, a two-time Pitcher of the Week (once for Charlotte and once for Montgomery) and will likely make his third Rays Organization All-Star team when that roster is unveiled in December.
The next challenge to conquer is a Major League one for MLB.com's No. 41 prospect, but Snell isn't letting himself get caught looking too far ahead when it comes to 2016.
"I know that the big leagues is right there, and I just don't want to think like it is," he said. "It's a really good feeling, but at the same time, I know I've got to get ready for next year, because I've got more to prove for next year than I already did this year."
Tyler Maun is a contributor to MiLB.com. Follow him on Twitter @TylerMaun. This story was not subject to the approval of the National Association of Professional Baseball Leagues or its clubs.
View More