Southern notes: Griffin still gaining steam
Mobile slugger who made home run history ready for All-Star debut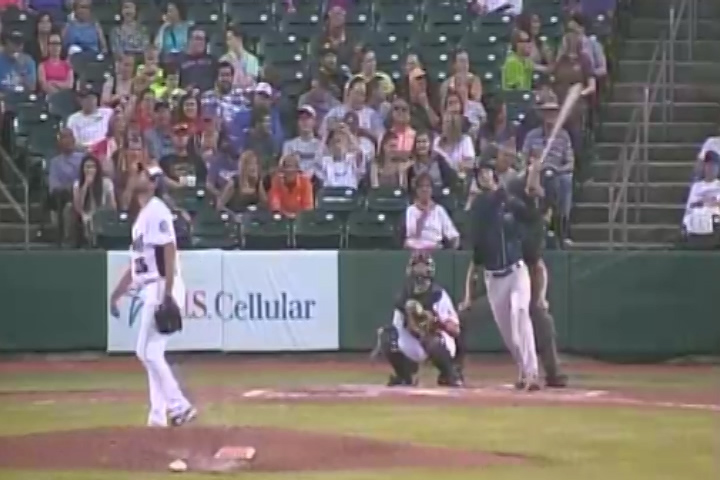 By Guy Curtright / Special to MiLB.com | June 10, 2014 10:00 AM
It wasn't until Jon Griffin had to handle all the media requests afterward that he fully realized the magnitude of what he'd done.
"I was on the phone a long time," the Mobile first baseman said.
The attention was natural. Griffin had done something never accomplished in the Majors and only done a few times previously in the Minors. After hitting four home runs at Tennessee on May 21 to tie the Southern League record, the 6-foot-6 slugger made it five homers in as many at-bats the next day when he connected again his first time up against the Smokies.
Only four other players had hit five consecutive homers in the Minors, according to baseball historian Lloyd Johnson, and the last time was in 1953.
"That's cool. I didn't know that part," Griffin said. "I guess I've had my five minutes of fame."
Minor League achievements, however, aren't what he's after.
"Hopefully I'll be remembered for something more before I'm done," he said. "I'm chasing the dream."
When you are a 21st-round Draft choice, though, a little attention along the way certainly doesn't hurt. Griffin, who turned 25 in April, needed a breakthrough this season to give him a push toward the Majors. He's had it. The Florida native will bat cleanup for the South Division when it takes on the North Division in the Southern League All-Star Game at Chattanooga on June 17.
Griffin earned the honor. He was second in the Southern League with 13 homers through 55 games, and fifth in slugging (.511) and OPS (.869). This despite playing home games in a notorious pitchers' park. All except two of his homers had come on the road. Griffin admits that he let Hank Aaron Stadium get to him last season and again early this year.
"I was pressing to get some homers under my belt," he said.
Griffin's biggest improvement this season may be better handling the mental part of hitting.
"I'm not letting one at-bat carry over to the next, good or bad," he said.
That's why he really wasn't fully conscious of what he was accomplishing during his stunning streak.
"When I got to second base on the last one in the first game, it finally dawned on me that it was four in a row," he said. "The next day, I wasn't even thinking about a streak or anything. The homer just happened."
Griffin hit 69 homers during his career at Manatee Community College and Central Florida, then 18 in 59 games for Missoula of the Rookie Pioneer League after being drafted -- tying Paul Goldsmith's team record.
But after batting .300 with 26 homers and 98 RBIs for Class A Advanced Visalia of the California League in 2012, Griffin's progress stalled last year.
"I struggled, obviously, and things snowballed on me," he said.
This season, though, everything is headed forward again.
A postseason All-Star in the Pioneer League, Griffin will be in his first midseason All-Star Game at Chattanooga.
Just as much attention may go to the Home Run Derby, which will be held June 16 at Historic Engel Stadium rather than AT&T Field.
At center stage will be Griffin and Tennessee's Kris Bryant, ranked No. 8 among MLB.com's Top 100 Prospects.
Bryant, the No. 2 overall pick in the Draft last June by the Chicago Cubs, led the Southern League with 21 homers after connecting in back-to-back games June 7-8.
"I'm excited," Griffin said. "It should be a lot of fun."
In brief
Long time coming: Mississippi right-hander J.R. Graham, who missed most of last season with a strained shoulder, won for the first time in more than a year when he allowed three hits over five innings in a 1-0 victory against Chattanooga on June 7. The Atlanta Braves' No. 6 prospect struck out three and did not walk a batter. Graham, who had lost his first three decisions this year, has a 4.72 ERA in 13 starts. The 24-year-old was Atlanta's Minor League Pitcher of the Year in 2012, going 12-2 between Mississippi and Class A Advanced Lynchburg.
No silencing Lamb: The All-Star Game is in Chattanooga, and that could mean a big night for Mobile's Jake Lamb, the third baseman for the South Division. Lamb was 14-for-23 with six doubles, two triples, two homers and eight RBIs during a torrid series there May 31-June 4. Lamb, Arizona's No. 6 prospect, was hitting .311 with a league-best 22 doubles through 60 games. He was second in the Southern League behind Tennessee's Kris Bryant -- the North Division All-Star third baseman -- in slugging (.559) and his OPS is (.943).
Winning return: Montgomery's Taylor Motter hit a fifth-inning homer on his first day off a stint on the disabled list to give the Biscuits a 1-0 victory over Pensacola on June 7. Motter, who will start for the South Division in right field at the All-Star Game, was fifth in the Southern League with a .313 average. It was just his fourth homer, but he had 31 RBIs and 26 runs scored in 48 games. Motter, 24, has played six positions for Montgomery.
Guy Curtright is a contributor to MiLB.com. This story was not subject to the approval of the National Association of Professional Baseball Leagues or its clubs.
View More