Southern notes: Kivlehan on right course
Mariners prospect rising quickly despite baseball hiatus at Rutgers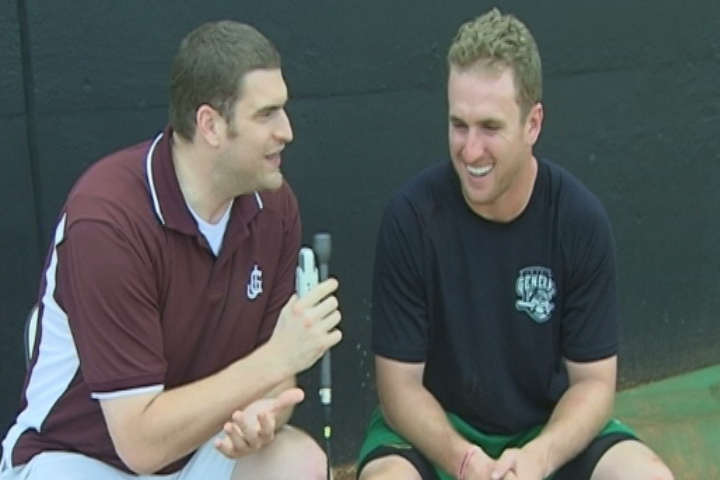 By Guy Curtright / Special to MiLB.com | July 22, 2014 10:00 AM ET
It isn't completely accurate to say Patrick Kivlehan was away from the diamond for more than three years.
"Sometimes my buddies would ask me to substitute on their softball team," the former Rutgers University football player said.
That flirtation with a bat and ball hardly takes away from Kivlehan's improbable story, though.
The New Jersey native finally returned to baseball in his fourth year at Rutgers and hasn't stop hitting since.
Kivlehan became the Big East's Player of the Year, despite his time away from the game, and has continued to turn heads since being taken by the Seattle Mariners in the fourth round of the 2012 Draft.
"I thought I was through with baseball after high school," the 24-year-old said. "But I missed it and decided to give it a try again. Deep down, I was confident I could still play."
That confidence has proved well-founded. Once just a football player, Kivlehan is now the Mariners' No. 16 prospect and likely to move up.
The former college safety and special teams player for the Scarlet Knights has a .313 average with 25 extra-base hits and 46 RBIs in 63 games for Jackson since being promoted to the Double-A Southern League in May from the Class A Advanced California League.
The right-handed hitter has 16 homers and 81 RBIs in 97 games overall and a slash line of .301/.366/.524.
Who knows how good Kivlehan would be if he hadn't stepped away for a while? He isn't bemoaning the move, though.
"I really wanted to play football at Rutgers, so I kind of put all my eggs in one basket," he said. "I don't think it was a bad decision. I enjoyed football and I think it toughened me up physically and mentally for baseball. So that was a benefit."
Kivlehan, who went to three bowl games in football, decided to give both sports a belated try and quickly readjusted to baseball.
Kivlehan led Big East players with 14 homers and was second with a .392 overall average in 2012. In conference games only, he was the Big East's first Triple Crown winner with a .402 average, 10 homers and 36 RBIs.
The impressive offense numbers continued as he hit .301 with Everett of the short-season Northwest League after signing and then a combined .303 last year with Clinton of the Midwest League and High Desert of the California League.
Kivlehan struggled his first month with Jackson.
"The Southern League is like night and day from the California League," he said. "Home runs there are fly balls here. This league will humble you. You have to make adjustments."
Kivlehan has been able to do just that.
He hit .385 with 24 RBIs in 26 games during June and .421 with three doubles, two triples, two homers and 11 RBIs during a 10-game stretch through July 20.
Meanwhile, Kivlehan has been on the move defensively. He was drafted as a third baseman but also played first base before recently seeing time in left field.
"I don't really have a preference," he said. "The Mariners said I might eventually move to the outfield, and I'm getting comfortable there."
No matter where he plays, Kivlehan is at least in the right sport now.
"I missed baseball and knew I wanted to get back into it," he said. "I definitely made the right decision this time."
In brief
Top prospect added: Shortstop Corey Seager, the Los Angeles Dodgers' No. 1 prospect, joined Chattanooga after hitting .352 with 34 doubles, 18 home runs and 70 RBIs in 80 games for Rancho Cucamonga of the Class A Advanced California League. He had a triple and RBI in his debut with the Lookouts on July 19 but also struck out four times as host Mobile won in 14 innings. Seager, 20, was the 18th overall pick in the 2012 Draft and is ranked No. 27 among MLB.com's Top 100 Prospects.
Victory at last: It took a third Southern League team, but right-hander Angel Sanchez finally got a Double-A victory after nine losses this season. He worked six scoreless innings during a 7-1 win over Mississippi on July 18 in his Birmingham debut. Sanchez previously pitched with Jacksonville and Montgomery this year, going 0-8 in 12 games with the Suns and 0-1 in two with the Biscuits. He was claimed off waivers by the Chicago White Sox and went 1-1 in two starts for Class A Advanced Winston-Salem before being sent to Birmingham.
Biloxi faces delay: The 2015 schedule has Biloxi starting the season with a 10-game road trip, but the Southern League's newest team will likely be away from home much longer than that. Stadium construction has not begun amid reductions in proposed funding for the project. That could mean the ballpark won't be finished until the middle of next season, creating a dilemma for the former Huntsville franchise. The team may have to play on the road or seek a temporary home.
Guy Curtright is a contributor to MiLB.com. This story was not subject to the approval of the National Association of Professional Baseball Leagues or its clubs.
View More