Spikes advance to New York-Penn Finals
McCarvel homers, Bowen secures save in decisive semifinal game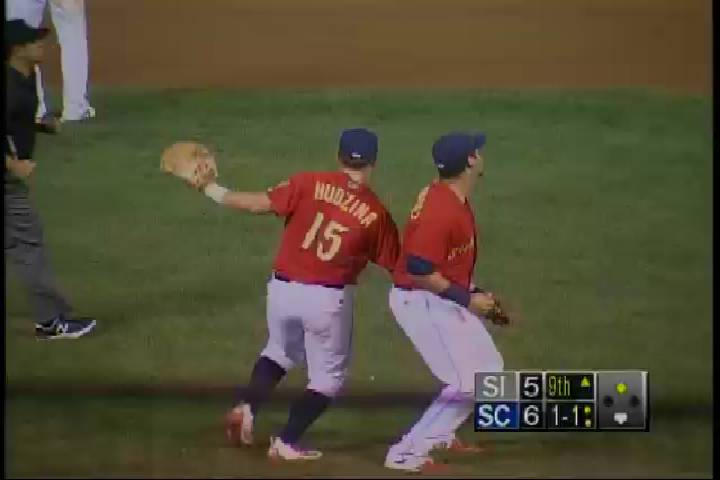 By Mack Burke / MiLB.com | September 10, 2016 1:17 AM
State College manager Johnny Rodriguez stayed up Thursday night, thinking about getting redemption for Brady Bowen, one of his two closers.
The Spikes missed a chance at a series sweep over Staten Island with a 3-2 loss on Thursday after Bowen surrendered a go-ahead solo homer to Drew Bridges in the top of the 10th inning.
"I believe in redemption," Rodriguez said. "We lose with the guy who got us here and we win with the guy who got us here. In this game, it's about building character. That's how you build it. There's always a second chance if you believe in yourself and believe in your stuff."
Bowen rewarded his manager's faith by recording the final five outs Friday as State College held on for a 6-5 win in the decisive third game of the New York-Penn League semifinals at Medlar Field at Lubrano Park.
The Spikes scored once in the third and fifth innings and starter Carson Cross held the Yankees scoreless through five, scattering four hits and two walks while striking out four.
"I thought about it all last night," Rodriguez said. "If Cross can give me five strong innings -- because he's got a good mix of pitches, spots his pitches and doesn't over power you -- then I can go to a hard thrower in [Gerwuins] Velazco, who can give me the sixth and get me into the seventh, and then go to [Eric] Carter for the seventh and eighth. Then I'd close it with Bowen to give him redemption to finish it."
After Cross' departure, Staten Island scored three times in the seventh to take a 3-2 lead. The Spikes answered with four runs in the bottom half, capped by Ryan McCarvel's two-out two-run homer. Rodriguez began eyeing Bowen, who threw only 13 pitches in Game 2.
"When we took a 4-3 lead, I told my pitching coach, 'Get me Bowen ready,'" Rodriguez said.
Staten Island got within 6-4 in the eighth, which brought Rodriguez out to the mound.
"I brought Bowen in and I told him, 'Redemption. Get it done,'" the manager said.
Bowen came on with a runner on second and struck out Dom Thompson-Williams before giving up an RBI to second-round pick Nick Solak, who finished 4-for-5 with three doubles and two RBIs. With two outs and the tying run on second, Bridges stepped in with another chance to beat Bowen.
"He faced Bridges again with the tying run at second and he got him to ground out to second," Rodriguez said. "That's what redemption means, a second chance. This game is about emotion, and that's how it is in the big leagues. It's a different game, but it's about emotions and momentum. We showed character tonight."
Bowen walked Timmy Robinson leading off the ninth but retired the next three batters to send the Spikes to the Championship Series.
"When you're tested in a game like this before a championship series, only positive things can come," Rodriguez said. "When you're facing elimination in the seventh inning, it shows we have a slow heartbeat right there. Character will make you better."
Andy Young went 2-for-3 and drove in three runs for the Spikes, who face Hudson Valley in the best-of-3 Finals, beginning Sunday.
"They're a similar team, but they've got way more speed than us," Rodriguez said of the Renegades, who led the league with 125 stolen bases. "It'll be a good test for the pitchers to hold runners on and for the catchers. We've got to keep them off the bases, pitch to contact and make them earn their way on. That's the key ingredient."
Mack Burke is a contributor with MiLB.com. Follow him on Twitter @macburke18_MiLB This story was not subject to the approval of the National Association of Professional Baseball Leagues or its clubs.
View More