Springer successfully tests leg with steal
Astros outfielder draws two walks in suspended River Bandits game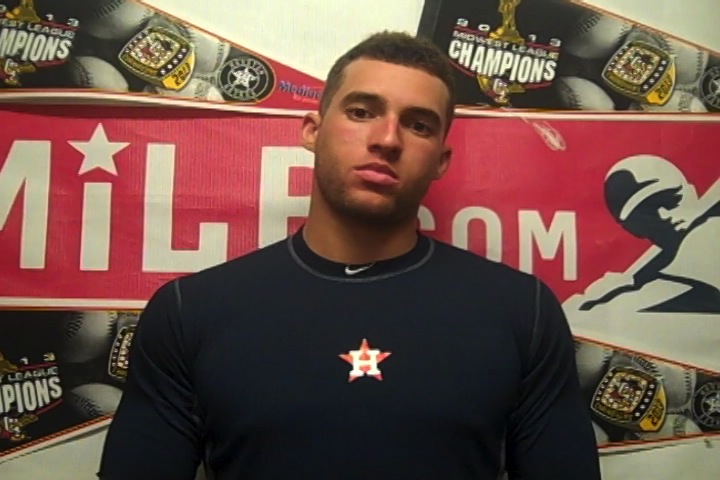 By Jake Seiner / MiLB.com | August 5, 2014 1:23 AM ET
It's not an official game in the books just yet, but George Springer at least got his work in.
The Houston outfielder -- on the mend from a left quad injury -- played the first game of his rehab assignment with Class A Quad Cities on Monday, going 0-for-1 with two walks, a stolen base and a strikeout.
The River Bandits' game against Burlington was suspended after five innings due to rain with the score tied, 3-3. The contest is scheduled to be completed Tuesday.
"It obviously felt great to be out there again, to see some live action," Springer said. "I'll have to take it from there."
Springer, batting third and serving as designated hitter, struck out looking in his first at-bat. In the top of the second, the 24-year-old walked and went on to steal second, but was stranded when Astros' 2014 second-rounder A.J. Reed flew out to left.
The outfielder reached on another walk in the bottom of the fifth and was replaced by pinch-runner Chase McDonald.
The appearance was Springer's first in Quad Cities. The 2011 first-round pick (11th overall) skipped Class A while sprinting through the Astros system, but Quad Cities didn't become a Houston affiliate until 2013, when Springer was in Double-A.
The outfielder was impressed by the Bandits' home field, Modern Woodmen Park.
"It's a great place to play," Springer said. "It's in a unique spot with the bridge in the background."
Springer opened the 2014 season with Triple-A Oklahoma City, hitting .353 with three homers in 13 games. He played 78 games with Houston prior to the injury, batting .231 with 20 homers, 51 RBIs and an .804 OPS.
"It's been fun, but I think the thing is that the Astros are on the map now," Springer said. "We're playing some good, quality baseball and teams are starting to have some respect."
Houston's 2014 third-round pick J.D. Davis hit his first Midwest League home run -- a three-run shot in the first.
Jake Seiner is a contributor to MiLB.com. Follow him on Twitter at @Jake_Seiner. This story was not subject to the approval of the National Association of Professional Baseball Leagues or its clubs.
View More