Squirrels' Crick fans season-high 10
Working in and out of trouble, Giants prospect notches fifth win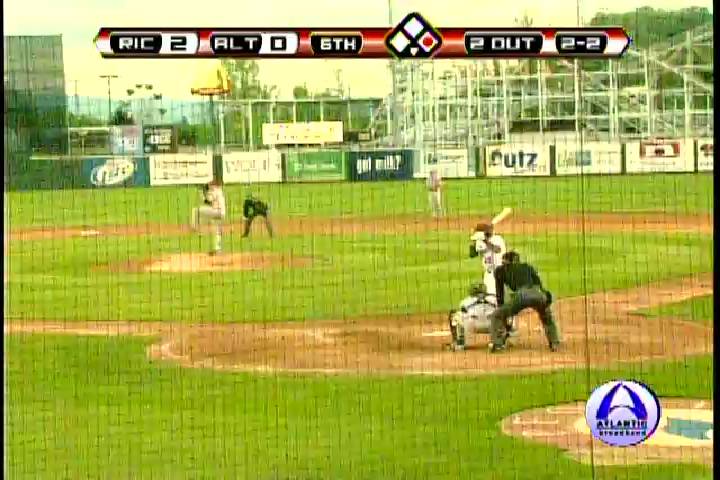 By John Parker / MiLB.com | June 25, 2014 4:20 PM ET
Top Giants prospect Kyle Crick put together his strongest outing in more than a month Wednesday afternoon, fanning a season-high 10 batters as Richmond completed a three-game sweep of visiting Harrisburg with a 6-2 win.
Crick, who had allowed a homer in each of his previous three starts, held the Senators to one hit -- a fourth-inning double by Rick Hague -- over five innings. His fell just shy of his career high in strikeouts, which is 11, accomplished twice last season with San Jose.
"I wasn't specifically trying to avoid home runs today," Crick said. "Homers happen, and you can't let that keep you from throwing strikes or trusting your stuff. I hadn't had a lot of adversity with homers earlier in the season, so that's something I had to keep in mind."
The right-hander, a first-round pick (49th overall) in 2011, worked around five walks, including three in the second inning, to keep Harrisburg off the board. He also unleashed two wild pitches.
Command has been an issue for Crick (5-3), who ranks fourth in the Eastern League with 38 walks in 53 2/3 innings. He's worked into the sixth inning just twice in 13 starts this season and needed 97 pitches, of which 58 were strikes, to get through five frames Wednesday.
"Both my breaking balls -- slider and curve -- were working well today, but my fastball command got a little shaky a few times. In the second inning, I was trying to work too fine and nibble at the corners when I needed to throw strikes.
"I needed to chill out a little bit, so I went on the back of the mound and cleaned out my spikes and just tried to throw strikes."
At 21, Crick is more than three years younger than the average Eastern League player. He said there's a pretty obvious difference between the circuit's hitters and those he'd faced at lower levels.
"The hitters here have approaches -- they're not just hacking away, they have plans of attack. Most of them can hit the fastball or take the outside pitch the other way, and they seem to pick up the spin on breaking balls a little bit better.
"The key for me has been keeping things simple and locating down in the zone. Even the best hitters will have trouble if you can put the ball where you want it."
The first-place Squirrels jumped out to an early lead in the first inning when a two-out double from Devin Harris scored Jarrett Parker all the way from first. After Harrisburg left the bases loaded in the second -- the Senators were 0-for-12 with runners in scoring position -- Richmond tacked on two runs in the fourth and additional insurance runs in the fifth, sixth and eighth.
Harris led the charge, going 3-for-4 with two doubles and two RBIs. Tyler Graham pinch hit for reliever Andrew Carignan in the sixth and stole his league-leading 31st base.
Starter Brian Dupra (1-3) took the loss as Harrisburg fell to a league-worst 12-26 on the road. Quincy Latimore got the Senators on the board with a leadoff homer in the eighth, the biggest of the team's three hits. They fanned 15 times in Wednesday's game and 30 times in the series while being outscored, 15-4.
John Parker is an editor for MiLB.com. This story was not subject to the approval of the National Association of Professional Baseball Leagues or its clubs.
View More