Stock Watch: Owens, Swihart rise together
Red Sox prospects emerging as formidable battery in MiLB ascent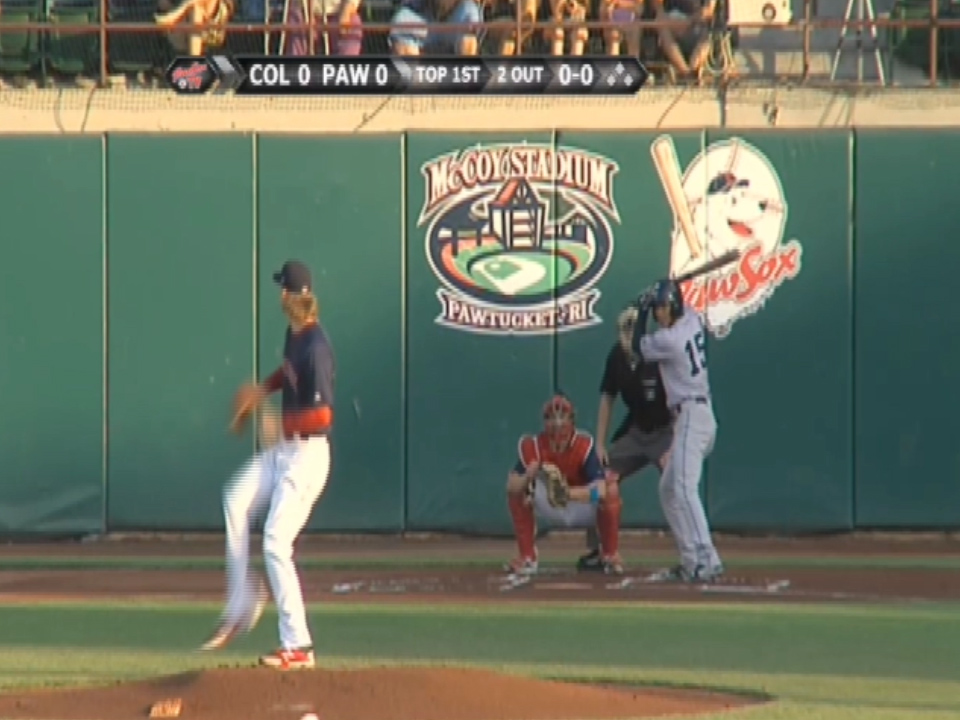 By Jake Seiner / MiLB.com | August 6, 2014 10:00 AM
Once a week this season, we're going to break down the prospects who have moved the needle on their prospect stock, mostly highlighting players on the rise, but also pointing out a few who are struggling against expectations. Note: All stats are through games played on Monday.
Trending up
Red Sox LHP Henry Owens, Triple-A Pawtucket
If you're here to read this article, first -- thank you. Second -- before you read, watch the video embedded above. Seriously. Just watch it. Done? Good. Okay. Now you may continue reading.
On Aug. 3, 2013, then-Portland manager Kevin Boles got to sit back and watch Owens make his Double-A debut. A year and a day later, Boles -- now with Triple-A Pawtucket -- had a similar experience, watching the 6-foot-6 southpaw make his International League debut Monday. Owens' growth in the past year was apparent.
"Physically, he looks like he's getting bigger and stronger," Boles said after Owens' 6 2/3 scoreless innings. "It looks like the [velocity] has ticked up a little bit. But just the repeatability of the delivery, I thought he was in sync, had a good rhythm and was pretty impressive."
Impressive is the right word for Owens' 2014 season. The left-hander posted a 2.60 ERA in 20 starts with Portland, including a pair of shutouts. He struck out 126 in 121 innings, dominating Eastern League opponents on a regular basis.
On Monday, he got his first taste of the IL and left a strong impression. In addition to a fastball that clocked as high as 94 mph on the stadium gun, Owens showcased the improvements he's made with the curveball.
The breaking ball was clearly Owens' third pitch heading into the season, when MLB.com's prospect team labeled it an "inconsistent" offering with some upside.
At least on Monday, it looked like the consistency has arrived. The pitch sat around the low-70-mph range and dipped as low as 69 mph. Six of his nine strikeouts came via breaking ball. He was able to start the pitch out of the strike zone and drop it in for called strikes, or able to start it waist-high and drop it out of the bottom of the zone to get swinging strikes.
That improvement has been a priority for Owens this year. The 22-year-old set out to make the pitch a weapon.
"He said people were saying he didn't have a curveball," catcher Blake Swihart said. "He's like, 'Hey, let's show them that I have a curveball.' So there it is."
The curve gives him another secondary weapon to go with his changeup, which has received positive reviews since he was drafted out of Huntington Beach, California.
In addition to the three-pitch mix, Owens is able to succeed because of his unique personality that ranges from somewhat goofy off the field to fiercely competitive on it.
"He's very poised," Boles said. "The boys love being around him. He lights up the clubhouse, there's no doubt about it. But the game makeup is a plus.
"The way he attacks the zone, there's no fear of contact. He's not afraid to throw any pitch at any time. You saw that he was able to throw some left-on-left changeups, he was able to throw his changeup in 3-2 counts. Again, he was very unpredictable, but that mound presence and poise and game makeup is a plus for him."
The total package is at attractive one. A well-commanded low-90s fastball, two swing-and-miss offspeed pitches and the makeup to let those pitches play up? Every team in baseball would love to have that developing at Triple-A.
Red Sox C Blake Swihart, Triple-A Pawtucket:
Owens wasn't alone in making his International League debut Monday. Swihart, Owens' battery mate for most of the past two years, was right there with the left-hander.
Swihart has developed steadily since going 26th overall in the 2011 Draft. Offensively, the switch-hitter has hit for more power this season, clubbing 12 homers in 92 Double-A games after managing just nine homers in 197 previous Minor League games. Swihart also has a good approach, with a 17-percent strikeout rate and 7.6-percent walk rate in Double-A, good for a .300 average and .353 on-base percentage.
He's also become a stellar defensive catcher, earning Boston's Minor League Defensive Player of the Year award in 2013. The 22-year-old caught 31-of-59 potential base stealers (47 percent) at Double-A and drew rave reviews from Boles for his energy and athleticism in his debut.
"He's not afraid to take charge," Boles said. "Just the pace and tempo and watching him throw between innings, watching him bounce around. He's just a high-energy kid, and I like his athleticism behind the plate. Presents the ball very well. Showed coverage, gained ground when blocking. He does a lot of things well."
Trending down
Marlins RHP Colby Suggs, Class A Advanced Jupiter:
Miami popped for Suggs in the second round of the 2013 Draft, envisioning a fast-track reliever with closer upside. The team sent him to Jupiter with an eye on multi-inning relief appearances, banking that he'd outstuff the competition there but also get a chance to sharpen his command and polish his repertoire. Instead, the command issues have left Suggs stuck with the Hammerheads and an ERA ticking up toward six. Suggs is walking nearly four batters per nine innings out of the Jupiter 'pen, and looking like far more of a project than Marlins fans probably hoped.
Jake Seiner is a contributor to MiLB.com. Follow him on Twitter at @Jake_Seiner. This story was not subject to the approval of the National Association of Professional Baseball Leagues or its clubs.
View More