Stock Watch: Pitchers unable to bear Bryant
Cubs prospect tormenting Southern League with patience, power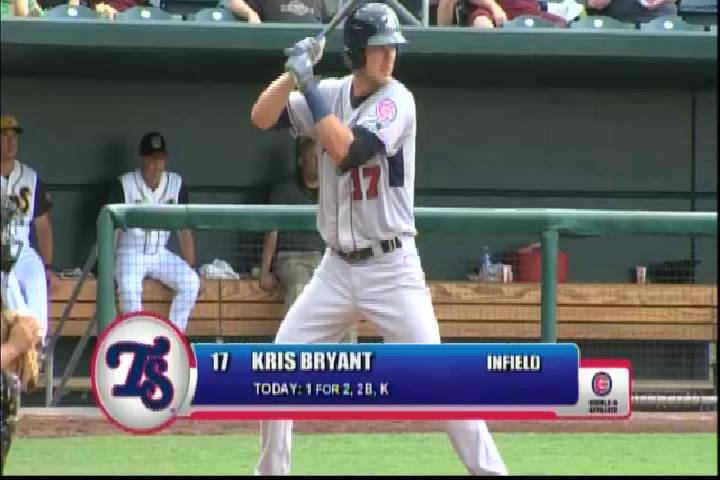 By Jake Seiner / MiLB.com | June 11, 2014 11:00 AM ET
Once a week this season, we're going to break down the prospects who have moved the needle on their prospect stock, mostly highlighting players on the rise, but also pointing out a few who are struggling against expectations. Note: All stats are through games played on Monday.
Trending up
Cubs 3B Kris Bryant, Double-A Tennessee
It's been almost two weeks since the Cubs publicly announced they had no intentions of bumping Bryant up to Triple-A Iowa or the Majors in the near future. The announcement was bad news for Southern League pitchers, and it's only gotten worse since, as Bryant has taken his offensive production up still another notch.
Over his last 10 games, Bryant is hitting .405 (15-for-37) with five homers, four doubles and a 1.419 OPS. The long-ball barrage has bumped him into the Minor League home run chase, and he temporary sat tied atop that leaderboard with fellow Double-A third baseman Joey Gallo -- both mashed their 22nd homers on Monday night. You can read about Gallo's walk-off blast here, and see Bryant's big fly below. Gallo hit No. 23 on Tuesday night in Frisco.
Bryant's been the best hitter in the Minor Leagues this year, slashing .357/.460/1.182 in 63 games. I recently viewed a four-game sample of Bryant's at-bats on MiLB.TV ranging from June 4-7. In that span, Bryant went 5-for-14 with three walks, three strikeouts, a home run and two doubles.
During the sample, Bryant's pitch selection was uncanny. Of the 37 times he swung, only once did he swing at a pitch that wasn't squarely in the zone -- he may have chased a down-and-away slider from a right-hander, although even that pitch was somewhat borderline.
Bryant made contact on 32 of those swings, and oddly enough, most of those whiffs came on fastballs in the zone. If there was one hole to Bryant's approach in the sample -- and again, he hit .405 and some of his outs came on loud contact, so we're not talking about something gaping -- it was he had a tendency to be late on fastballs. All three of Bryant's strikeouts came on heaters including two swings and misses on pitches over the plate. Mostly, though, Bryant was still able to connect even when he was late, fouling pitches off down the first-base line.
Of course, Bryant did plenty of damage against fastballs, too, like this home run he ripped Saturday (and as a special bonus, you get to watch some kid flip out after he whiffs trying to catch the long ball).
Several of the home runs Bryant has hit look similar to that. You can especially see in homer No. 22 embedded above how efficiently Bryant can clear his hips on pitches down and in and torque the bat to the ball, then lift it out somewhere between left and left-center.
His power isn't limited to left, though. I think the most impressive piece of hitting in the sample I saw was a double from Friday's game. In the at-bat, left-hander Chipper Smith challenged Bryant with consecutive inside fastballs. Bryant fouled the first down the first-base line then took the second for a ball. On the 1-1 offering, Smith tried to come inside with another fastball but missed down and away. The pitch was still in a decent spot, but Bryant jumped all over it, bashing a wall ball into the right-center gap.
Most of the contact Bryant made in the sample was loud. Three of his outs were screaming line drives more or less right at outfielders, and another was a towering fly ball that was nabbed on the warning track in center field. Right now, the 22-year-old is capable of hitting everything thrown his way by Double-A pitchers, and it's unlikely he really gets challenged until Chicago gives him a bump either to the Pacific Coast League or the Majors.
Yankees 2B Robert Refsnyder, Double-A Trenton
Refsnyder wasn't a major prospect coming into 2014. He didn't make MLB.com's Top 20 Yankees list but showed flashes of offensive potential in the lower Minors. Last year, he played 117 games with Class A Advanced Tampa, slashing .283/.408/.404 with more walks (78) than strikeouts (70). The knocks on Refsnyder, though, were two-fold. For starters, he didn't boast much in the way of power, hitting just six homers, and doesn't project to fill out much more physically. The other knock was related to his defense at second, a question that still remains.
It was possible to write Refsnyder's previous offensive successes off -- polished college players regularly dominate the lower Minors only to struggle adjusting at Double-A. Refsnyder's results with the Thunder can't be ignored, though. The 2012 fifth-rounder is slashing .342/.385/.548 through 60 games, matching his career high with six homers. He's been less patient, posting a strikeout-to-walk ratio of 38-to-14, but the trade-off for louder contact has been well worth it.
Refsnyder's swing is fairly simple, utilizing a small leg kick but managing to keep his head very still throughout the swing. A good example is below.
The 23-year-old has been especially good of late, batting .513 (20-of-39) with seven doubles in his past 10 games, and the Yankees' promoted him to Triple-A Scranton/Wilkes-Barre on Tuesday. He was 2-for-4 with two singles in his International League debut.
Trending down
Mariners RHP Taijuan Walker, Triple-A Tacoma
Things have not gone well for the 21-year-old in his return from a shoulder impingement this spring. Walker's allowed four homers in 10 innings with the Rainiers, struggling with his location and getting punished for pitches up in the zone. The stuff is still there -- he's also struck out 10 in those innings and his velocity has been fine -- but it's troubling to see Walker struggling in the Pacific Coast League after dominating there last season. Walker's stock isn't way down, but hopes that he could be a big part of Seattle's rotation this season have been hampered by the shoulder injury, it seems.
Royals OF Bubba Starling, Class A Advanced Wilmington
Near the end of the week, Starling will likely take the 1,000 plate appearance of his professional career with little to show. Through 989 plate appearances, he's slashed .235/.328/.391, and this year, he's hitting just .188 while striking out more, walking less and hitting for less power than he did last year. The 21-year-old still has tantalizing athleticism but is trending the wrong direction. The baseball skills -- namely, the hit tool -- just don't seem to be there.
Jake Seiner is a contributor to MiLB.com. Follow him on Twitter at @Jake_Seiner. This story was not subject to the approval of the National Association of Professional Baseball Leagues or its clubs.
View More