Stock Watch: Twins' May gets mind right
Righty's mental adjustments leading to fewer walks, better results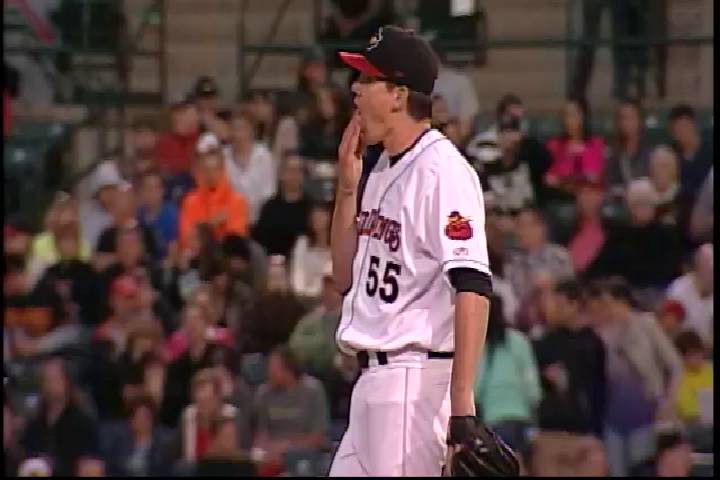 By Jake Seiner / MiLB.com | June 18, 2014 11:21 AM ET
Once a week this season, we're going to break down the prospects who have moved the needle on their prospect stock, mostly highlighting players on the rise, but also pointing out a few who are struggling against expectations. Note: All stats are through games played on Monday.
Trending up
Twins RHP Trevor May, Triple-A Rochester
Trevor May's stuff has never been a question. Drafted in the fourth round of the 2008 Draft by Philadelphia, May has tantalized with his potential ever since arriving in pro ball. Over 142 1/3 innings at the Class A level, he struck out 11.8 batters per nine innings. He bumped that number to 12.1 in 221 1/3 innings at Class A Advanced and still struck out more than a batter per inning in 301 1/3 innings in Double-A.
It's easy to see how he baffled hitters. May boasts a big fastball and can mix in quality secondary pitches like this curveball...
...and this changeup.
So why did the Minnesota right-hander need almost 700 innings of pro experience to reach Triple-A? The issue was control. May walked more than four batters per nine innings at every level, struggling at times to hit spots with his entire arsenal.
Talking Monday night after one of his best starts as a pro, May admitted that he had "underachieved" at Double-A. The culprit wasn't lackluster mechanics, though, or an innate inability to put pitches where he wanted. The issue was with May's mindset, which was a mix of misplaced concerns and a lack of consistent focus.
For starters, May had it in his head that the worst thing he could do as a pitcher was allow a hit.
"It was almost like, 'I don't want to give up a hit here,' so that made it OK to throw balls," May said. "The only way to guarantee not to give up a hit is to throw a ball. It was just something that happened with me."
May was coached in the right direction in that regard by the Twins, and though adjusting that mindset has helped, the biggest difference in 2014 was a tweak May made on his own to improve his concentration. May compared his approach to pitching in previous seasons to when he would try to do homework in high school. At some point, the mind starts to wander, and then, "You end up on Facebook or Reddit," he said.
In that sense, May has matured. He claims his ability to focus better in game situations -- along with a bit of physical maturity -- is the reason why he's dropped his walk rate to 3.4 batters per nine innings this season. The improved fastball command has also helped him drop his home run rate from 1.1 long balls per nine innings in Double-A to 0.4 in the International League.
If the concentration remains, May could prove a nice boost to Minnesota's rotation in short order. He has a deep arsenal (fastball, sinker, curve, slider and changeup) and has at times felt like he can control all of them -- he said he had all five offerings at his disposal in Monday's gem.
"I feel great, I'm in good shape and I feel like everything I do in between starts is really getting me ready to pitch every five days," May said. "The biggest thing is where my head is through the progression of a game. I'm staying right on what I'm trying to do."
Pirates OF Josh Bell, Class A Advanced Bradenton
There isn't much more the Pirates could want out of Bell right now. The outfielder is making consistent, hard contact with the Marauders, striking out in just 12.9 percent of his plate appearances while bopping nine homers and 15 doubles.
The next step for Bell is turning a few more of those doubles into round-trippers, something that should happen as he continues to mature, and also once he gets out of the Florida State League -- the most pitcher-friendly league in the Minors.
As is, Bell already has the look of a starting right fielder with a big arm and a solid bat. If the power does take another step forward -- and the strength is clearly there to do so -- Bell could be a monster hitter in Pittsburgh or elsewhere. If it doesn't, he should still drive enough doubles and get on base enough to be a quality big leaguer.
Trending down
Cubs 3B Christian Villanueva, Triple-A Iowa
Villanueva is one of the best defensive third baseman in the Minors, and so despite just average offensive numbers throughout his Minor League career, the 22-year-old is still competing for a long-term everyday job in Chicago despite the Cubs' glut of infield prospects at the upper levels.
Good as he is defensively, though, he's going to have to at least hit a little to stave off potential competition from Kris Bryant, Javier Baez, Starlin Castro or others (there are a lot of ways the infield could shake out in the long run, a good problem for the Cubs to have). With the pressure on his stick, Villanueva hasn't performed with Iowa, batting just .214 with six homers through his first 63 games.
The lackluster first half doesn't necessarily signal the end of Villanueva's quest to hang on to the hot corner down the road, but there might not be a tougher system in which to earn big league ABs at the position.
Phillies LHP Jesse Biddle, Double-A Reading
Biddle's situation is similar to May's a year ago, as the 22-year-old boasts big stuff and strikeout numbers but can't seem to find the strike zone with consistency in his second go at Double-A. He has slimmed his walk rate down from 5.33 batters per nine to 4.46 but still has work to do to get that to a reasonable rate.
Biddle managed a 2.64 ERA in May, but that masked a mediocre 25-to-14 strikeout-to-walk ratio over 30 2/3 innings. Things have gotten worse in June, where he has a 14.29 ERA through two starts.
Jake Seiner is a contributor to MiLB.com. Follow him on Twitter at @Jake_Seiner. This story was not subject to the approval of the National Association of Professional Baseball Leagues or its clubs.
View More