Suns' Rogers spins one-hitter in twinbill
Marlins right-hander fires first complete-game shutout in four years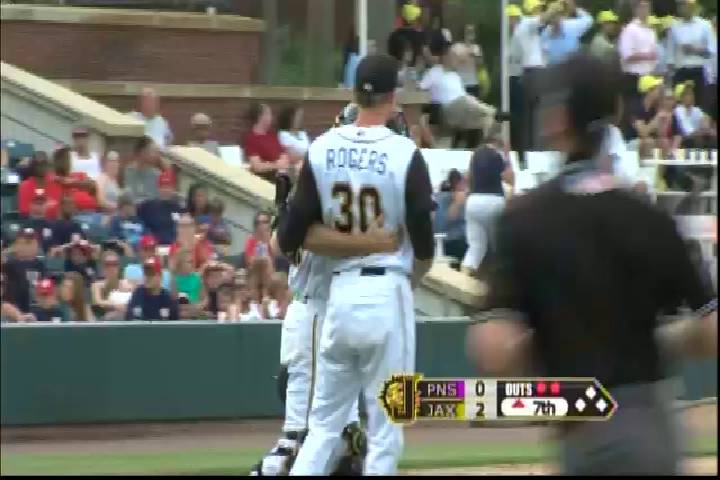 By Ashley Marshall / MiLB.com | July 18, 2014 2:38 AM ET
In hindsight, Jacksonville starter Jay Rogers can smile about giving up an infield single to the opposing pitcher. But he still wants that 2-2 pitch back.
That weak third-inning squibber to second base by Daniel Corcino was all that stood between Rogers and a no-hitter. Rogers tied a career high with nine strikeouts over seven innings to lead the visiting Suns to a 2-0 win over the Pensacola Blue Wahoos in the first game of Thursday's doubleheader.
"That was the first thing [Suns catcher] J.T. [Realmuto] said, that the no-hitter got broken up by the pitcher," said Rogers, who retired the final 14 batters he faced in his third career complete-game shutout and his first since 2010.
"It's kinda funny looking back on it now. I got behind in the count and laid a fastball in there and he got me. I had him 0-2 and threw two fastballs off the plate. Instead of trying to get him on three pitches or fewer, I tried to nibble with two strikes."
Selected by the Marlins in the 36th round of the 2010 Draft out of Rice University, Rogers learned a valuable lesson from the way he approached that at-bat with Corcino -- stay on the attack.
Rogers (5-2) threw 58 of 84 pitches for strikes and induced seven ground-ball outs. The nine strikeouts tied a career high. He also fanned nine for the Marlins' Gulf Coast League affiliate in a 7-0 win over the Astros on Aug. 6, 2010.
"That was the best outing of this season for sure," the 26-year-old right-hander said. "I was commanding my fastball well and I had the best breaking ball I've had all season. I was throwing the two-seamer so I got a tail on it and got some ground balls early in the counts when I knew they would be aggressive. I threw the changeup behind in counts when guys were looking for the fastball ... and the curveball I threw as a get-me-over first pitch or with two strikes as a chase pitch.
"I think just having that extra pitch working, the curveball, allowed me to strike out a few more guys and put something else in the back of their head which allowed the fastball to get by them a few more times."
In his fifth year in the Minors, the 6-foot-7 Oklahoma native has seen time with Triple-A New Orleans in each of the past two years. He was 7-4 with a 4.25 ERA in 17 games, including 16 starts, in the Pacific Coast League in 2013 and he was 1-1 with a 6.98 mark in six starts and two relief appearances with the Zephyrs earlier this season.
"I got off to a slow start in New Orleans and a pretty bad start here, but baseball is still fun wherever you play it," he said. "I just have to go out and perform the best I can and make the most of the opportunities I've been given and hopefully things will sort themselves out.
"I'm having a lot of fun here in Jacksonville with these guys. It's a fun team and we have a good manager and coaches. But obviously it is not where I want to be professionally at this time."
Both of Rogers' previous shutouts also came in shortened games. He threw a one-hitter for the GCL Marlins in a six-inning contest against the Mets on July 31, 2010 and two-hit the Nationals in a seven-inning affair 13 days later.
Suns third baseman Terrence Dayleg doubled and plated two runs and Realmuto collected a pair of hits to lift his average to .297
Corcino (8-8), ranked 10th among Reds prospects, allowed two runs on four hits and a walk while striking out five batters over five innings.
In the nightcap, Suns starter James Nygren allowed two runs -- one earned -- over three innings and Dayleg went 2-for-3 with an RBI double and two runs scored to help Jacksonville sweep the doubleheader.
Ashley Marshall is a contributor to MiLB.com. Follow him on Twitter @AshMarshallMLB. This story was not subject to the approval of the National Association of Professional Baseball Leagues or its clubs.
View More