Tapia does it again in Tourists' win
Rockies' No. 8 prospect records second straight three-hit game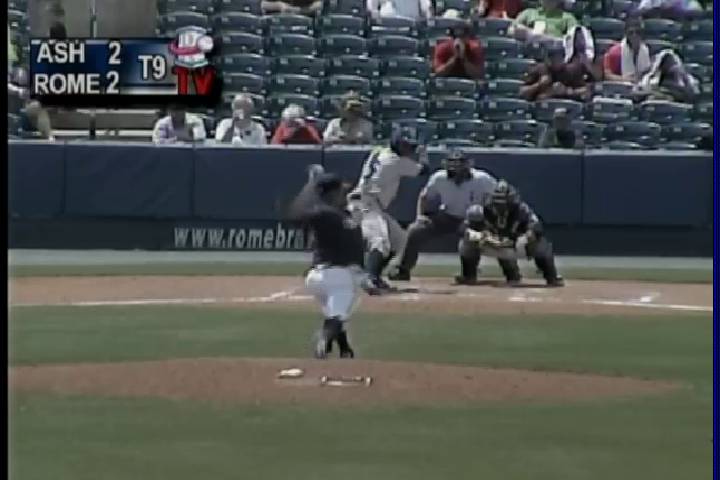 By Robert Emrich / MiLB.com | May 31, 2014 11:05 PM ET
Raimel Tapia found himself in an unfamiliar position at the end of the season's first month. He's since rectified that.
The Rockies' No. 8 prospect recorded his second straight three-hit game and scored twice Saturday night as Class A Asheville defeated Charleston, 8-4.
Tapia got the Tourists going by singling and scoring on a triple by Ryan McMahon in the top of the first inning. But his biggest at-bat was his final one, according to Asheville manager Fred Ocasio. Already 2-for-4 and with the Tourists holding a 5-4 lead, Tapia singled home Ashley Graeter. Cesar Galvez also scored when center fielder Brandon Thomas misplayed the ball.
"He got a big hit for us," Ocasio said, "RBI base hit, two strikes, and he battled. He's been more selective, he's not chasing the ball out of the zone and he's doing a really good job for us."
Tapia scored moments later on a base hit by McMahon, the Rockies' fifth-ranked prospect. He's hit safely in six straight games, although hitting streaks are nothing new for the 2013 Pioneer League Player of the Year, who had a 29-game run last summer for Rookie-level Grand Junction.
"The thing with Tapia is he had a really good year in Grand Junction," Ocasio said. "This year, he was struggling a little bit, and it's good to see him get back on track. We're gonna need him. He's one of those guys that swings the bat well and if we're going to do something in this league, we're gonna need him."
His current mini-streak is a microcosm of the month for the native of the Dominican Republic, who batted .340 with 21 RBIs in 24 games in May. It was a far cry from April, when Tapia posted a .616 OPS after slashing .357/.399/.562 in the Pioneer League. The difference, according to Ocasio, is improved plate discipline.
"It's just his strike zone awareness," the manager said. "Earlier in the year, he was swinging at too many pitches out of the zone. So that's where the pitches were going. Now he's gotten better at that, at not chasing pitches. He's looking for pitches in the zone and he's putting them into play."
David Dahl, the Rockies' No. 3 prospect, homered and scored twice, while McMahon contriuted three hits and two RBIs for the Tourists. With three of the Rockies' top 10 prospects filling the lineup, Ocasio finds himself in a fortuitous position.
"It's always nice to have guys of that caliber," he said, "guys that you know are good hitters that have a chance to hit for average. Those three guys not only have a chance to hit for average, they have a chance to hit for average with some power. It's always nice to have them."
Asheville's Zach Jemiola (5-5) won his second straight start after allowing two runs on six hits over 6 2/3 innings. He walked one batter without recording a strikeout.
Aaron Judge, the Yankees' No. 8 prospect, homered and drove in all four runs for the RiverDogs.
Robert Emrich is a contributor to MiLB.com. Follow him on Twitter @RobertEmrich. This story was not subject to the approval of the National Association of Professional Baseball Leagues or its clubs.
View More