Texas notes: Bonifacio looks to break loose
No. 3 Royals prospect finds himself at pivotal stage with Naturals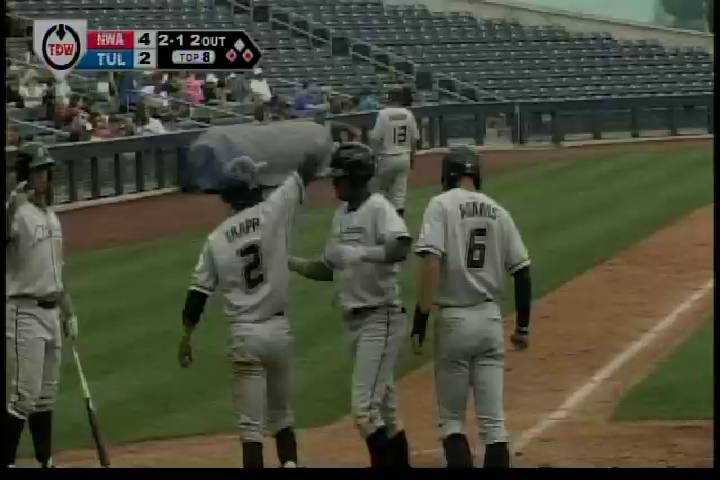 By Todd Traub / Special to MiLB.com | May 20, 2014 10:00 AM
Jorge Bonifacio doesn't look like a player at a crossroads.
Loping through the outfield, darting among his Northwest Arkansas teammates while shagging fly balls, Bonifacio looks right at home. But the No. 3 Kansas City prospect is coming off an injury year and, developmentally, is at a point where he and the Royals are trying to figure out the kind of hitter he's going to be.
"I feel pretty good," Bonifacio said after a recent pregame workout. "I keep working hard, keep doing a good job and good things happen."
There's little suspense over what position Bonifacio would play in the big leagues. With Wil Myers traded away in 2012, most scouts project Bonifacio to continue to play right field -- something of a problem position for Kansas City recently -- or at least one of the two corner spots.
The lingering questions are over Bonifacio's offensive numbers. Scouting reports praise his short swing and ability to hit to all fields, but the Royals would like to see him shorten his stance and generate more power.
It remains to be seen whether such adjustments will hurt or help. Bonifacio had three homers and was batting .253 entering Monday, and he brought a .289 average with 22 career homers into this season. His best power year was at Class A Kane County in 2012, when he hit 10 long balls and drove in 61 runs while batting .282.
Bonifacio said he's just trying to be more productive at this pivotal stage while not worrying excessively about his power numbers.
"I just try to hit the ball hard and make good things happen," he said.
Bonifacio's climb through the Minors has been steady, if not spectacular. Signed as a free agent out of the Dominican Republic in 2009 for just $135,000, Bonifacio's biggest obstacle so far has been a broken bone in his hand that limited him to 88 games last year among the Arizona League Royals, Class A Advanced Wilmington and Double-A Northwest Arkansas.
But the missed time was hardly costly as he earned a quick promotion to the Naturals after returning from his injury last year and hit .301 in 25 Texas League games.
"I missed two months and then did my rehab," he said. "I felt pretty good, and then I came here."
If Bonifacio is waiting to break loose at the plate this year, he admits Double-A pitching may have something to do with it.
"The pitchers, they throw outside, inside, changeup in any count, breaking balls in any count," he said.
Bonifacio, who will turn 21 next month, and his older brother Emilio, a former Kansas City middle infielder who is now hitting leadoff for the Chicago Cubs, are the only two pro ballplayers among the family's six male siblings -- and Jorge agreed it helps to compare notes with Emilio whenever possible.
"Every day I talk to him," Bonifacio said. "He taught me a lot -- how to play baseball."
In brief
'Grand'-standers: Padres prospect Rymer Liriano clubbed his first career grand slam Saturday night as San Antonio routed Frisco, 8-1, at home. The next night, Midland's Kent Matthes clubbed a grand slam of his own as part of a seven-run eighth inning to lift the RockHounds to an 8-2 win at Corpus Christi.
Calling Calixte: Eight days after delivering a walk-off homer against Springfield, Northwest Arkansas' Orlando Calixte came through with a game-winning solo shot Saturday night as the Naturals beat first-place Tulsa, 3-2, in Springdale, Ark.
Times two: Los Angeles Angels prospect Alex Yarbrough did his part to help his team's anemic power numbers at home Thursday night. Yarbrough belted his first two homers of the year and had a career-best six RBIs, running the team's home run total at Dickey-Stephens Park to three as the Travelers thumped the Naturals, 9-2.
Todd Traub is a contributor to MiLB.com. This story was not subject to the approval of the National Association of Professional Baseball Leagues or its clubs.
View More