Texas notes: DeShields back up and running
Hooks center fielder playing his game following fractured cheek bone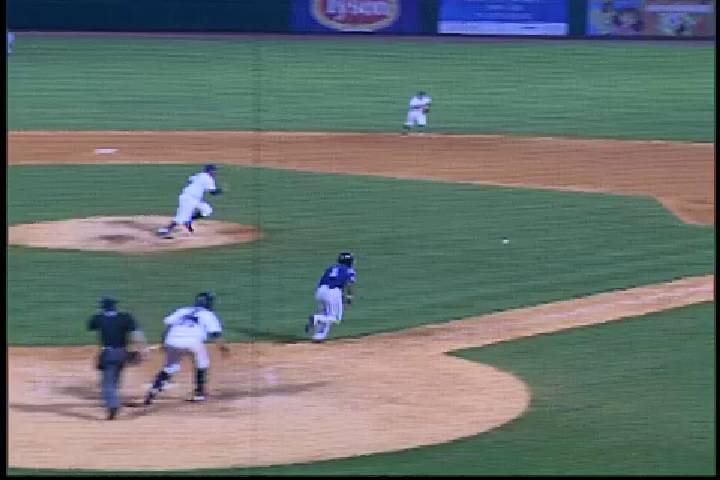 By Todd Traub / Special to MiLB.com | May 27, 2014 10:00 AM ET
Delino DeShields was always going to play a contact sport, choosing baseball over football after high school. But while he passed on blocking and tackling, DeShields has nonetheless taken a few shots.
The Corpus Christi center fielder and Houston Astros prospect has resumed his first Double-A season after being sidelined with a fractured cheek bone sustained when he was hit by a pitch April 18.
"A couple days afterward I wanted to get back out there and start playing again," DeShields said. "The doctor said if it wasn't really affecting my vision, then I'd be good to go."
The season was just over two weeks old when DeShields stepped in against Frisco's Phil Klein in the seventh inning. DeShields fouled off two pitches before Klein's up-and-in fastball hit him on the left side of his face.
DeShields made sure he had all his teeth and was able to walk off the field under his own power, then tweeted a photo of his massively misshapen face, earning praise for his toughness and sense of humor, making him something of an Internet star.
"I think having a positive attitude about the whole situation, keeping my faith in God and just realizing that everything happens for a reason, it really gave me some time to think about what's important to myself and my baseball career," DeShields said.
DeShields' father enjoyed a 13-year big league career, playing for the Expos, Dodgers, Cardinals, Orioles and Cubs while posting a .268 average and stealing 463 bases. Delino recalls growing up around big league ballparks and seeing how the professional game was played.
He had a chance to play football and baseball at LSU, but he didn't see football as a career and decided to get on with baseball when the Astros took him in the first round of the 2010 Draft.
DeShields began his pro career as a second baseman like his dad, but the Astros moved him to center, his old position at College Park (Ga.) High School.
Between Class A Lexington and Class A Advanced Lancaster in 2012, DeShields hit 12 home runs and stole 101 bases, making him the first Minor Leaguer to hit 10 or more homers and steal at least 100 bases in a season.
It may have been something of a disappointment that he spent the whole season at Lancaster last year -- hitting .317 and stealing 51 bases -- but he was ready to make up for lost time when he arrived at Double-A Corpus Christi this year, only to run into Klein and his fastball.
DeShields missed three weeks but says he would've tried to play the day after his injury. He said there are no lingering effects from his injury -- he's not gun-shy at the plate and has no hard feelings toward Klein.
"I played football growing up in high school and I remember my high school coach saying, 'If you're not dead, get off the field,'" DeShields said.
He figures his hardest knock is behind him, and now DeShields, among the Texas League leaders with 18 steals, is back to focusing on refining his defensive game in center and stealing bases.
"The two things you can bring to the field every day is your glove and your legs," DeShields said. "So every time I get on base it's an opportunity to help the team score runs. I don't really care how many stolen bases I get. As long as I can put myself in a position for us to score and win ballgames, that's all that matters."
In brief
Stellar opening: Arkansas' Nate Smith threw seven strong innings and struck out eight Missions in his Double-A debut Sunday. Smith gave up five hits and a walk in the 3-1 victory, Arkansas' third straight win.
Butler does it again: Tulsa right-hander and Colorado prospect Eddie Butler hasn't allowed an earned run since May 6. Butler improved his streak Sunday with seven five-hit innings in a 2-1 victory over Midland.
Luke-ing good: Lost in Frisco's 13-0 drubbing of Tulsa on Friday was another solid outing from RoughRiders righty Luke Jackson. The Texas Rangers prospect struck out four in seven innings to improve to 5-2 while lowering his ERA to 2.78.
Todd Traub is a contributor to MiLB.com. This story was not subject to the approval of the National Association of Professional Baseball Leagues or its clubs.
View More