Texas notes: Renfroe maintains his focus
Missions outfielder applying previous experience as pitcher, catcher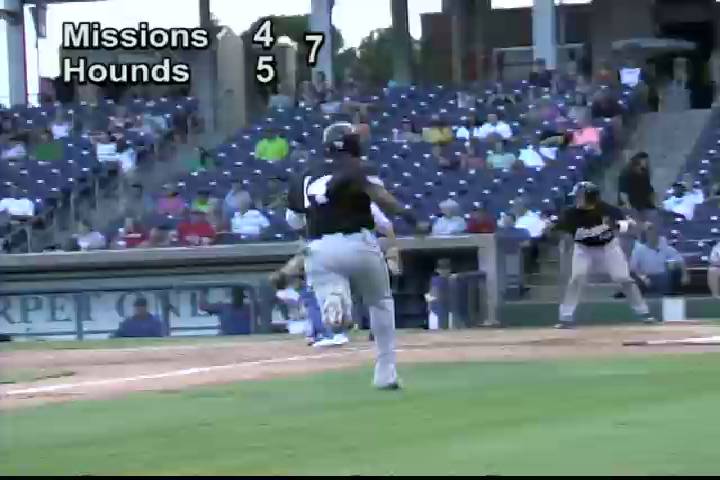 By Todd Traub / Special to MiLB.com | August 12, 2014 10:00 AM ET
Not only has Hunter Renfroe made a successful transition to the outfield -- he's proving versatile in the role as well.
The San Diego Padres' first-round Draft pick last year, Renfroe has seen time in all three outfield positions during his first Double-A stint with San Antonio after pitching and catching for much of his amateur career.
"It was tough at times, keeping my mind focused on every pitch," Renfroe said of the switch. "I realized I've just got to get out there, clear my mind and focus on each pitch the same way."
Renfroe, 6-foot-1 and 200 pounds, filled in at center field because of an injury to a teammate his sophomore year at Mississippi State and never looked back.
"I did well and it just kind of stuck," said Renfroe.
Renfroe set a single-season Mississippi prep high school record, belting 20 homers during his senior season at Copiah Academy -- to go with a 4-0 record on the mound. The Red Sox took notice and selected him in the 31st round of the 2010 Draft, but he opted to attend Mississippi State instead.
"I wanted to experience the college level and grow in baseball in general," he said.
Renfroe broke out as a junior last year, hitting 16 homers to lead the SEC and help the Bulldogs to the College World Series. Despite an 8-0 loss to UCLA in the finals, the college experience more than validated Renfroe's decision to attend school before turning pro.
"I wouldn't change that for the world. It was probably one of the best experiences I've been a part of," said Renfroe, taken 13th overall by the Padres after his junior season.
Signed to a $2.678 million bonus, Renfroe projects as a slugger with 25-homer potential. He hit six homers in 43 games between short-season Eugene and Fort Wayne of the Midwest League last year. This season he went deep 16 times with a .295 average before his promotion from Class A Advanced Lake Elsinore.
Renfroe is hitting .241 with four homers and 17 RBIs in 40 Double-A games, and if there's an area for improvement, it may be plate discipline. Renfroe is trying to cut down on the strikeouts after fanning 49 times, to just nine walks, in 43 games in 2013.
"You always want to try to cut down on the strikeouts," said Renfroe, who has 118 strikeouts in 109 games overall this year. "The more times you put the ball in play, the more chances you have to get a hit. You just want to keep your average up and work on plate discipline, not swing at bad pitches and really try to hunt the fastball."
But his pitching and catching experience may still be paying dividends for Renfroe.
"It helps that I do know pitching and I do know how to think as a catcher and what they're thinking up there," he said. "Because most catchers call the game now."
In brief
Bruised Appel: The North Division-leading Arkansas Travelers handed Corpus Christi right-hander Mark Appel -- the No. 1 overall pick in the 2013 Draft -- an 8-3 loss in his first Double-A decision, completing a three-game sweep of the Hooks for their ninth win in 10 games. Appel, the Houston Astros' prospect, gave up eight hits and four runs in five innings, though he struck out seven, including all three hitters he faced in his final frame.
Well staffed: Led by starter Alex Gonzalez, a product of Tulsa's Oral Roberts University, the Frisco RoughRiders staff held the Drillers to two hits and a pair of unearned runs in a 9-2 victory Sunday. Gonzalez held Tulsa hitless through five innings, and Will Lamb recorded four outs before Jason Langfels broke up the no-hit bid with a two-out double off Kyle Lotzkar.
Carrying Cards: Springfield first baseman Jonathan Rodriguez extended his league-best, 22-game on-base streak and Mike Mayers pitched seven scoreless innings, scattering four hits with four strikeouts, in the Cardinals' 9-1 victory over Midland on Sunday.
Todd Traub is a contributor to MiLB.com. This story was not subject to the approval of the National Association of Professional Baseball Leagues or its clubs.
View More