The Show Before the Show: Episode 34
Braves lefty Newcomb talks trade; Deals, logos, Rule 5 discussed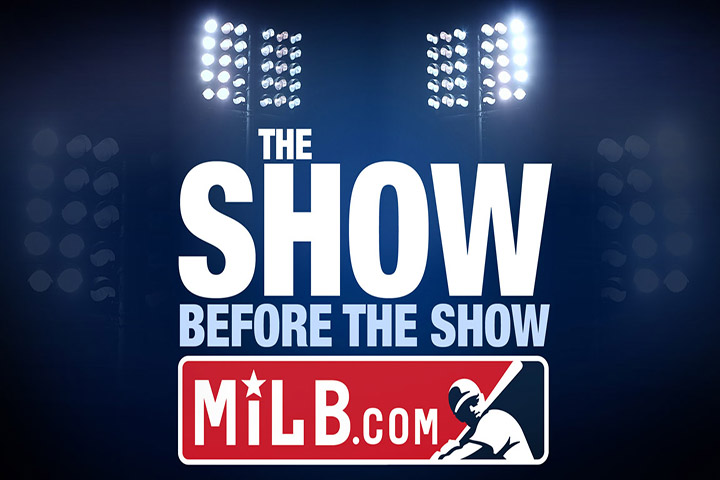 By MiLB.com | November 20, 2015 11:44 AM
Check out the latest episode of The Show Before the Show, MiLB.com's official podcast. A segment rundown is listed below, in case you want to skip to a particular section. Like the podcast? Subscribe, rate and review The Show Before the Show on iTunes. Send your questions and feedback to podcast@milb.com. You can follow hosts Tyler Maun (@TylerMaun) and Sam Dykstra (@SamDykstraMiLB) on Twitter.
Listen to The Show Before the Show Podcast »
Episode 34:
Three Strikes (1:55)
Tyler and Sam open the show by talking about the Red Sox-Padres deal that sent closer Craig Kimbrel to Boston and prospects Manuel Margot, Javier Guerra, Carlos Asuaje and Logan Allen to the San Diego system. Sam discusses how new Red Sox president of baseball operations Dave Dombrowski has a history of trading prospects for big league talent but that he thinks this particular deal involves one too many prospects
Speaking of trading prospects, the two co-hosts discuss which prospects they feel might be blocked at the Major League level and could therefore be ripe for inclusion in a trade, similar to Margot and Guerra.
The Arizona Fall League regular season came to a close Thursday, so Tyler and Sam talk about what stood out the most from this year's campaign, namely Adam Engel's breakout at the plate and Gary Sanchez's powerful performance.
Sean Newcomb interview (22:12)
A week after being included in the trade that sent Andrelton Simmons to the Angels, Braves top prospect Sean Newcomb calls into the show to talk about his reaction to the deal, where he was when he first got wind of his move, what Braves fans should know about him and how he plans to cut his walk totals in 2016. The segment ends with Sam quizzing the left-hander on his knowledge of Braves history. (Spoiler: he has a lot to catch up on.)
Ben's Biz Banter (38:12)
MiLB.com's Benjamin Hill joins for his weekly segment to talk about what he's calling "Logovember," since numerous teams have undergone redesigns, just in time for the holiday season. Kane County, Bowling Green and Omaha are among the clubs with new looks while the Appalachian, Southern and Texas Leagues have also updated their designs. The guys end by talking about Syracuse's new design and the Chiefs' decision to include a Native American logo.
Rule 5 discussion (53:35)
The deadline to add players to 40-man rosters and thus protect from this year's Rule 5 Draft is Friday night, so Tyler and Sam go over what the Rule 5 Draft means and which top prospects that are Rule 5-eligible are likely to be protected. You can keep track of which prospects have been to their organization's 40-man roster here.
Wrapping up (1:01:45)
Listen to The Show Before the Show Podcast. This story was not subject to the approval of the National Association of Professional Baseball Leagues or its clubs.
View More