EL notes: Bichette, Guerrero already a hit
Top Blue Jays prospects showcasing talents with New Hampshire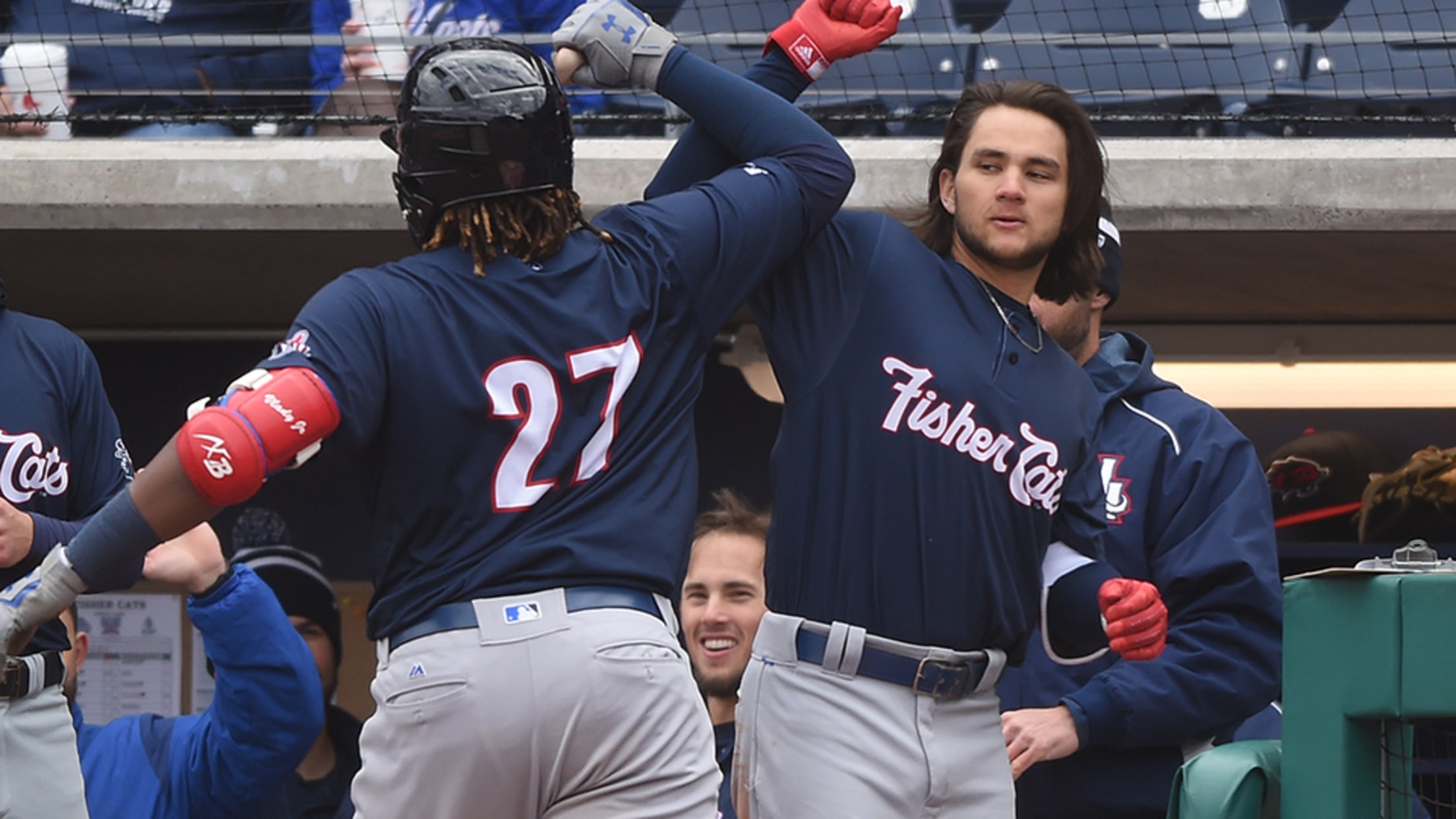 Vladimir Guerrero Jr. and Bo Bichette are hitting a combined .355 with nine extra-base hits and 16 RBIs for New Hampshire. (Kevin Pataky/MiLB.com)
Last year, Dunedin Blue Jays manager John Schneider received Toronto's two top prospects -- Vladimir Guerrero Jr. and Bo Bichette -- with about 50 games to play, helping the team's push toward a Florida State League title.Despite the brief stint with the highly touted youngsters, the skipper saw plenty of
Last year, Dunedin Blue Jays manager John Schneider received Toronto's two top prospects -- Vladimir Guerrero Jr. and Bo Bichette -- with about 50 games to play, helping the team's push toward a Florida State League title.
Despite the brief stint with the highly touted youngsters, the skipper saw plenty of them to form an opinion of what things were like with these two on his team.
"They're like a boy band when we're traveling," joked Schneider, who's now serving as their tour, er, field manager once again with the New Hampshire Fisher Cats. "It's crazy."
There is no doubt that the duo is one of the most exciting in all of Minor League Baseball, and their actions on the field have caused a throng of media, as well as a chorus of supporters, to greet them in whichever town they land.
As they rocket through Toronto's farm system, the two are grateful for having the luxury of being able to lean on one another to help dim the glow of the spotlight a little along the way.
"For me, he gets a lot more attention than I do," said the 20-year-old Bichette, MLB.com's No. 13 overall prospect. "He takes the burden off me a little bit, if you call it a burden. It's been good to have someone alongside me, getting attention, and we get to lean on each other for things. When we're struggling, when we're going good, we help each other out with everything. It's been good."
"It's been a good experience being with Bo," added the 19-year-old Guerrero, MLB.com's No. 3 prospect. "Not only him, but all the other guys too, we go out and do everything together."
One of the main things they go out and do is hit at every stop.
Bichette, whose father Dante was a four-time All-Star over his 14 seasons in the Majors, captured the Minor League batting title after hitting .362 across two levels last season.
Guerrero, whose father Vladimir will be inducted into the Baseball Hall of Fame this summer, posted a .323/.425/.485 slash line between Lansing and Dunedin a season ago.
"It's been really awesome to play with him and watch him develop," Bichette said of Guerrero. "He plays the game with a lot of passion, is really fun to be around, prepares well and all that. He's done nothing but continue to help me get better every day. He's been really good."
As they bring their hit show across the cities and towns of the Eastern League, there has been no letup as they continue their meteoric rise up the charts.
The pair have combined for 27 hits -- nine for extra bases -- and each has hit safely in all but one of the Fisher Cats' first nine games.
"If we weren't comfortable with sending them here to have success right out of the chute, we wouldn't have done that," said Schneider. "I think they're going to handle things just fine."
It's all a credit to the hard work of the two youngsters, who don't rest on their laurels, or their last names, and continue to do so while tackling the attention they garner along with it.
The only area where they may struggle a little bit is coming up with a moniker befitting the two chart-toppers.
"I just keep working and give 100 percent every time I go out to the baseball field," said Guerrero. "The name of the band is something I have to think about and get back to you in a couple of days."

In brief
No lil' feat:
Yankees No. 11 prospect
Dillon Tate
has looked strong in his first two outings of the season. In his first start, the fourth overall pick of the 2015 Draft allowed two hits and one run over six innings in a win over Richmond. Matched against Akron in his second start, the Trenton right-hander allowed one hit in four innings of work. Through 10 innings, Tate has yet to issue a walk, and his 0.30 WHIP is the lowest in the league.
The other piece:
Richmond shortstop
Ryan Howard
has caught fire at the plate after starting his Double-A career 2-for-11. Since then, the Giants' No. 24 prospect has hit safely in seven straight games, including four multi-hit efforts, posting a .444 average in that span. Howard's 14 hits are tied for second in the league, and he has only struck out five times in 38 at-bats.
Bat wrecking crew:
The Altoona pitching staff has gotten off on the right foot with regards to limiting base hits. Through their first nine games, they have allowed just 50 hits, 10 less than any other staff in the league. Even more impressive is that only one of those has left the ballpark. The Curve's 2.30 ERA is second in the league, and their 1.02 WHIP led the circuit.
Craig Forde is a contributor to MiLB.com