Travelers make history with 14-run inning
Drawing Texas League-record 10 walks, Arkansas ends losing streak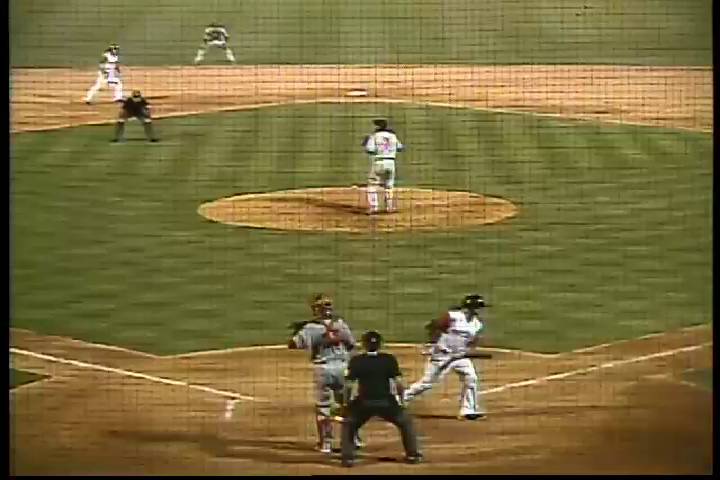 By Tyler Maun / MiLB.com | June 13, 2015 1:53 AM
With his team mired in a five-game skid, Double-A Arkansas manager Bill Richardson was happy to see his offense come alive. With the way his club's record-setting rally came about, he's happy to keep it in perspective.
The Travelers walked a Texas League-record 10 times in a league record-tying 14-run fifth inning, erasing an early deficit on the way to a wild 15-12 win over visiting Springfield to avoid a series sweep.
Trailing by a pair of runs heading to the bottom of the fifth, the Travelers put four of their first five men aboard and brought one home. Springfield starter Kyle Hald departed after issuing a one-out walk to Drew Maggi and hitting Cal Towey with a pitch. Lee Stoppelman (0-1) walked two more to force in the inning's first run. After Angels No. 21 prospect Eric Stamets fouled out to catcher Mike Ohlman, Arkansas' Brian Hernandez got things going.
Hernandez bounced a grounder up the middle that second baseman and No. 16 Cardinals prospect Breyvic Valera snagged on a dive. Valera's flip to second base was too late to get Sherman Johnson, however, and Towey and Jared Mitchell scored to give the Travelers their first lead.
"For me, they're still playing the game the right way," Richardson said of the inning's pivotal play, "and that led to getting [deeper] into the bullpen. There again, we just were very patient, didn't chase."
A parade of baserunners followed Hernandez. Raywilly Gomez, Blake Gailen and Hinkle all walked -- the last two with the bases loaded -- before Maggi singled home two runs to end Stoppelman's night. Jordan Swagerty didn't fare much better.
The 25-year-old right-hander walked Towey to reload the bases and Mitchell to force in a run before Johnson came through with a two-run single. After yet another walk by Stamets, Hernandez doubled home two more.
Springfield went to the bullpen for a third time, summoning Bruce Caldwell, who inherited runners at second and third. Caldwell yielded an RBI single to Gomez and a run-scoring double to Gaillen and walked Hinkle before finally closing the inning with a strikeout of Maggi.
"To be honest, I hate to see young men struggle," Richardson said. "They had a couple of guys who couldn't find the strike zone. I felt really bad for them. It's like a fraternity brother not doing well, so I felt bad for him."
In total, the Travelers sent 20 men to the plate in the inning and posted the Texas League's first 10-run frame since Aug. 25, when Corpus Christi scored 12 in the fifth en route to a 23-7 rout of San Antonio. While Richardson was happy for his team to end its skid, he wasn't gloating over the big inning.
"These guys are pretty professional," he said. "I think they were feeling bad for the guy a little bit, but on the other hand, knowing we have a big series coming up [at Northwest Arkansas], there wasn't too much going around. It was a serious moment because their guys were having trouble. It wasn't a happy time because it wasn't exactly that we were tearing the cover off the ball, but they were unable to find the strike zone. I know that's a boring answer, but it's honest."
The Texas League's previous record for walks in an inning was seven, set in 1918 and matched three times since, most recently in 2010 when Arkansas pitchers walked seven San Antonio hitters. To find a 14-run fifth inning, one has to search the record book all the way back to April 27, 1895, when Shreveport plated 14 at Sherman -- only 30 years after the end of the Civil War.
The Cardinals did their best to make a game of Friday night's shootout, scoring nine times between the eighth and ninth as Mike O'Neill went 4-for-5 with a double.
Tyler Maun is a contributor to MiLB.com. Follow him on Twitter @TylerMaun. This story was not subject to the approval of the National Association of Professional Baseball Leagues or its clubs.
View More