Twins Prospect Primer: Bet on Buxton
Game's top prospect poses five-tool threat ready for upper levels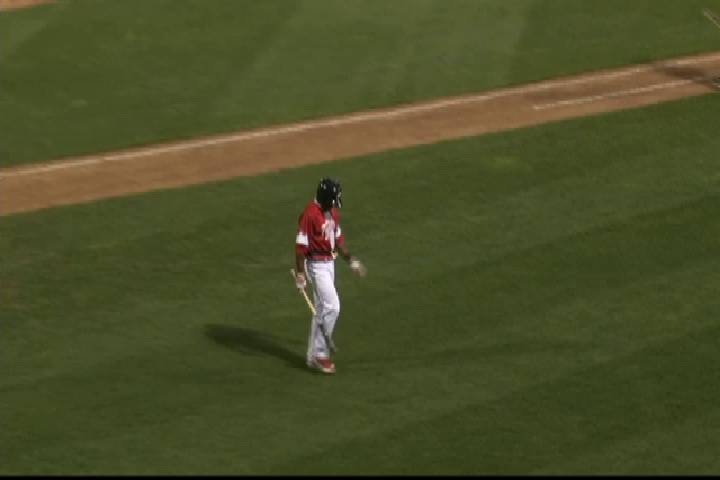 By Jake Seiner / MiLB.com | March 29, 2014 11:00 AM ET
Some players are on the verge of stardom, others are entering a crucial phase of their development and still others are getting their first tastes of full-season ball. With the 2014 season approaching, MiLB.com takes a look at the most intriguing prospects from each MLB organization.
Buxton is the top prospect in the game, and the gap between him and the field is notable. For a player yet to reach Double-A, the outfielder looks like a remarkably sure bet to succeed in the Majors.
His defense is outstanding, with Fort Myers manager Doug Mientkiewicz invoking Torii Hunter's name in describing Buxton's ability. Offensively, he's coming off a season in which he hit .334 with a .424 on-base percentage and 49 extra-base hits. He swiped 55 bases, and also used his speed to rack up an eye-popping 18 triples.
The 20-year-old is a five-tool talent with remarkable polish, and yet the first thing everybody talks about is his makeup. Mature, heady and motivated, Buxton could rocket to the Majors by year's end, though the safer bet is to anticipate a 2015 arrival.
The outfielder got his first extended look at Major League pitching in Spring Training this year, picking up some valuable lessons that should benefit him when he begins the season in Double-A.
"I found the game to be a lot faster," Buxton said. "The more that I played, the more at-bats I got, the more it started slowing down. Learned a lot from everybody. Just trying to take in as much information as I can to help improve my game."
Breakout prospect: Max Kepler, OF
The Berlin native has a fascinating back story, but the tale of his 2013 season was mostly disappointing. A Spring Training elbow injury derailed what should have been a full season with Class A Cedar Rapids. Though he returned midseason, the 6-foot-4 outfielder never found his stroke.
Which isn't to say his stroke was lost. Kepler is a physically impressive athlete with size and strength in spades. He mashed in the Rookie-level Appalachian League in 2012 and flashed those offensive talents despite his struggles in '13. The 21-year-old could develop into a complete hitter with power, and the Twins are hoping good health will let that happen this season.
Kepler is competing this spring to begin the year with Class A Advanced Fort Myers, and he looked like a good bet to do so midway through Spring Training. One thing the Twins are hoping to see is more aggression at the plate, especially against left-handed hurlers.
"You get a fastball to hit, you have to take advantage of it," Twins director of Minor League operations Brad Steil said. "Hanging in vs. lefties. We want to see him improve vs. lefties. It's something we've seen him do in the past, but as you move up and face better pitching, it becomes more of a focus to make sure he's in the lineup against those types of guys."
At the crossroads: Trevor May, RHP
At 24, May's career isn't quite at a make-or-break point just yet. Even if he doesn't develop any further, his raw stuff should be good enough to hold down a Major League bullpen job, which counts for something. But for a hurler with May's stuff and size, anything less than a rotation role might be seen as a disappointment for Twins fans.
May is 6-foot-5, 215 pounds with the frame to handle a heavy workload. His fastball has plenty of zip, his changeup is an above-average offering and both his curve and slider flash swing-and-miss potential.
The issue has been control. May walked 10.2 percent of hitters with Double-A New Britain last season in his second full year in the Eastern League. That rate was down slightly from the year before, but still too wild to project Major League rotation success.
The big right-hander did show better command in the Arizona Fall League, along with a better changeup. May will need those improvements to jump with him to Triple-A this season if he's going to stay in Minnesota's long-term rotation plans.
"For him to get better, it's going to be pitching down in the zone with his fastball," Steil said. "When he gets in trouble, he leaves the ball up above the belt. He's just got to make sure he's staying on top of the ball and pitching down in the zone. If he does that, he'll see results."
More to keep an eye on: Cedar Rapids is going to be a fun affiliate in 2014 thanks to a stacked rotation that at various points could include Kohl Stewart, Jose Berrios, Lewis Thorpe (featured here), Aaron Slegers, Randy Rosario, Fernando Romero, Stephen Gonsalves and Felix Jorge, all of whom either are legitimate starting pitching prospects or could be in short order. ... The Twins will try to find out whether Jorge Polanco is a long-term solution at shortstop by letting him play the position more with Class A Advanced Fort Myers -- Polanco played a little more second than short with the Cedar Rapids in '13. ... Polanco's biggest organizational competition, Danny Santana, made big strides defensively in '13 -- Steil estimated that 20 of his 32 errors came in the first two months of the season, and gave the infielder rave reviews for the rest of the campaign.
Jake Seiner is a contributor to MiLB.com. Follow him on Twitter at @Jake_Seiner. This story was not subject to the approval of the National Association of Professional Baseball Leagues or its clubs.
View More