Undrafted Scribner proves self with Astros
ValleyCats' righty drops ERA to 0.77 in longest outing of pro career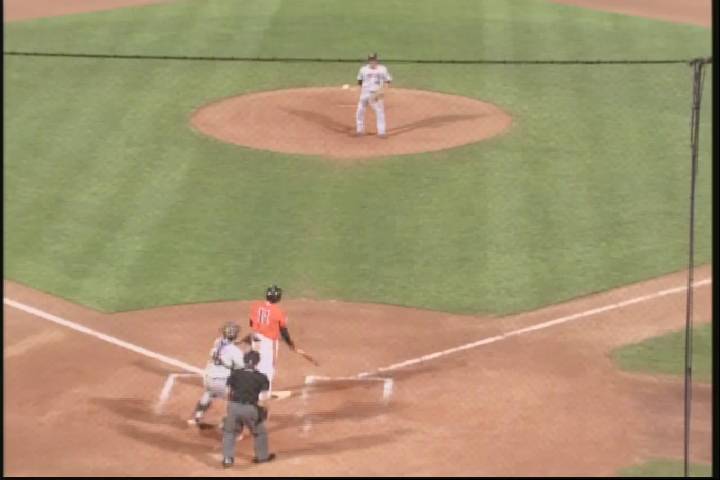 By Jake Seiner / MiLB.com | July 29, 2014 12:37 AM
Astros prospect Troy Scribner is a lot of things, but he's eager to let you know that dumb isn't one of them.
The Sacred Heart product went undrafted as a senior right-hander in 2013. He's well aware of the hundreds of names once stuck to the walls of Major League Draft war rooms. He knows that somewhere near the bottom of all those boards, "Scribner, Troy," was left unplucked, even after 40 rounds.
"I'm not stupid, I know what goes on," Scribner said. "There's always a little, I'd guess you'd call it a chip on my shoulder, just trying to prove a point. But I feel good. I know I was talented enough [to play pro ball]."
A year after being passed over in the First-Year Players Draft, the 6-foot-3 right-hander is thriving in Class A Short Season. The 23-year-old tossed a career-high seven scoreless innings for Tri-City on Monday, slimming his ERA to 0.77 in a 1-0 victory over Aberdeen.
Scribner (6-1) allowed three hits and two walks while striking out seven in the win. He leads the New York-Penn League with 57 strikeouts and a 0.79 WHIP, while his ERA is second behind Auburn's Reynaldo Lopez (0.75).
"I'm getting pretty consistent with my fastball, and everything works off of that," Scribner said. "I was able to throw the fastball to both sides of the plate, down in the zone. If you do that, you're going to have success in this league."
Scribner credits his success this year to better command of his heater. Ever since signing with Houston days after the 2013 Draft, Scribner's placed a heavy focus on improving the consistency of his delivery.
"It's something I've battled my whole career is being consistent with my body," he said. "I don't have the strongest base, and I've been inconsistent from the ground up."
Able to train on a professional schedule for the first time, Scribner has added strength and stability to his lower body. He spent the offseason improving that at home in Washington Depot, Connecticut.
Additionally, he's worked with a number of pitching coaches in the Astros system, including Tri-City's Chris Holt and the team's senior pitching advisor Doug Brocail, to improve the consistency of his delivery.
Brocail's tutelage has proven especially fruitful. During a brief stint with Double-A Corpus Christi in late April and early May, Scribner got some one-on-one time with the former Major League hurler.
"Brocail worked with me a couple of times, just working on keeping it simple," Scribner said. "Keep it one smooth motion instead of a bunch of broken pieces. Once I got my delivery down with him, it was just a matter of repetition, repetition, repetition."
Scribner finished his career second at Sacred Heart with 261 strikeouts, 344 innings and 26 wins. In his four years, the Pioneers went to four Northeast Conference Tournament championship games, winning titles in 2011 and 2012 -- he threw three straight complete-game victories to open the 2011, 2012 and 2013 NEC Tournaments.
Now the righty is lighting up the New York-Penn League with stellar fastball command and a quality changeup. That 1-2 punch has driven most of Scribner's success with the ValleyCats, although he finally corralled his breaking ball and worked in that offering more Monday.
"Usually, every time I start my fastball is pretty good, but today, the other stuff was good on top of it," Scribner said. "I had a good changeup, and I finally had a good curve. I hadn't had that for my last couple starts, and I found it today.
"I think I had just tried to do too much, force it, instead of letting it come out smooth and letting my arm do the work for me. I'm slowing down and staying smooth off the mound and letting my hand and my grip do it for me."
For Aberdeen, Baltimore's No. 16 prospect Stephen Tarpley countered with 6 1/3 strong innings. The left-hander allowed an earned run on four hits and three walks. The 21-year-old added four strikeouts while dropping his ERA to 4.67 in eight appearances (seven starts).
Jake Seiner is a contributor to MiLB.com. Follow him on Twitter at @Jake_Seiner. This story was not subject to the approval of the National Association of Professional Baseball Leagues or its clubs.
View More