Urena extends shutout streak, hits triple
Marlins' ninth-ranked prospect extends scoreless run to 18 innings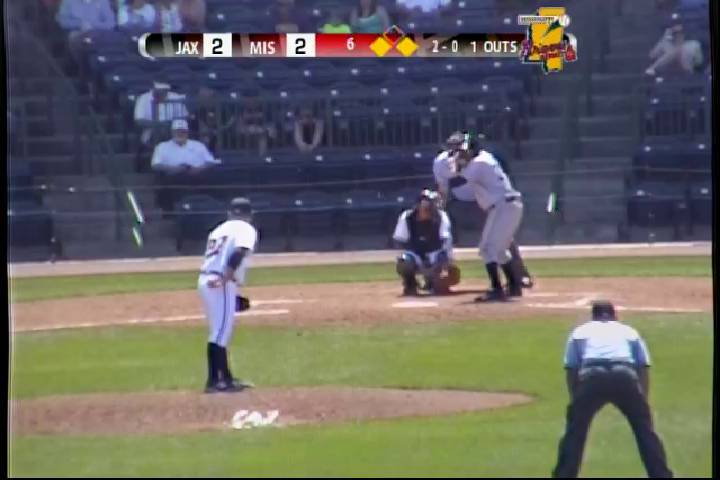 By Josh Jackson / MiLB.com | August 1, 2014 1:08 AM ET
If Jose Urena continues to improve the way he did in July, the right-hander is in for an unforgettable August.
"I think he's getting into a groove," said Double-A Jacksonville pitching coach John Duffy. "He's developing right before our eyes."
The Marlins' ninth-ranked prospect scattered five hits and a walk while striking out three over seven shutout frames in the Suns' 8-1 win over the Stars at Huntsville on Thursday. Urena also belted an RBI triple, and he's now 10-7 with a 3.67 ERA.
"I was working a lot with the changeup," he said.
With the dominant outing, the 22-year-old Dominican Republic native extended a scoreless-inning streak to 18, dating back to the second inning of his July 20 start. He also dealt seven shutout frames on Saturday.
"I was working on those [last] two starts to give it the best I have," said Urena, "and everybody on the team was doing a good job."
Over the course of the month, he's given up nine runs in 40 2/3 innings.
"He had a slow start at the beginning of the year, but he got his delivery repetition under control, and he has a good mind-set," said Duffy. "He's starting to execute quality strikes one pitch at a time, and he can repeat the delivery."
The pitching coach agreed Urena's changeup is one of the keys to his recent success.
"He's got a good feel for his changeup, which is a power change," said Duffy. "The changeup and the slider get hitters off balance, and his fastball is better and better. He has an above-average fastball and he does a real good job of locating. He's getting so he can get the maximum [results] out of the minimum [pitches]."
Urena induced 10 groundouts and four flyouts while throwing 85 pitches -- 58 of them for strikes. He worked around singles in each of the first three innings and tossed a perfect fourth. In the fifth, though, he ran into trouble, giving up back-to-back singles to Adam Weisenburger and Kentrail Davis.
"I think he was mad at himself, even though they were both ground balls. Four of his five hits were ground balls, and one was a bunt and another was just inside the bag at third," said Duffy. "But you can never tell whether he's throwing a shutout or getting hit around [from his demeanor]. His focus has gotten better, and he's learning how to execute to get ground balls."
He got one to get out of the fifth-inning jam, inducing a double play from Yadiel Rivera. He then worked a 1-2-3 sixth and eliminated a seventh-inning walk to Robinson Diaz by getting Weisenburger to bounce into a double play.
"He seemed pretty much in control the whole time. With the walk, he tried to get after it with his body instead of letting his hand do the work," said Duffy. "That can happen sometimes, but then he settles in."
Urena's triple was his first extra-base hit of the year and produced his first RBI. With two outs and a runner on third in the sixth, he knocked a 1-0 offering from Stars starter Drew Gagnon passed Davis in right field.
"That was fun. I got surprised -- I thought the guy was going to catch it," Urena said. "Everybody was happy, because when something like that happens, the pitcher is with the team working together [on offense] and you can feel it's good for the team."
"He was pretty excited," Duffy said. "He was throwing his hands up around first base. Then he realized the ball got by [Davis], and he can run a little bit. He just has fun when he's out there. He has a lot of passion for the game. He's a passionate kid and he wants to win, and he does things right out there."
The Suns' Isaac Galloway went 3-for-5 and fell a homer short of the cycle with four RBIs.
Josh Jackson is a contributor to MiLB.com. This story was not subject to the approval of the National Association of Professional Baseball Leagues or its clubs.
View More