Velazquez extends streak to 70 games
With three hits, D-backs prospect closes in on on-base record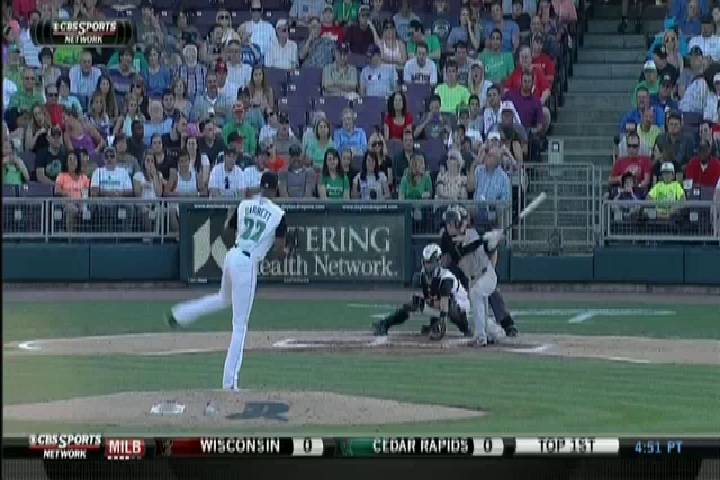 By Kelsie Heneghan / MiLB.com | July 12, 2014 1:44 AM ET
With a hit or a walk in his next game, Andrew Velazquez could place himself among a couple of "idiots."
The Diamondbacks infield prospect went 3-for-5 on Friday night to extend his on-base streak to 70 games, one shy of the Minor League record shared by former Red Sox teammates Kevin Millar and Kevin Youkilis.
"It's definitely a blessing to have your name amongst those guys. That's great company, those guys went on to have great careers," Velazquez said. "To have my name with them is definitely a good thing."
The 19-year-old shortstop also contributed an RBI, two stolen bases and a run scored as Class A South Bend coasted to a 9-2 victory at Fort Wayne.
"I'm just enjoying this streak and the little buzz going on around it. ... I've seen the ball pretty well, taking a lot good pitches, just having good AB's out there," Velazquez said after the bus ride back to South Bend. "I contribute even when I'm not getting hits. Walks keep the average up as well, they're always good to have. That's one aspect that I've worked on and I'm proud of, and I'm just being patient and getting on base."
The switch-hitter has 92 hits and 41 walks and has been hit by four pitches during the streak, which began on April 22.
"I'd be lying to say I wasn't nervous. It's definitely a weight off my shoulders when I get on," Velazquez said. "It's my main focus to help my team get a 'W,' but before the games, it's definitely on my mind, especially for the first two or three AB's. I like to get on base in the first AB so I can relax."
That didn't happen Friday as the Bronx native took a called third strike in the top of the first. He singled in a run, stole a base and scored in the second, singled again and recorded his 40th theft in the fourth and doubled in the seventh. With Mallex Smith promoted to the California League, Velazquez is the active stolen base leader in the Midwest League.
"I'm a lot more aggressive this year, so that's another big up from last year," said the 2012 seventh-round pick, who had seven steals in 65 games for South Bend in 2013. "I'm not risky, just trying to be aggressive and make things happen. I know my biggest asset is my speed; getting on base is important, but it's about trying to turn singles into doubles."
As he continues to get on base and close in on a spot in the Minor League history books, there's just one thing Velazquez said he'll be doing on his 20th birthday Monday.
"Celebrating the record," he said with a laugh.
While Velazquez extended his own streak, the Silver Hawks sent Fort Wayne to its 13th straight loss.
Breland Almadova drove in four runs and fell a triple shy of the cycle for South Bend, while Marty Herum matched Velazquez with three hits.
Sean Furney (5-4) won his third straight start, giving up two runs on five hits over seven innings. He walked one and struck out one.
Kelsie Heneghan is a contributor to MiLB.com. Follow her on Twitter @Kelsie_Heneghan. This story was not subject to the approval of the National Association of Professional Baseball Leagues or its clubs.
View More