Velazquez ties record with late single
D-backs' prospect has reached base safely in 71 straight games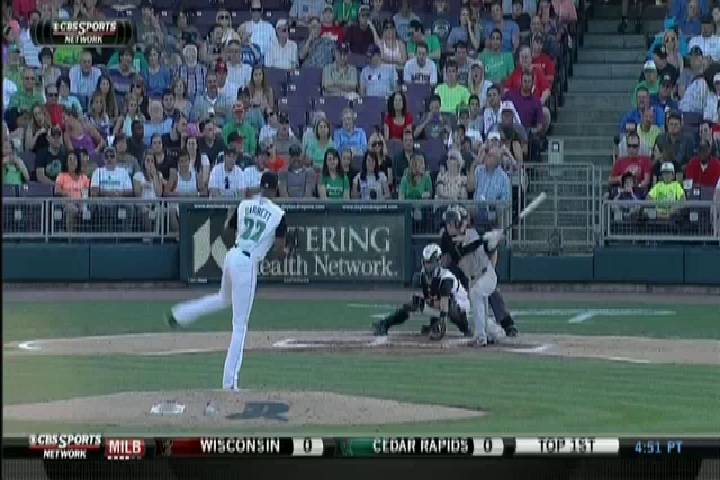 By Mark Emery / MiLB.com | July 13, 2014 1:23 AM ET
After coming into Saturday's game on the cusp of baseball history, Andrew Velazquez entered the seventh inning on the verge of crushing disappointment.
Three at-bats had come and gone without the South Bend leadoff hitter reaching base, a feat he had accomplished in every one of his previous 70 games. By getting aboard at Fort Wayne, he would tie the Minor League record of 71, but that looked less and less likely as the final out edged closer and closer.
Fortunately for Velazquez, opposing starter Kyle Lloyd -- who struck out 13 Silver Hawks in the TinCaps' 6-1 win -- was replaced by Jason Jester to start the seventh. Jester retired Ryan Gebhardt, walked Breland Almadova, and then it was Velazquez's turn to bat.
Burdened with more than a little pressure, the D-backs prospect came through with a line-drive single to left field, tying the on-base record established by Kevin Millar in 1997 and matched by Kevin Youkilis in 2003.
"He grinds out that at-bat. It was exciting," South Bend manager Mark Haley said. "I could see he was nervous; we're all nervous. He was able to take a fastball and go the other way. I'm so excited for him."
Forced to watch from the press box while serving a three-game suspension, the skipper was impressed -- but not surprised -- by how Velazquez responded when the streak came down to his last at-bat and the count got to 1-2.
"He's fouling balls off, then he finally got a pitch," Haley said. "It was a good pitch, but he got his hands inside it, hit it over the shortstop's head for a base hit, which was nice. I mean, I was like, 'Oh my God.' I got chills.
"In his last at-bat, to be able to tie it, that's even more a tribute to him and his ability to focus on a challenge. That's a special character trait."
The 2012 seventh-round pick's on-base streak began on April 22, when he tripled and walked against Dayton. Through 88 games this season, the 19-year-old shortstop is batting .311 with an .860 OPS. Velazquez leads the Midwest League with 169 total bases and 13 triples while ranking second with 40 stolen bases.
"He used to have zero awareness of the strike zone, he was up there hacking. But all of a sudden, he started focusing," Haley said. "We used to get on him about that, saying, 'Hey, you need knowledge of the zone, to lead off.' And he took that seriously and now he's pretty much mastered it.
"You have to really throw quality pitches to him to make him swing out of the zone. And at that young age, when you've got an idea of the strike zone and the ability to take that and implement a plan like he does, that makes you a special kid."
Despite the many problems Velazquez poses for pitchers, Lloyd (3-3) got him to swing at strike three on two occasions and induced a flyout to center field in their other meeting. The 23-year-old right-hander relied on his splitter all night, and a hitter chasing a record wasn't about to force a change in his approach.
"In the third at-bat when he struck out, he swung at three straight splits that, I mean, they were good pitches, but they weren't in the strike zone," Lloyd said. "I think he started to kind of press towards the end there. I just had him guessing."
With a career-high 13 strikeouts, Lloyd fanned the most batters in one game for Fort Wayne since Brian Whitaker rang up 13 strikeouts on Aug. 8, 2003, at Lansing. He issued just one walk and allowed five hits, including a first-inning solo homer to Daniel Palka, who leads the league with 18 roundtrippers.
Lloyd struck out the side in the first and sixth while lowering his ERA to 4.77 and helping the TinCaps snap a 13-game losing streak.
"I was working ahead a lot, which always helps," he said. "[The splitter] was working well tonight. A lot of swings and misses with two strikes, so that really helped.
"It was better today than it has been the last couple of outings. But it's always been my go-to pitch. That's what I threw in college. That's what I always say got me drafted, was my splitter. It was really effective tonight."
South Bend starter John Omahen (4-3) gave up five runs -- two earned -- on five hits in five innings. The Silver Hawks committed four errors behind him, three in the first inning. The righty walked two batters and struck out one as his ERA rose slightly to 3.06.
Mark Emery is a contributor to MiLB.com. Follow him on Twitter @Mark_Emery. This story was not subject to the approval of the National Association of Professional Baseball Leagues or its clubs.
View More