Walker makes quick impact with Tides
Orioles' No. 13 prospect goes 3-for-3, gets first two Triple-A RBIs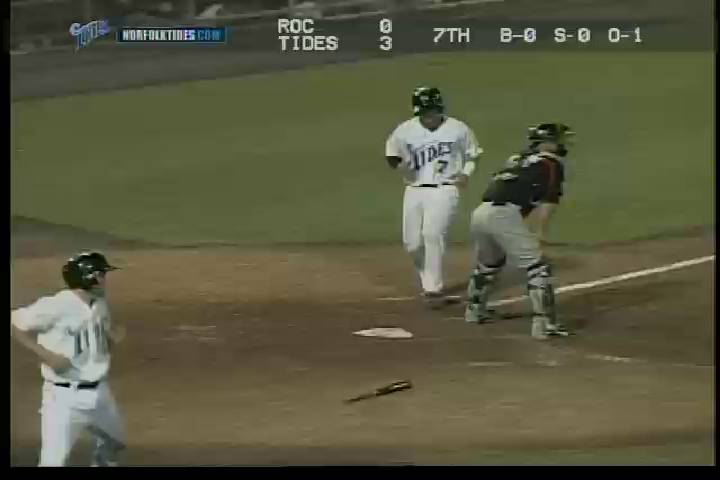 By Robert Emrich / MiLB.com | July 19, 2014 11:46 PM ET
By not looking to make a big impact in his first few Triple-A games, Christian Walker has done just that for the Norfolk Tides.
The Orioles' No. 13 prospect collected three hits and drove in his first two runs in the International League as surging Norfolk defeated Rochester, 4-2, on Saturday night.
After walking in the first inning, Walker doubled in the third for his first extra-base hit in three games with the Tides. With two hits under his belt in the seventh, the 23-year-old first baseman extended Norfolk's lead to 4-0 by singling home Cord Phelps and Brian Ward.
"I took a changeup first pitch," Walker said of his run-producing at-bat. "He [reliever A.J. Achter] threw me a fastball later on and I took a big swing and I was a little bit late. I was hoping he was going to try and challenge me again, and I got it on the good part of the bat."
Promoted from Double-A Bowie on Thursday, Walker has collected four hits in nine at-bats while drawing four walks and scoring twice with the Tides. The patience he's shown in the first week of his Triple-A career has proven both challenging and rewarding.
"Yeah, it has [been tough]," said Walker, an Eastern League midseason All-Star. "It's not extremely difficult or anything. I'm just really trying to zone in so I'm trying to hit something I can handle and not chasing what they want me to go after."
The University of South Carolina product understands that the jump to Triple-A is going to require him to be able to adapt to experienced pitchers.
"It's just going to be constant adjustment," he said. "Everyone is making their adjustments as far as pitching. These guys are really polished and they've been around for a while. It's just going to be a matter of who makes adjustments sooner."
Walker earned the promotion after putting together a stellar first half with Bowie. He still ranks second in the Eastern League with 20 homers while batting .301 with 77 RBIs in 95 games. The Pennsylvania native said he feels the bump validated the work he'd put in.
"It's good, it's a great feeling," he said. "It's easy to stay motivated when good things are happening and you're moving up and taking strides forward in your career."
Quintin Berry and Dariel Alvarez, who was promoted with Walker, each drove in a run in the Tides' sixth straight win.
Nick Additon (5-5) allowed one hit over 3 1/3 innings of scoreless relief for the win and Evan Meek pitched around a hit over the final 1 1/3 frames to earn his fifth save.
James Beresford had two hits, including a double, and two RBIs for the Red Wings.
Robert Emrich is a contributor to MiLB.com. Follow him on Twitter @RobertEmrich. This story was not subject to the approval of the National Association of Professional Baseball Leagues or its clubs.
View More