SAL notes: Suns' Perkins picking up the pace
Nationals prospect settles into switch-hitting with Hagerstown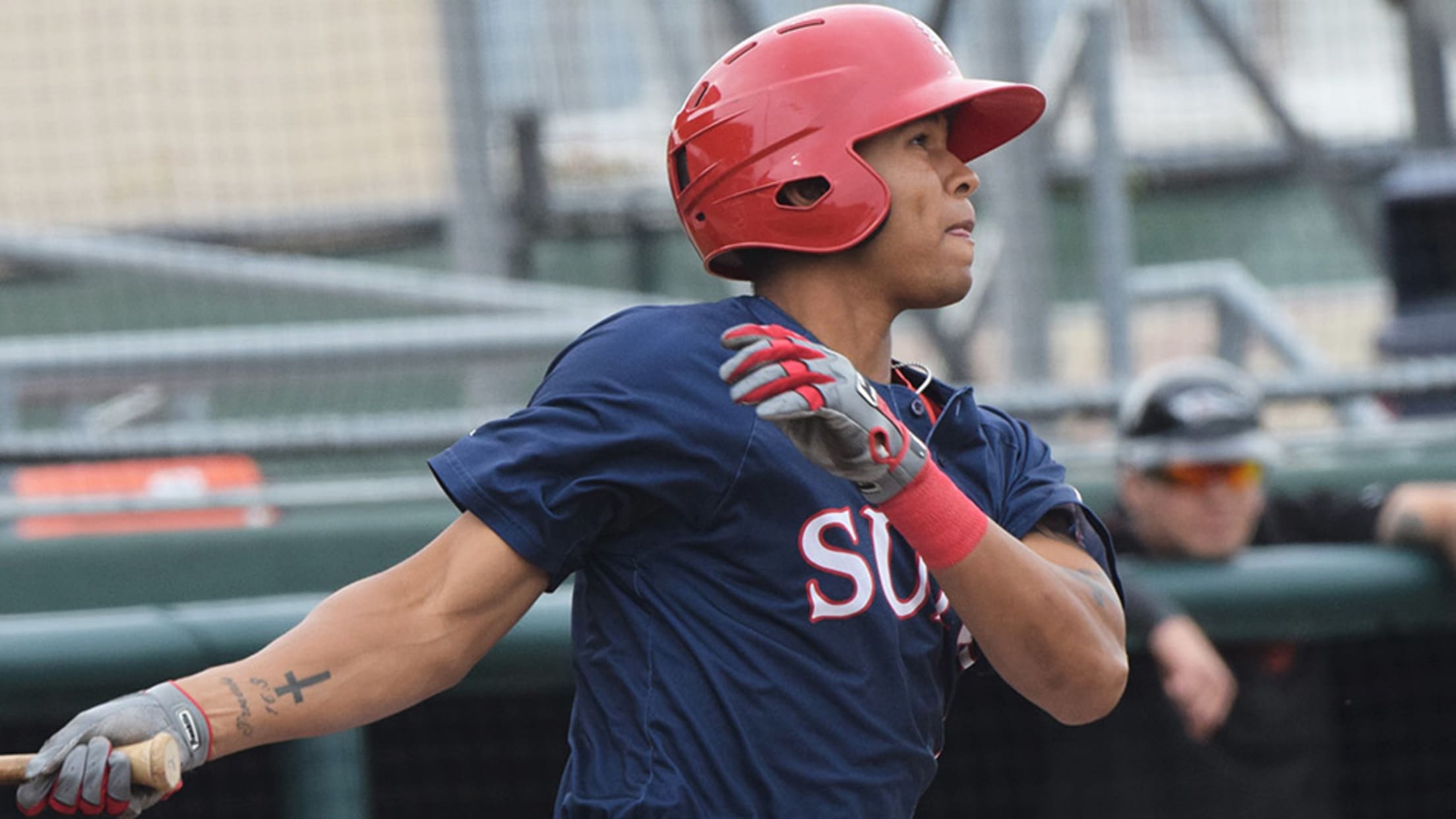 Blake Perkins is batting .282 with 12 steals and a league-leading 52 runs scored for Hagerstown. (Patrick Cavey/MiLB.com)
When the South Atlantic League released the rosters earlier this week for its upcoming All-Star Game in Columbia, the first-place Hagerstown Suns had six players and three coaches named to the Northern Division squad.Ironically, one of the Suns omitted from the midseason contest is the man who sets the tone
When the South Atlantic League released the rosters earlier this week for its upcoming All-Star Game in Columbia, the first-place Hagerstown Suns had six players and three coaches named to the Northern Division squad.
Ironically, one of the Suns omitted from the midseason contest is the man who sets the tone for the league's most prolific offense. Leadoff hitter and center fielder Blake Perkins paces the SAL by a wide margin with 52 runs scored and is batting a solid .282/.358/.403 with 18 extra-base hits, 24 RBIs and 12 steals in 16 attempts.
It would be easy to wonder why Perkins was left off, but the gracious outfielder instead opts to take the Taylor Swift route and shake it off.
"There's a lot of good outfielders in the Sally League this year, so I wasn't too surprised," said Perkins, who is ranked as the Nationals' No. 14 prospect. "As far as my season is concerned, I feel I'm making progress. I just try to be as consistent as I can, try to do my job the best I can by getting on base and scoring runs. So far it's worked out well."
Two years ago Perkins was a high school product from the Phoenix area who was deemed one of the better defensive outfielders available in the Draft. An Arizona State commit, he had received positive feedback from a variety of teams who liked his raw five-tool potential. While his expectations were not excessive prior to the process, Perkins admits he was pleasantly surprised when Washington selected him with one of its two second-round picks.
"I was excited," said Perkins, who received a reported $800,000 bonus. "I wasn't expected to be drafted too high but everything I heard from scouts and my advisors at the time was positive. When my name ended up being called on the first day, it was a little surreal. It was cool, because I had all of my family there and a lot of friends. I really enjoyed it."
After Perkins hit .211/.265/.283 in 49 games in the Gulf Coast League in 2015, the Nationals decided to implement their pre-Draft plan by turning the natural right-handed hitter into a switch-hitter. He displayed a quick bat and the ability to spray line drives to all fields while batting .233/.318/.281 in the New York-Penn League in 2016 prior to a late-season promotion to Hagerstown, where he hit .200/.333/.200 in seven contests.
His hard work has begun to pay dividends in 2017. Through June 7, Perkins was hitting .270 against left-handed pitchers and .289 versus righties. All four of his home runs and 18 of his 24 RBIs have come while hitting from the left side. He also has generated 21 multi-hit games in 54 outings, which has the 20-year-old encouraged with his overall progress and development.
"Switch-hitting is going well. There's been a lot of time invested by me and the coaches in the organization," Perkins said. "I believe it's starting to pay off. I still have a ways to go, but I feel good about it. I believe I'm continually getting better, and that's the whole point. I've been trying to do things better and better every year so far, and it's paid off. It's a challenge and I'm glad I'm getting a chance to be a part of it."
Switch-hitting center fielders with speed and power are coveted by Major League teams, even though their presence at the game's top level has dwindled in recent years. Yet based on the progress Perkins is making, he could prove to be one of the rare breed and even garner All-Star honors along the way.
"It's definitely something you don't see very often anymore," Perkins said. "I want to be one of the few guys that does it. I think the biggest thing is to stay healthy throughout the whole season. I want to play as many games as I can so I can get used to that while I strive to be the best I can be everyday. I want to be the best Blake and not someone else."

In brief
Double trouble in Columbia:
Fireflies starting pitchers
Jordan Humphreys
and
Merandy Gonzalez
are not only tied for the SAL lead in wins with matching 8-1 records, they also rank 1-2 on the circuit in ERA at 1.40 and 1.56, respectively. Humphreys, drafted by the Mets in the 18th round in 2015 out of a Florida high school, also tops the league with a 0.66 WHIP and .153 average against and ranks third with 73 strikeouts. Gonzalez, a 21-year-old from the Dominican Republic, is third in the SAL with a 0.90 WHIP and 63 1/3 innings pitched and fourth with a .203 average against.
Ring raking:
Delmarva's
Jake Ring
may be the most dangerous hitter in the league. The University of Missouri product, who was drafted by Baltimore in the 31st round in 2016, leads the SAL with 31 extra-base hits, 114 total bases and a .610 slugging percentage and is tied for first with 19 doubles. He's also tied for second with 38 RBIs and ranks fifth with 62 hits and a .332 batting average.
Nelson on a roll:
Greensboro's
James Nelson
had a 21-game hitting streak through June 7, the longest in the SAL this season. A 15th-round pick by Miami in 2016 out of Cisco Junior College, Nelson is 30-for-82 (.366) with seven doubles, a triple, two home runs and 17 RBIs during the stretch, which started on May 14.
Bill Ballew is a contributor to MiLB.com.