Suns place Kieboom on seven-day DL
Nationals No. 4 prospect injured right leg in Friday's game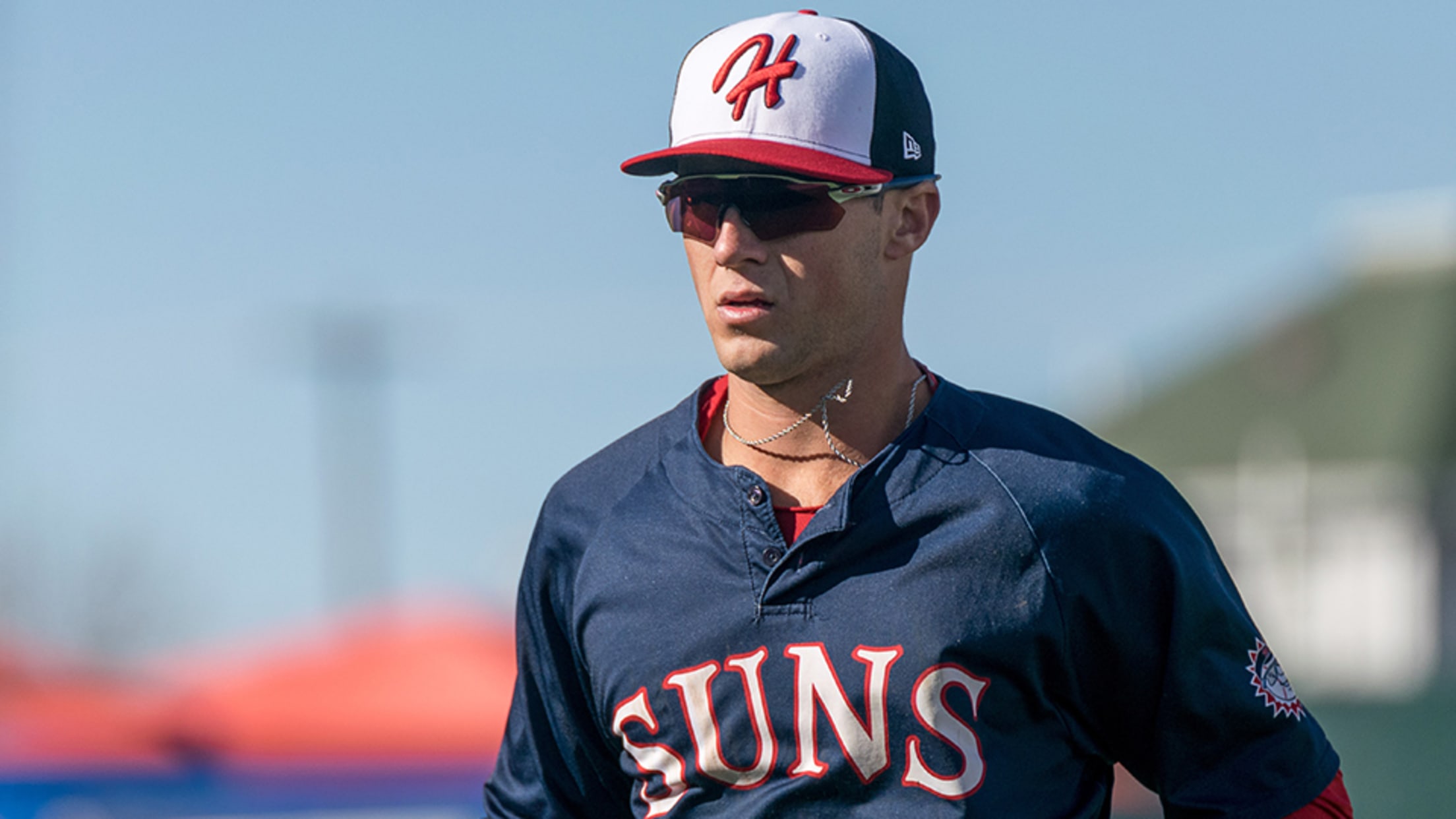 Carter Kieboom ranks third in the South Atlantic League with a .586 slugging percentage and 65 total bases. (John Slick/Hagerstown Suns)
Shortstop Carter Kieboom -- the Nationals' fourth-ranked prospect -- was placed on the seven-day disabled list by Class A Hagerstown on Saturday, a day after he injured his right leg trying to beat out a ground ball. Kieboom rolled a grounder back up the middle against Rome starter Jeremy Walker in
Shortstop Carter Kieboom -- the Nationals' fourth-ranked prospect -- was placed on the seven-day disabled list by Class A Hagerstown on Saturday, a day after he injured his right leg trying to beat out a ground ball.
Kieboom rolled a grounder back up the middle against Rome starter Jeremy Walker in the third inning Friday and was thrown out by shortstop Derian Cruz.
The 19-year-old hustled down the line and landed awkwardly on the bag with his right leg. His body began to twist on his first stride beyond the base before and his weight shifted back to the right on the next step, sending him tumbling up the line.
Kieboom immediately reached toward his right hamstring, threw down his helmet, sat up and punched the ground in frustration. He had trouble putting much weight on his leg as he was helped to the dugout by the Suns' first base coach and trainer.
Beginning with a 5-for-7, three-homer performance in a 22-4 rout of Lexington on April 30, Kieboom entered Friday's contest hitting .429 with four roundtrippers, six doubles and 11 RBIs in his last eight games. The 28th overall pick in last year's Draft talked about finding comfort in the box in his first full season on this week's edition of Toolshed.
Hagerstown leads the SAL in runs (192), hits (332), doubles (69), RBIs (171), batting average (.285), slugging percentage (.435) and on-base percentage (.353) and ranks second behind Lexington (36) with 31 homers.
The Suns have been without outfielder Juan Soto, the Nationals No. 3 prospect, since May 2. He was placed on the seven-day disabled list after injuring his right ankle while sliding into home plate. Soto leads the circut with a .360 batting average in 23 games.
Kieboom was 0-for-2 on Friday and is hitting .333, good for seventh in the circuit. Angelo La Bruna replaced him and finished 3-for-3 with a pair of doubles and three RBIs.
Gerard Gilberto is a contributor to MiLB.com. Follow and interact with him on Twitter, @GerardGilberto4.