Wendelken overshadows Rodon's debut
Winston-Salem right-hander fans career-high 13 over seven innings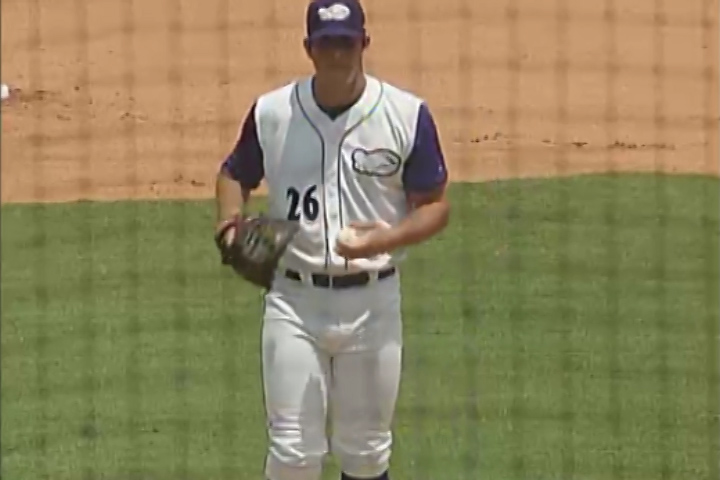 By Sam Dykstra / MiLB.com | July 30, 2014 5:38 PM ET
One was scheduled to make his Class A Advanced debut -- and his first appearance outside of the Rookie-level Arizona League -- in his home state after being drafted third overall by the White Sox last month.
The other was making his 70th career Minor League appearance and his 21st start of the season with Winston-Salem.
On paper, the former should have maybe been more nervous than the latter, at least according to the latter anyways.
"I went up to him afterwards and asked if he was nervous, and he kinda looked at me and said, 'No, not at all,'" Dash starter J.B. Wendelken said of top White Sox prospect Carlos Rodon, who was slated to come out of the bullpen for his Carolina League debut. "That surprised me because, shoot, I'm nervous every time I'm out there."
Wendelken's anxiety didn't show.
He struck out 13 batters and scattered two hits and two walks over seven scoreless innings Wednesday to lead the Dash to a 12-2 win over Frederick.
The 13 strikeouts were not only a career high for the right-hander, beating out the 10 he collected on May 9, also against the Keys, but were also the most recorded by a Winston-Salem pitcher since the team changed its nickname to the Dash in 2009. Hector Santiago (April 16, 2011 vs. Kinston) and Frank Montas (May 22 at Salem) held the previous high of 11.
By his own admission, Wendelken took some time to settle into the would-be gem. More specifically, it took until the second frame. He left a few balls up in the zone, resulting in three fly outs to right fielder Jason Coats, in the first inning and gave up a single and a wild pitch with two outs in the second before getting Lucas Herbst to strike out swinging to end the Keys' threat.
He was on from there.
The 21-year-old hurler fanned nine of the 13 batters he faced between the third and sixth innings. The Keys were able to put two runners in scoring position with a Chih-Hsien Chiang double and Brenden Webb walk/advance-on-defensive-indifference, but Wendelken escaped that with his 13th strikeout of the afternoon -- once again against Herbst.
"Today, I was really going off my changeup and off-speed stuff a lot," Wendelken said. "When it's on, it just makes the fastball look that much better for me, and that's what happened. It definitely wasn't one of those days where I was completely on, stuff-wise, but my command was as good as it's been and that really was the big thing."
Wednesday's outing could not have come at a better time for the Georgia native.
After acquiring him last July in the three-team deal that sent Jake Peavy to the Red Sox and Jose Iglesias to the Tigers, the White Sox decided to make the right-hander a starter in his first full season in their system after his Red Sox career saw him work exclusively out of the bullpen. (He owned a 2.77 ERA with 10 saves for Class A Greenville at the time of the deal.) Chicago told him specifically that their philosophy was to have their best arms start, and that particularly piqued Wendelken's interest.
"I figured I can always go back to the bullpen if I need to," he said. "You have to make the most of what your career gives you, and I figured I have the best chance to do that as a starter. I'd say it was one of the better decisions I've made in my life."
The results were there early -- he went 3-1 with a 3.81 ERA in five April starts. Midway through May, he began to develop a slider to complement the fastball and changeup, but as the season progressed, he lost his command of the pitch and the results suffered. In five June starts, he posted a 5.40 ERA, and through his first four outings in July, he allowed 18 earned runs in 18 1/3 innings with batters hitting .363 off him in the month.
Drastic times called for drastic measures. And that led to drastic results.
"Usually the fourth day of the cycle is my off-speed day," said Wendelken, who improved to 6-8 with a 4.79 ERA after Wednesday. "So yesterday, [pitching coach J.R. Perdew] and I sat down, and he said, 'Maybe, we're just thinking too much about this stuff.' So we decided it was better to just blow off the off-speed stuff work, and I think I threw a pretty dang good game today because of it."
Rodon relieved Wendelken and struggled some in his Dash debut. He struck out the first two batters he faced, but Steel Russell advanced on the second K due to a wild pitch. The former Wolfpack hurler walked two of the next three Keys to load the bases and gave up a two-run single to Chiang. He struck out Jason Esposito to end the inning and give him three strikeouts in his one frame of work.
It was the third professional appearance for the 21-year-old left-hander, who also had two outings down with the White Sox affiliate in the Arizona League. Though the results weren't ideal Wednesday, Rodon said he's still working himself into pitching shape after the layoff between his NCAA and Minor League seasons.
"I'm getting that feel back," Rodon said in a postgame press conference. "I'm working on the changeup. I threw it a couple times there to those last two hitters, and that thing's coming along well. I'm starting to get the feel of the fastball and slider back. It's going to take a couple outings -- that's how it works."
No. 5 White Sox prospect and 2012 first-rounder Courtney Hawkins went 3-for-4 with an inside-the-park homer, three RBIs and a walk out of the third spot in the Dash order Wednesday.
Sam Dykstra is a contributor to MiLB.com. This story was not subject to the approval of the National Association of Professional Baseball Leagues or its clubs.
View More