Whalen keeps dealing for Mississippi
Braves No. 27 prospect has not allowed an earned run in 25 innings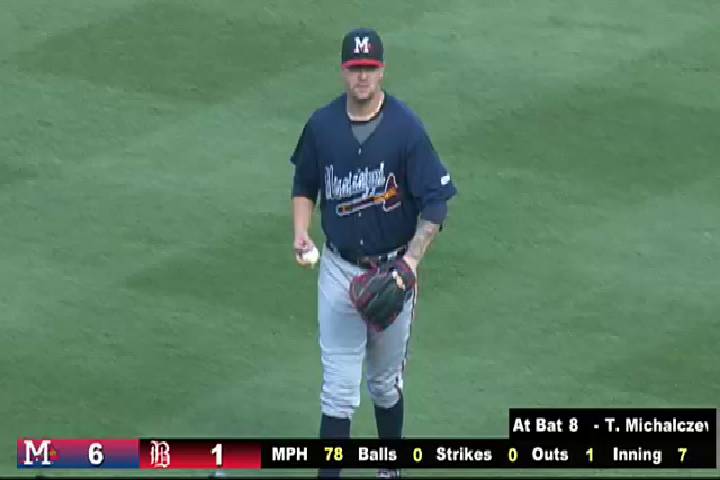 By Michael Avallone / MiLB.com | June 19, 2016 8:30 PM
Playing for the team he rooted for growing up was a dream come true for Rob Whalen, but the reality of his situation with the Mets was hard to escape. So when the Braves acquired him last July 24, the Pennsylvania native was more excited than upset at leaving the organization that drafted him.
"I was a little taken aback," Whalen said. "I grew up a Mets fan, my family is from New York and there were a lot of Mets roots. To be able to play with them was awesome, so leaving the teammates and coaches I had been around was sad. They all made a great impact on my career as a ballplayer and as a person. But on the flip side, I was also really happy about it because it gave me a great opportunity to advance with a team that is rebuilding.
"When you see a starting staff like the Mets have with Noah Syndergaard and Matt Harvey in it, the chances of breaking into that group aren't very high. So I'm excited to be a part of the Braves and their future."
The Braves also must be excited with the recent work of their No. 27 prospect, who gave up an unearned run on two hits over seven innings on Sunday in Double-A Mississippi's 8-3 win over Birmingham.
It continued a run of excellent outings for Whalen (5-4), who has not allowed an earned run in his last 25 innings to bring his ERA down to 2.16, fifth-best in the Southern League.
"I'm not trying to strike everyone out and instead I'm focusing on getting ground balls," Whalen said. "But what's funny is that by not trying to strike guys out, I'm actually getting them to swing and miss more. When I used to get to two strikes, I'd try, try and try again to strike them out. Now my goal is to get them to hit a ground ball and move on to the next guy."
True to form, Whalen recorded seven outs on the ground against five in the air, but he also tied his season high with eight punchouts while issuing one walk. Although the 2012 12th-round pick has not allowed more than three runs in any of his 11 starts this year, he wasn't overly enthused with his early-season performance. His ERA stood at 4.26 after his fifth start on May 5.
"I struggled early on when other guys in our rotation were doing well," Whalen said. "It ticked me off, actually, so I used that as motivation. And although my recent success has been a combination of factors, the biggest thing is that I'm healthier now than I was last year and early on. I had double knee surgery in the offseason, so it took me a few starts to get my legs back under me. Once I got the reps, I knew things would improve."
Whalen turned a 6-1 lead over to Steve Kent, who gave up two runs on three hits while retiring two batters in the eighth. Madison Younginer recorded the final four outs for Mississippi.
Braves top prospect Dansby Swanson chipped in a pair of singles, scored three times and drove in a run, while Jacob Schrader went 3-for-5 with a pair of RBIs.
Top White Sox prospect Carson Fulmer (3-8) dropped his fifth straight decision after surrendering six runs on seven hits and three walks with nine strikeouts in 4 1/3 innings.
No. 25 prospect Eddy Alvarez homered, singled and drove in two runs for the Barons.
Michael Avallone is a contributor to MiLB.com. Follow him on Twitter @MavalloneMiLB This story was not subject to the approval of the National Association of Professional Baseball Leagues or its clubs.
View More