Whitecaps' Maciel turns fortunes around
Tigers righty allows one hit and one walk, fans 10 over seven frames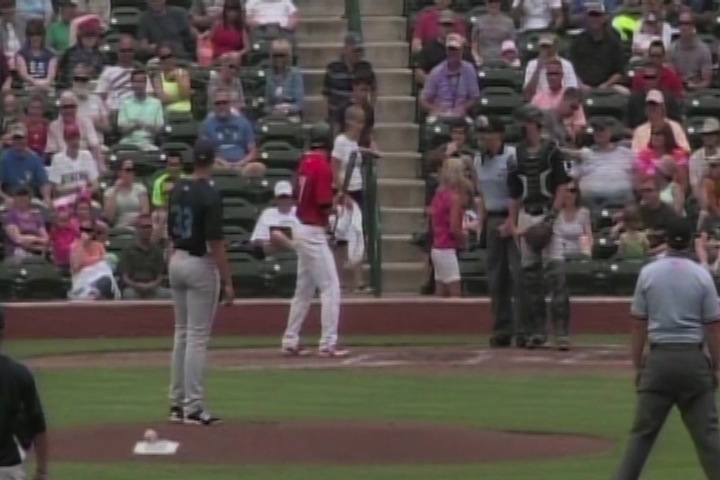 By Josh Jackson / MiLB.com | August 21, 2014 11:31 PM ET
Jon Maciel had modest hopes for his start Thursday, but he delivered an outing worthy of bragging rights.
"Baseball's a funny game, I had two pretty bad starts going into this one," said the right-handed Tigers prospect. "All I wanted to do today was just focus on every pitch, and when I got ahead, put guys away. That's all that was going through my head."
Maciel struck out a career-high 10 -- including the last six batters he faced -- while walking one over seven one-hit innings in Class A West Michigan's 5-0 blanking of Dayton on Thursday.
"Ten strikeouts is nice and all ... but I just wanted to give the team a chance to win and break that slide, give us a chance to win the way I didn't do the last couple times," the 21-year-old said.
The Whitecaps staff has unfurled 21 straight scoreless innings.
"We've got a great group of arms here. It's fun competing against these guys," Maciel said. "[Austin] Kubitza had a great start [Wednesday], and the bullpen did a great job the day before. We kind of all take it in as a game amongst ourselves. With a staff like this, it makes it really fun."
The Long Beach State product improved to 6-6 with a 3.97 ERA with the victory, which came on the heels of three starts in which he allowed 16 runs over 16 2/3 innings.
"[The difference] was being able to move the sinker to both sides of the plate," he said. "One of the things I struggled with lately was for my breaking-ball command to be consistent. That's really what separated this from my last starts. I was going up and down and in and out. Everything was clicking."
Maciel felt the difference in the curveball by the time he took the mound.
"I knew I had a good one for the day in the first inning and the bullpen," he said. "It was coming off right, and I was keeping my arm up and all that. I knew it was there, and from early on, I was mixing it in 1-1, 1-2, any count."
The lone hit he allowed came off the bat of the game's second batter, Alex Blandino, who smacked a 2-1 fastball into right field for a single.
"The guy did a good job," Maciel said. "I don't have any regrets about it. I threw him some fastballs in and he took them, and he got a good pitch. He did a good job hitting it. You can't be too greedy."
Blandino tried to steal second on Maciel's third strike against Robert Ramirez and West Michigan catcher Bennett Pickar threw Blandino out.
"That was huge," Maciel said. "Bennett really picked me up with that one. It was a good breaking ball that I struck him out with, but it was down and in to a lefty. He came up firing to get the guy."
Maciel permitted just one other baserunner on a fifth-inning, five-pitch walk to Chadwick Tromp. He moved on quickly.
"I believe I was missing down," he said. "It was just one of those things, but you come back and you get the next guy."
The native of Orange, California induced an inning-ending grounder off the bat of Ronald Bueno, then whiffed the side in the next two innings.
"I was just trying to focus on every pitch, put it where I wanted it," said Maciel. "I just so happened to run into six straight strikeouts. I had fun and I was making pitches. There were a couple of deep counts, but I made a pitch when needed to."
Ninth-ranked Tigers prospect Domingo Leyba went 3-for-4 with a run scored while No. 20 Javier Betancourt hit a two-run homer.
Josh Jackson is a contributor to MiLB.com. This story was not subject to the approval of the National Association of Professional Baseball Leagues or its clubs.
View More