Whitley's Cycle Lifts Biscuits Over Barons, 5-2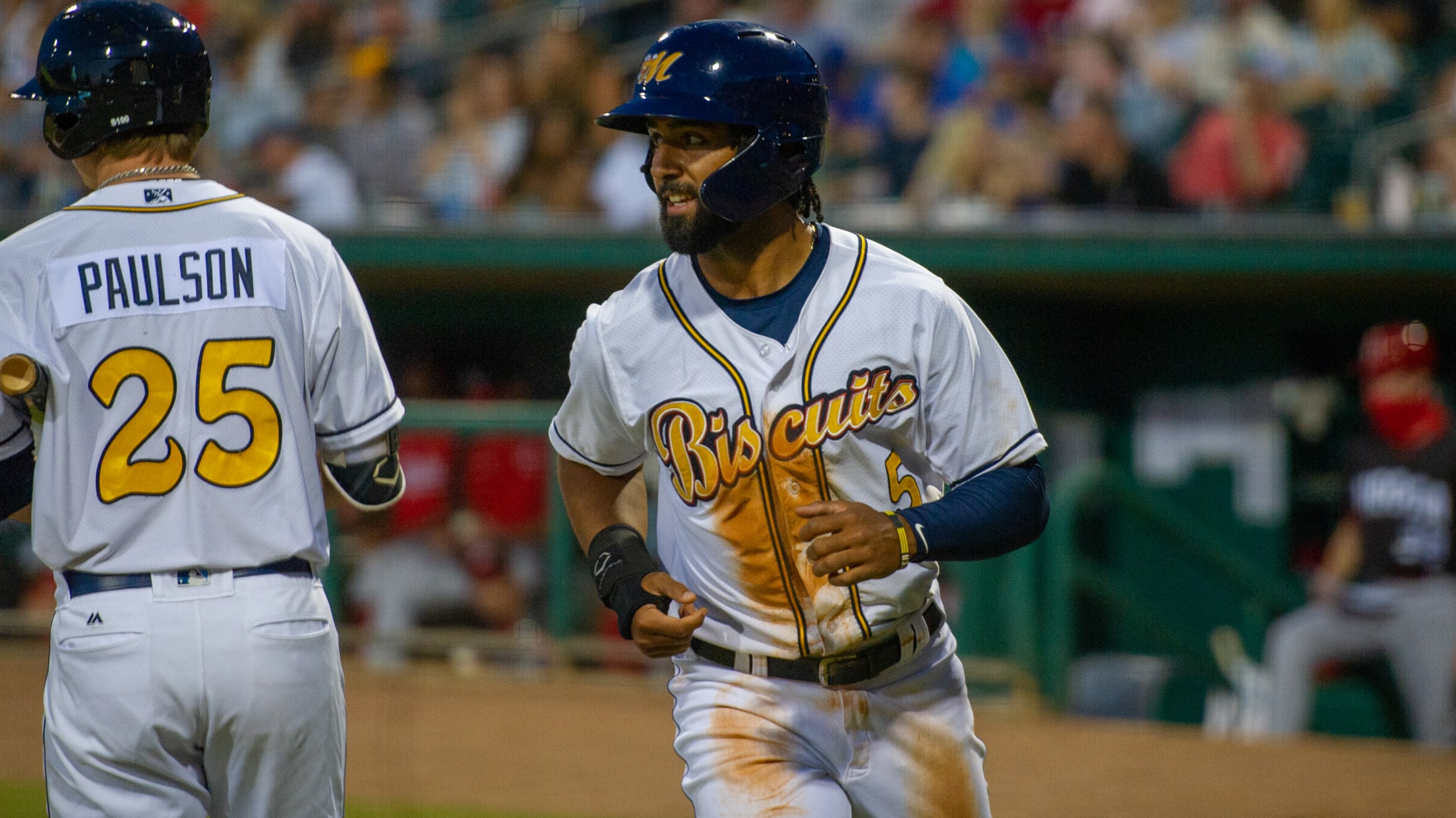 MONTGOMERY, Ala. – Garrett Whitley hit for the cycle and the Biscuits (13-17) took down the Birmingham Barons (20-10), 5-2, in Tuesday night's series opener at Riverwalk Stadium. Whitley, who started in left field, joined Elliot Johnson (2006), Brett Sullivan (2019), and Jim Haley (2019) as the only Biscuits to
MONTGOMERY, Ala. – Garrett Whitley hit for the cycle and the Biscuits (13-17) took down the Birmingham Barons (20-10), 5-2, in Tuesday night's series opener at Riverwalk Stadium.
Whitley, who started in left field, joined Elliot Johnson (2006), Brett Sullivan (2019), and Jim Haley (2019) as the only Biscuits to ever hit for the cycle, homering in the first, doubling in the third, tripling in the seventh, and singling home a run in the eighth.
Easton McGee opened for the second time as a Biscuit and worked a one-two-three top of the first, notching a pair of strikeouts. The 6'7" righty then got some help from the lead-off man Whitley, who launched his fourth home run of the season to left-center field off Barons starter Kade McClure (0-3) to make to 1-0 Montgomery in the bottom of the first.
McGee proceeded to pitch another one-two-three inning in the second before handing the reins to the bulk man, Faustino Carrera (2-2). Ford Proctor lined his second home run of the season over the wall in right-center to double the Biscuits lead to 2-0 in the second.
Carrera allowed a run on a couple of singles and a Mitch Roman RBI-groundout in the third, which got the Barons on the board at 2-1. The Biscuits would tack on their third run on a Jonathan Aranda RBI-single in the fifth following a one-out double from Miles Mastrobuoni that made it 3-1.
Roman's RBI-double off Dalton Moats in the seventh made it a one-run game at 3-2, but Xavier Edwards' first hit as a Biscuit in his debut brought home Montgomery's fourth run, the single increasing the lead to 4-2. Whitley's cycle-clinching RBI-single into the left field corner made it 5-2 before Ivan Pelaez closed it out in the ninth for the southpaw's eighth save—tied for the second-most in all of minor league baseball.
The Biscuits will look to keep the momentum going on Military Wednesday presented by WOW! when RHP Shane Baz (1-4) goes up against Konnor Pilkington (1-0) at 6:35 PM CT.
The rest of the series will include Sweet to Teachers Night with a T-Shirt Giveaway on Thursday, June 10; A Reversible Bucket Hat Giveaway presented by Gipson's Tire Pros on Friday, June 11; Family Faith Night with MAX Fireworks on Saturday, June 12; and a Toothbrush Holder Giveaway by Dentistry for Children on Sunday, June 13.