Yankees remain big believers in Mateo
Front office won't let the speedster get lost in prospect shuffle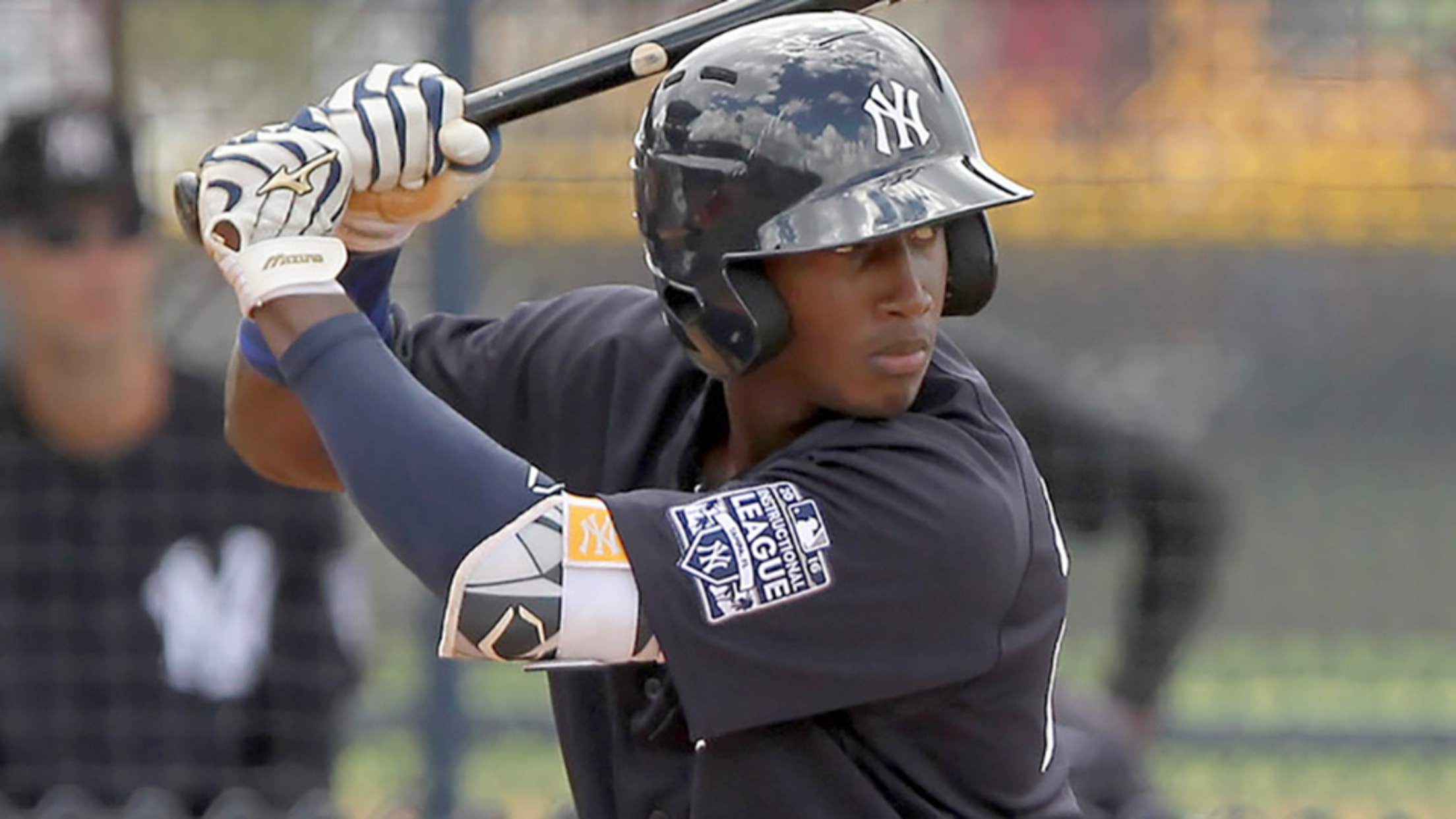 Jorge Mateo has stolen 182 bases over five Minor League seasons. (Cliff Welch/MiLB.com)
TAMPA, Florida -- There are so many interesting prospect-related storylines this spring involving the Yankees alone. The organization sports seven of MLB.com's Top 100 Prospects -- the most of any farm system -- and most are getting the attention befitting of their stature.Gleyber Torres (No. 3), Clint Frazier (No. 24)
TAMPA, Florida -- There are so many interesting prospect-related storylines this spring involving the Yankees alone. The organization sports seven of MLB.com's Top 100 Prospects -- the most of any farm system -- and most are getting the attention befitting of their stature.
Gleyber Torres (No. 3), Clint Frazier (No. 24) and Justus Sheffield (No. 79) are all in Major League camp in pinstripes for the first time after changing organizations at last year's trade deadline. Aaron Judge (No. 45) is trying to prove he's ready to take over as a Major League right fielder. James Kaprielian (No. 58) wants to show he can repeat the velocity spike he showed in the Arizona Fall League after a forearm injury limited him to three regular-season starts. Last year's 18th overall pick Blake Rutherford (No. 37) is participating in Spring Training for the first time.
In a couple ways, it seems like Jorge Mateo (No. 47) is the only one of the seven who didn't enter camp with some positive wind at his back. That's what happens when a player hits just .254 with a .306 OBP over 113 games at Class A Advanced Tampa and sees his stolen-base total drop from a Minor League-best 82 to 36 stolen bases. Then there was the 21-year-old shortstop's two-week suspension in July (which forced him to miss the Futures Game) for violating undisclosed team rules.
<jsp:include page="/milb/include/spring_2017.html">
There are more questions than answers when it comes to Mateo's offensive potential entering this spring. Given where he is in his development, the Yankees are fine with that.
"I think that he's capable of a lot, so you have such high expectations," New York's player development analyst Dan Greenlee said. "I don't know if I'd call it backwards, especially statistically. ... But it's one of those things where he's working on things, and when those things click, you'll see very, very good results."
Yankees vice president of player development Gary Denbo put the Yankees' aspirations for the Dominican Republic native a little more succinctly.
"Jorge Mateo's one of the fastest players in all of professional baseball," he said.
Indeed, Mateo earned an 80 on the 20-80 scouting scale from MLB.com this offseason, and his 2015 stolen-base total (82) bears that out. But while speed should be playing at the top of the lineup, it's difficult to justify that spot if a player is only reaching base a little more than 30 percent of the time. While that may be cause for concern for such a player with such a high ceiling, the Yankees believe Mateo's struggles came as a result of being pushed to the Florida State League, where he was 1.7 years younger than the average player. The assignment made sense after he hit .268/.338/.378 at Class A Charleston the year before, but that natural promotion doesn't preclude some bumps in the road, the organization argues.
"I think from the offensive side, he's had to make adjustments to facing better pitching," Denbo said. "On the baserunning side, he had to make adjustments to catchers doing a better job of being able to catch and throw to second base and pitchers doing a better job of holding him on first base. He's one of the youngest guys in that league. He's going through the normal progression of development. We've bumped that up a little bit, putting him at that age in that league."
What's more, the Yankees remain big believers in Mateo's potential on the other side of the ball. Even before Torres arrived as the new top shortstop prospect in the system, the club was working on Mateo's versatility by giving him time at second base in Tampa. They added another layer to that by giving him reps in center field during the Instructional League in the fall in the hopes that he follows the speedy route of Billy Hamilton as a former shortstop-turned-space eater in the middle of the outfield.
"I think there's still a lot of confidence in him middle of the field and belief in him as a shortstop and as a second baseman," Greenlee said. "With the huge speed, very few guys can make that sort of impact in center field, and it's more thinking about the enormous amount of runs he could potentially save out there."
The Yankees weren't quite so ready to back the notion that Mateo could reform a double-play partnership with Torres at Trenton or if he's headed back to Tampa, where he could thrive at a more age-appropriate level. ("That remains to be seen," Denbo said.) No matter. There's still a lot of spring left for Mateo to prove himself ready for the challenge of the Eastern League, and as a member of the 40-man roster as of November, he'll make his case primarily in big league camp. He did a good job of that Wednesday by going 2-for-2 with a double and a stolen base -- marking his first extra-base hit and theft of the spring -- in a 10-4 exhibition win over Team Canada.
"We expect him to respond this year and come back and have a good year," Denbo said. "He's certainly one of the most talented players in all of Minor League Baseball, one of the best athletes and one of the fastest players in the entire sport. Lot of tools there, and a lot to like with Jorge Mateo."
Sam Dykstra is a reporter for MiLB.com. Follow and interact with him on Twitter, @SamDykstraMiLB.