Yanks' Montgomery rides strong stretch
Club's No. 20 prospect posts six two-hit frames, Judge smashes slam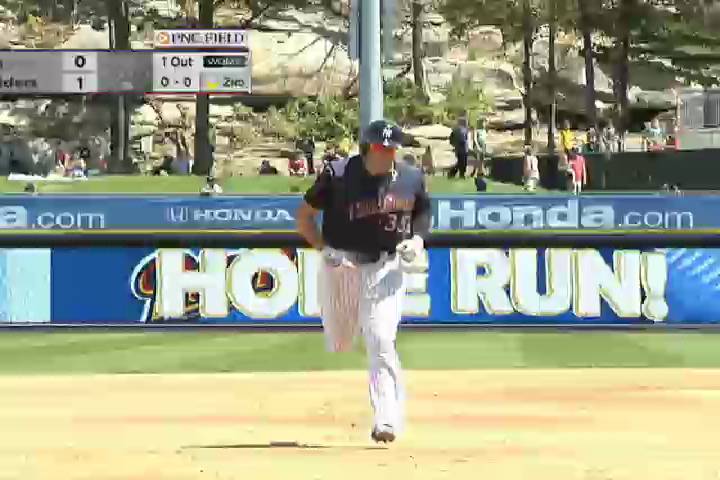 By Kelsie Heneghan / MiLB.com | August 7, 2016 7:33 PM ET
The Yankees' weekend at the big league level was highlighted by news of two veterans' careers coming to a close, but the Baby Bombers are showing the organization has a lot to look forward to from both sides of the ball.
New York's No. 20 prospect Jordan Montgomery spun six three-hit innings with a walk and five strikeouts as Triple-A Scranton/Wilkes-Barre blanked Syracuse, 5-0. Meanwhile, fourth-ranked Aaron Judge bashed his first grand slam since 2014.
"[Montgomery] did a great job. He had his four-pitch mix. He really mixed them well and was able to execute in and out and change speeds with the guys," RailRiders pitching coach Tommy Phelps said. "He did a nice job keeping them off balance and it showed with the results. He was able to make a lot of quality pitches and had a really good outing."
The 23-year-old left-hander scattered his three hits -- all singles -- across the first four innings. Michael Taylor -- who stole second in the fourth -- was the only Chiefs player to reach second with Montgomery (1-1) on the mound.
"He was quick to the plate, so he's not easy to run on. And from the stretch, he makes the same pitches [as he does] out of the windup," the coach said. "So when you're able to make pitches consistently and throw three or four pitches where you want and change speeds, it make it tough on the batters. He did a nice job with that."
After working around a two-out walk by Steve Lombardozzi Jr. in the sixth, Montgomery left in line for his first Triple-A win. In two International League starts, the University of South Carolina product has held foes to two runs on 10 hits and three walks with 10 strikeouts in 12 2/3 innings for a 1.42 ERA.
"It's only his second outing, but he didn't make too many mistakes out over the plate. He was pretty sharp," Phelps said. "He had a good fastball. He really just limited his mistakes and didn't really give them a lot to hit. He was able to keep them between speeds and the results showed."
Prior to the promotion, Montgomery went 9-4 with a 2.55 ERA with 97 punchouts and 37 walks in 102 1/3 innings over 19 starts for Double-A Trenton, where he working with pitching coach Jose Rosado.
"They worked well together, they did a nice job and it's showing. Pitching is all about upsetting hitters' timing and you got to be able to command your pitches and throw different types of pitches to keep them off-speed. And that's what he's been able to do," Phelps said. "He has good stuff and it's carrying over. His execution has improved and he's able to do things that he needs to do to get hitters out."
After new acquisition Clint Frazier, now the Yankees' top prospect, lofted his first homer in the system Saturday, Aaron Judge blasted off Sunday. It marked his first grand slam since July 1, 2014 with Class A Advanced Tampa. Rehabbing Chris Parmelee also went yard in support of Montgomery.
"[To have bats like Frazier's and Judge's,] it makes your lineup deeper No. 1. Plus they provide solid defense in the field, so that helps the pitching right there. And all our position players are pretty solid, but when you get guys that can thump the ball like they do … any time they come up to the plate, you know something might happen," the coach said. "When [Judge] hit that grand slam, it opened the game up and made it safer, instead of a one-run lead. All of that, it adds confidence to the team and to the makeup."
With Mark Teixeira and Alex Rodriguez's times in New York coming to an end, the Yankees have begun bringing up prospects. Catcher Gary Sanchez recently got recalled while Ben Gamel returned to Scranton/Wilkes-Barre after a stint in the Majors. With September looming, more are eager for their first cup of coffee in the Bronx.
"All these guys are motivated to get to the big leagues and help us win a World Series. I think these guys see that there's an opportunity," Phelps said. "They're coming to the field every day, they're preparing and they're competing their tails off. And after that, it all happens from there."
Kelsie Heneghan is a contributor to MiLB.com. Follow her on Twitter @Kelsie_Heneghan. This story was not subject to the approval of the National Association of Professional Baseball Leagues or its clubs.
View More