Catchers face extra learning curve in Minors
Backstops rarely enter pro ranks with a handle on calling games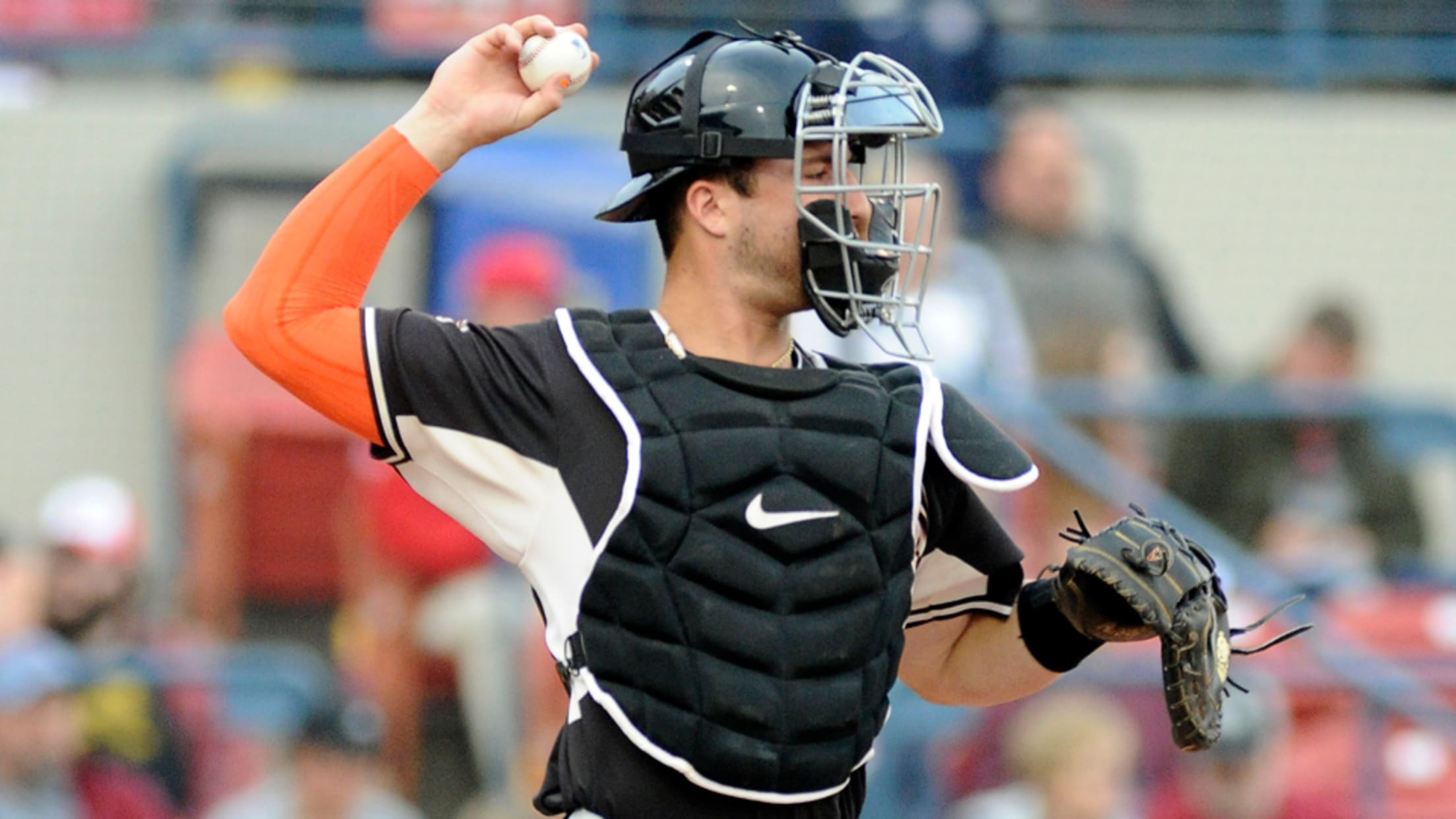 Joey Bart threw out 42 percent of would-be basestealers in his first crack at the Minor Leagues. (James Snook/Spokane Indians)
The unabating hum of semitrucks up and down Interstate 5 just beyond the right field wall of Volcanoes Stadium in Keizer, Oregon, never distracted Salem-Keizer catcher Joey Bart from his laser-sharp focus behind the plate. The Giants' top prospect was absorbed in a game within the game, studying each pitch
The unabating hum of semitrucks up and down Interstate 5 just beyond the right field wall of Volcanoes Stadium in Keizer, Oregon, never distracted Salem-Keizer catcher Joey Bart from his laser-sharp focus behind the plate. The Giants' top prospect was absorbed in a game within the game, studying each pitch and monitoring the field like a captain surveilling his ship.
Bart, the 21-year-old No. 2 overall selection in June's Draft, entered professional ball advanced for his age. He was given the reins to call own pitches at Georgia Tech, a rarity in college baseball.
"He has a clue, moreso than some other, younger catchers," Salem-Keizer pitching coach Dwight Bernard said in the final weeks of the Northwest League season. "That makes a difference with some of the pitchers. He's done a good job."
For catchers, game management is more than simply putting down fingers and suggesting pitches. It's reading batters' stances, swings and mannerisms to discern the best plan of attack. It's making sure everything goes smoothly on the field.
"It's probably one of the hardest things to do in baseball, is to call a game," said No. 8 White Sox prospect Zack Collins, who caught more than 650 innings for Double-A Birmingham this year. "Just studying every hitter and knowing what they do good and what they do bad, stuff like that."
It's part of the reason, along with his imposing physical tools, that Bart was given $7.025 million, the largest signing bonus for a position player in Draft history.
Yet even for Bart, calling games on the professional level is an adjustment.
"It's definitely less monitored than the [Atlantic Coast Conference] or college ball and definitely a little more open," he said. "You have to think about that as a catcher. There are certain situations where someone may not swing here or there, but in this league, as far as I know, with players from all over the world, they just have totally different approaches and play the game different.
"You kind of have to keep that in mind, where I might have had some old habits that I did in college. Maybe someone comes up and swings at the first pitch and gets out, then the next guy steps into the box, [and] you assume that they automatically take. But no way. If you throw a ball right down the middle, they'll swing at it."
Most catchers in Rookie and Class A Short Season ball, though, came into the Minors with little or no experience calling pitches at a competitive level.

The college game
In the fall of 1990, a catcher named Jason Varitek was adjusting to college life on Georgia Tech's campus in the Midtown neighborhood of Atlanta. A starter for four seasons, during his senior year he won the Dick Howser Trophy and helped lead the team to the championship game of the 1994 College World Series, which remains the program's best postseason finish.
"I can probably count on one hand the number of pitches I called when Jason Varitek was the catcher," longtime Yellow Jackets head coach Danny Hall said.
Varitek started a tradition of notable backstops to pass through Georgia Tech, a list that includes four-time All-Star
Matt Wieters
and Mike Nickeas, a journeyman big league backstop who was brought on to the program's staff as a volunteer assistant in 2015 and hired in 2017.
Those resources are part of the reason Bart was allowed to call games his junior season.
"Picking those brains, that stuff takes you a long way," he said. "I was blessed to have the opportunity to talk to those guys, learn a few things and learn about the best way to manage a staff and keep everything tidy back there."
But the relative rarity of the educational opportunities Bart had doesn't mean other catchers remain clueless throughout their college careers. After all, just because they aren't making game-calling decisions doesn't mean they aren't paying attention to and learning from those decisions.
Jerry Weinstein, a baseball lifer who was the Rockies' catching coordinator from 2012-17, believes the transition from relaying signs to choosing them isn't as difficult as it might seem to an outsider.
"It's only tough if they've been brain-dead for their first 18 years and weren't paying attention to what's going on," Weinstein said. "No, I'm serious. I'm not trying to make a joke. Anyone who's been playing baseball, by the time they get to the Northwest League, they are 13-year veterans of baseball and probably 10-year veterans of having to call a pitch or someone else calling a pitch. And if you don't pay attention to how they call a game and what kind of response you get from the pitcher and the hitter, you're not going to be any good anyway. I think a lot of it is just having awareness for what's going on when you're not calling pitches."
Summer ball, smaller schools provide classrooms
Willie MacIver
, who caught 31 games for Boise this season, was a backup catcher behind
Joey Morgan
(now of the Tigers organization) at the University of Washington for his first two college campaigns. When hamate surgery limited him behind the plate during his final year of eligibility, he mostly played third base.
But in summer ball, MacIver caught and called his own pitches. In fact, summer collegiate wood bat circuits -- such as the Cape Cod, Northwoods and West Coast leagues -- are where many college catchers are introduced to game management and pitch-calling.
"It's sort of like pro ball where you're catching a lot of guys you've never caught before, trying to figure out their out pitches and stuff like that," said Volcanoes catcher
Will Albertson
, a Catawba College product who played two seasons for the Asheboro Copperheads of the Coastal Plains League. "It helped me a lot as I went on."
Many products of smaller schools called their own games in college.
Zachary Jones
, who played at three levels in his first season of affiliated ball this year, fits into that category. Signed by the D-backs out of an independent league, he's a product of Trinity Christian College in Palos Heights, Illinois. There, head coach Justin Huisman gave him the opportunity to call games.
"In college, I just flied by the seat of my pants; trial and error," Jones said. "'We kind of know this guy, so pitch him away.' But [in the Minors], being able to have each of my pitch calls scrutinized and learn from each because we have so much video and so many reports, it's awesome to have someone say, 'Hey, why are we calling this pitch? The data backs up that a changeup would be better in that spot.' It's definitely unique and definitely an exciting thing, for sure."
The Latin American game
Ricardo Genoves
didn't catch when he was younger. Growing up in the Dominican Republic, he pitched and played third base, but international scouts believed his bat, physique and lively arm made him a perfect fit behind the plate.
Three years later, the 19-year-old had progressed through the Rookie-level Dominican Summer and Arizona leagues to take a place among Salem-Keizer's catchers.
He's not where Bart is with the mental aspect of catching, but -- despite being relatively new to the position -- he's not light-years behind, either. That's a testament to how players from Latin American countries learn to play.
"I've found that a lot of Latin catchers are pretty smart as far as calling a game," Hillsboro Hops pitching coach Mike Parrott said. "You talk about feel and instincts? A lot of Latin catchers have really good instincts about what pitch to call and not even based on the pitcher -- they can feel it based on the hitter. They have the innate ability on calling the best pitch to get that guy out."
Why? Salem-Keizer manager Hector Borg believes it has to do with how the game is played in Latin America.
"We play a lot of tournaments and we play a lot of games," he said. "So sometimes, you are 16 years old, 15 years old, and you play with 25-year-old players and you learn. You learn from those guys, and that's why when we have the chance to sign, you have an idea, because you had the chance to play with people older than you."
Trusting instincts
The expansion of advanced scouting and video in Minor League Baseball has added an incredible amount of information for catchers. But it hasn't made calling pitches easier, per se.
After all, baseball isn't played by robots. Hitters adjust and pitchers must adjust, too. Scouting-report slaves can often get in trouble in that regard.
"It's a double-edged sword," Weinstein said. "You watch too many scouting reports or watch too much video and you forget the most important factor in the equation: it's your pitcher. You have to pitch to your pitcher's strengths. ... If you didn't, you'd never throw a fastball, because everyone in the big leagues can hit a fastball.
"There's a segment of pitchers that don't even look at scouting reports. They don't look at video. They pitch to their strengths and then they watch what happens. … This grandiose scouting report, all it does it turn every hitter into Babe Ruth and every pitcher into Mickey Mouse."
The biggest thing catchers need to learn to become great pitch-callers? It's not all up to them. In the end, the pitcher can always shake off their suggestions, and it's pitchers who need to execute the pitch correctly.
"A lot of times it's not the pitch selection, it's the pitch location," Parrott said. "Execution is always the No. 1 thing. … The catcher really needs to realize he's offering the best selection he can at the moment, and after that, [say], 'It's out of my hands.' It just has to be the best educated guess they can give. It helps. It takes a little bit of pressure of them."
Josh Horton is a contributor to MiLB.com. Follow him on Twitter @joshhortonMiLB