Title Bound! NH Sweeps Trenton in EDCS
Fisher Cats Can Win Title at Home Next Weekend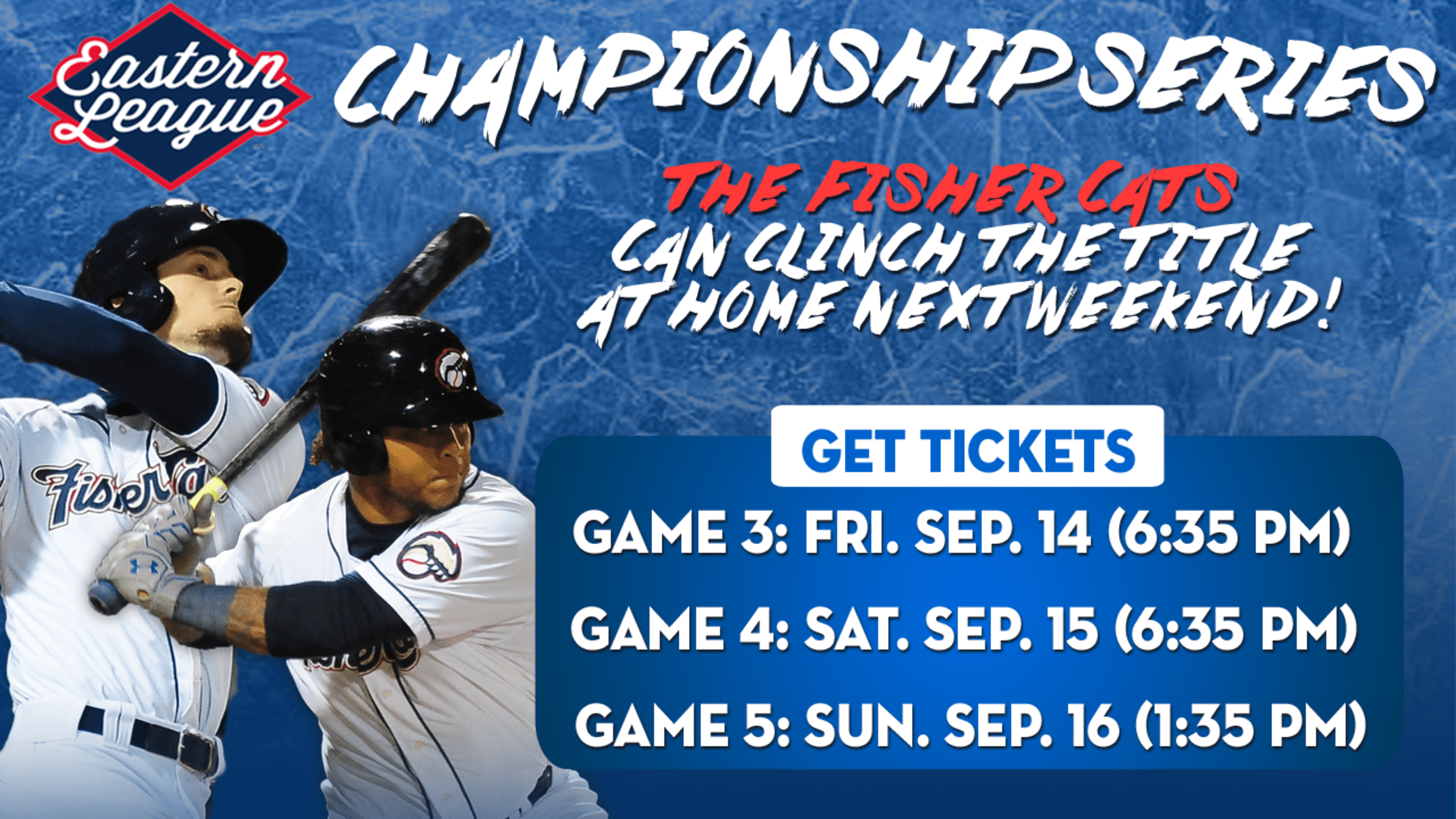 Trenton, NJ - For the first time since 2011, the New Hampshire Fisher Cats (Toronto Blue Jays Double-A affiliate) have clinched a spot in the Eastern League Championship Series with a win over the Trenton Thunder (New York Yankees) on Friday night at ARM & HAMMER Park, completing a three-game sweep
Trenton, NJ - For the first time since 2011, the New Hampshire Fisher Cats (Toronto Blue Jays Double-A affiliate) have clinched a spot in the Eastern League Championship Series with a win over the Trenton Thunder (New York Yankees) on Friday night at ARM & HAMMER Park, completing a three-game sweep in the Eastern Division Championship Series.
With home field advantage in the five-game ELCS, the Fisher Cats have the opportunity to clinch the team's third Eastern League title in front of the hometown fans at Northeast Delta Dental Stadium next weekend. Tickets are available now at NHFisherCats.com or over the phone at (603) 641-2005.
Game 1: Tue., September 11 at Altoona/Akron
Game 2: Wed., September 12 at Altoona/Akron
Game 3: Fri., September 14 at Northeast Delta Dental Stadium
Game 4: Sat., September 15 at Northeast Delta Dental Stadium (if nec.)
Game 5: Sun., September 16 at Northeast Delta Dental Stadium (if nec.)
After a four-hour rain delay (first pitch 10:59 p.m.), the Fisher Cats jumped out to a 3-0 lead in the top of the third inning.
Trenton starter Nick Nelson walked the bases loaded in the third, and a wild pitch plated Gunnar Heidt to start the scoring. Cavan Biggio then delivered a two-run single to right field, scoring a pair to extend the advantage to 3-0.
The Thunder got on the board in the home half with two singles and an RBI groundout, but a 6-4-3 double play kept the score 3-1.
New Hampshire starter Jordan Romano (W, 1-0) allowed just one unearned run in 5.2 innings, scattering three hits with one walk and two strikeouts. Corey Copping induced a Trey Amburgey fly ball to strand two runners and complete the sixth, and finished after two scoreless innings.
After a Jon Berti double in the seventh, Harold Ramirez and Biggio hit back-to-back RBI singles to bring the lead to 5-1.
Travis Bergen recorded the final three outs in the ninth to send New Hampshire to the Eastern League Championship Series.
For media requests, please contact Tyler Murray ([email protected]).