2021 Low-A playoffs coverage
Charleston clinches first title -- the Low-A East championship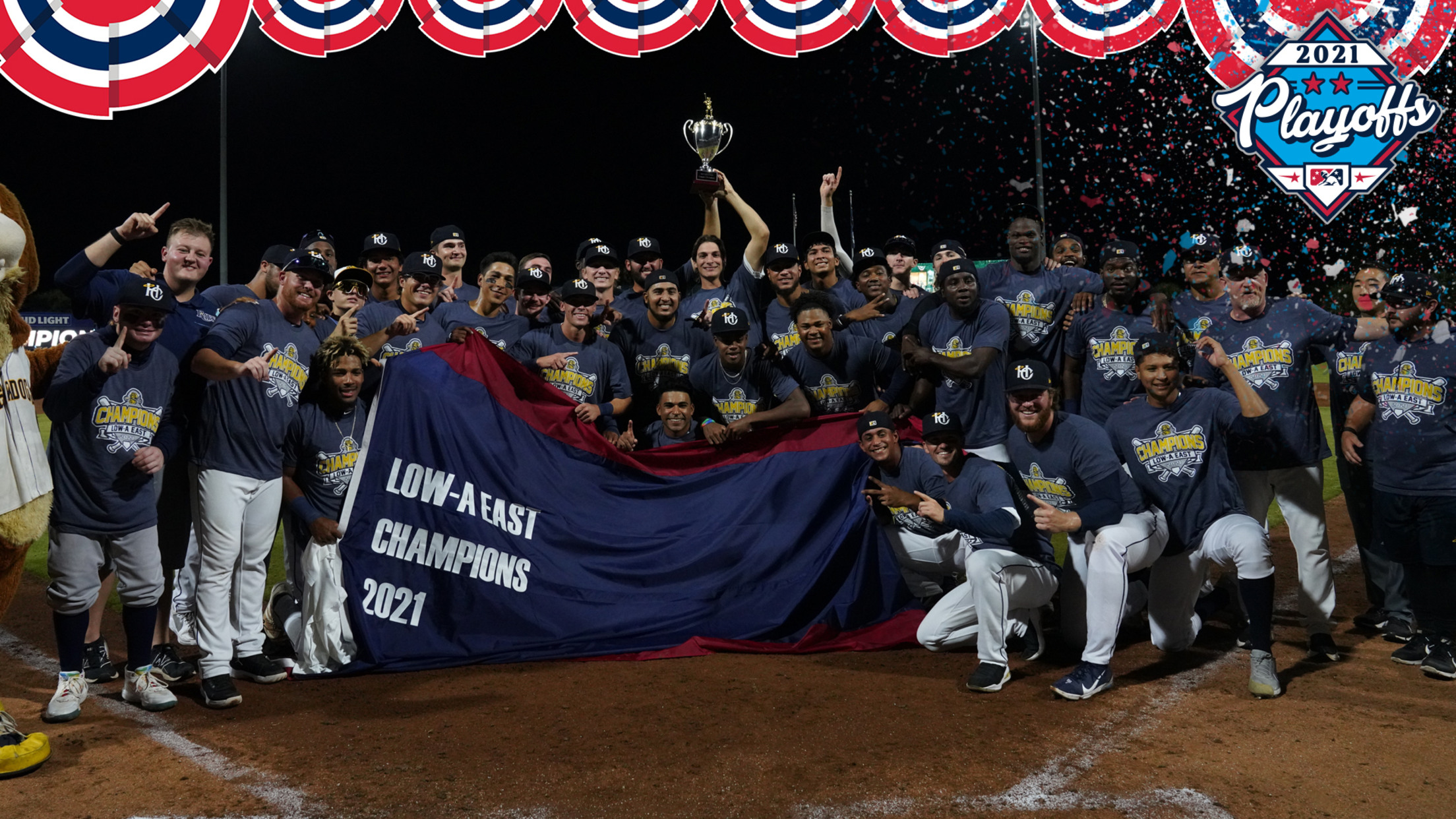 Charleston wins the pennant. (Charleston RiverDogs)
Sept. 26 For the first time in the organization's 41-year history, the Charleston RiverDogs are league champions.
Sept. 26
For the first time in the organization's 41-year history, the Charleston RiverDogs are league champions.
Charleston took Game 5 of the Low-A East finals in dominant fashion on Sunday, winning 9-2 over Down East and limiting the Wood Ducks offense to four hits. Starter Ben Brecht tossed six scoreless frames and fanned five while earning the championship clinching win.
At the plate, Rays No. 26 prospect Osleivis Basabe and third baseman Ben Troike each had three hits to lead the way to Charleston's first ring.
In their inaugural year as a Tampa Bay Rays affiliate, the RiverDogs finished 82-38 (tied with High-A Bowling Green for the most wins in the Minor Leagues) and battled through five games with the Wood Ducks after leading the series 2-0.
A quiet start to the game saw Charleston and Down East each record a single hit until the RiverDogs opened up the scoring in the bottom of the third. Troike singled, catcher Michael Berglund walked and shortstop Basabe moved them over with a sac bunt to set up Troike scoring the game's first run on a wild pitch. Three-hitter Matt Dyer tripled to score Berglund and put Charleston up by two. Full story
Sept. 25
Facing elimination for the second night in a row, the Wood Ducks turned on the offense to keep their Low-A East championship hopes alive.
Keyber Rodriguez led the way as Down East forced a decisive Game 5 with a 9-3 victory over Charleston on Saturday night. The Texas shortstop prospect delivered a game-tying two-run homer in the fourth inning and a go-ahead two-run infield single in the sixth.
Game 4 began with both teams scoring a run in the first. Jayce Easley led off the game for Down East with a double, advanced to third on a wild pitch and scored on a sacrifice fly off the bat of Texas' No. 19 prospect Aaron Zavala.
Charleston responded with a one-out single by Beau Brundage and an RBI double by Johan Lopez. In third, Lopez smacked his second double to drive in two and put Charleston up 3-1. Those were the last runs the RiverDogs scored in the game.
Rodriguez thumped his two-run homer to center field in the fourth to knot the game, and two innings later, the 20-year-old gave the Wood Ducks their first lead since the first with his two-run infield single.
Catcher Xavier Valentin tacked on two more runs with a single, and in the seventh, Cody Freeman added an RBI knock. Down East's final run came on a sacrifice bunt by Easley with Valentin on third.
Rangers No. 29 prospect Owen White, who showed flashes of dominance (3.06 ERA, 56 Ks in 35 1/3 IP) throughout his debut season, kept Down East in a position to win with five strong innings. The 22-year-old righty allowed three runs (two earned) on seven hits and two walks while striking out three. Relievers Destin Dotson and Theo McDowell didn't allow a hit or a run over the final four frames, combining to strike out four and walk three.
The winner-take-all Game 5 will take place in Charleston at 5:05 p.m. ET on Sunday.
Sept. 24
Break out the bottles, Bradenton, it's time to celebrate.
Champions 🤩 https://t.co/CSnKsH3PhF pic.twitter.com/0aa3wKtuxu

— Bradenton Marauders (@The_Marauders) September 25, 2021
The Marauders completed their three-game sweep of Tampa with an 11-3 victory powered by four home runs, two by designated hitter Abrahan Gutierrez, to clinch the Low-A Southeast title, the second league title in the franchise's 12-year history, with the first coming in 2016.
"I'm just proud of these guys. They worked all year for the opportunity to do this and they came out and performed at a high level, it's really impressive to watch," said manager Jonathan Johnston. "It was pretty much hands off, they took care of business."
The beginning of Game 3 saw four lead changes in the first four innings. The Marauders trailed the Tarpons after the first inning due to a leadoff home run from Yankees No. 7 prospect Trey Sweeney, but quickly regained the lead with two runs on two errors from Tampa in the top of the second.
Tarpons first baseman Tyler Hardman snatched the lead back with a two-run shot in the bottom of the second, but that would cap Tampa's scoring for the night and it was all Bradenton from there on out. Full story
In other Low-A playoff action:
San Jose 7, Fresno 2
On Friday night, it was all smiles for the baseball teams in the Bay Area.
After the San Francisco Giants reached the 100-win threshold, their Low-A affiliate, the San Jose Giants, clinched the Low-A West title for the seventh league title in the organization's history with a 7-2 win to close out a three-game sweep of Fresno.
San Jose's last title came in 2010, and they captured a championship as a San Francisco affiliate in the years of 1998, 2001, 2005, 2007, 2009, 2010 and now, 2021. Full story
Down East 7, Charleston 5
Down East staved off elimination by striking early and often in Game 3 of the Low-A East Finals, scoring six of its seven runs in the first four innings. Designated hitter Thomas Saggese recorded a cycle with three RBIs and starter Nick Krauth fanned nine over six innings of two-run ball to keep the Wood Ducks' championship hopes alive. RiverDogs slugger Matt Dyer kept his hot streak going with his first home run of the series to drive in two and Charleston scored three runs in the bottom of the ninth before falling short and ending the day with a 2-1 series lead. Gameday box score
Sept. 22
If there is such thing as a perfect bookend, Patrick Bailey experienced it Wednesday.
San Francisco's No. 8 prospect homered twice, including a go-ahead shot in the seventh inning, and finished with three hits as Low-A San Jose rallied past Fresno, 4-2, at Chukchansi Park.
The victory gave the Giants a commanding 2-0 lead in the Low-A West Championship Series.
"Off the bat, I didn't know if it was going to go, but I knew I hit it well," Bailey said of his go-ahead homer. "When I realized it was going to go, it set off a wave of excitement for me. It was a terrific moment and experience I was able to share with my team. But when it was over, I was focused on closing out the game and getting us to the finish line."
After opening the scoring in the second with a solo homer to right field, Bailey came to bat in the seventh with the game tied, 2-2, following Jimmy Glowenke's equalizing long ball to lead off the frame. Five pitches later, the 22-year-old launched his second solo jack of the game to give San Jose a lead it would not relinquish. Full story
In other Low-A playoff action:
Bradenton 6, Tampa 1
Unlike the series opener, the Marauders made sure there was no need for late-inning drama in Game 2. Six of Bradenton's eight hits went for extra bases as the club scored all six runs in the first three innings to take a commanding 2-0 series lead over Tampa. Pirates' No. 20 prospect Maikol Escotto drove in two runs in support of starter Luis Ortiz, who struck out nine while allowing one run in six innings. Benjamin Cowles hit a solo homer to account for the Tarpons' only run. Gameday box score
Charleston 8, Down East 5
Matt Dyer doubled home the go-ahead run and the RiverDogs added two insurance tallies in the ninth inning to outlast the Wood Ducks. The knock was one of two doubles on the night for Dyer, who reached safely three times, scored three runs and stole two bases. Johan Lopez and Jonathan Embry had two hits and two RBIs apiece for Charleston. Rangers No. 19 prospect and 2021 second-round pick Aaron Zavala homered for the Wood Ducks. Cody Freeman, Thomas Saggese and Keyber Rodriguez had run-scoring hits in the eighth to help rally Down East from a 5-2 deficit. Gameday box score
Sept. 21
Hits have been hard to come by for Luis Toribio over the last two months of the season. That meant little with the clean slate of the postseason underway.
San Francisco's No. 14 prospect homered, doubled and drove in two runs to lead Low-A San Jose past Fresno, 3-1, in Game 1 at Chukchansi Park on Tuesday night. Toribio, who homered seven times during the regular season, had gone deep once in his previous 76 at-bats dating back to Aug. 21.
With the game knotted, 1-1, in the fourth, the 20-year-old grounded an 0-2 offering to left field for a go-ahead double that scored Ghordy Santos. Still clinging to a one-run edge, Toribio unloaded on a solo homer to right-center leading off the seventh to give San Jose a 3-1 lead. It was the first multihit effort for the Dominican Republic native since Sept. 11 and only his third this month.
Signed as an international free agent in 2017, Toribio looked to be turning a corner after a slow start, batting .291 with a .797 OPS in 53 at-bats in July. He struggled down the stretch, however, homering three times and driving in 19 runs in the final 39 games of 2021 to finish the year batting .229/.351/.356 with 28 extra-base hits, 59 runs scored and 39 RBIs.
Giants No. 8 prospect and 2020 first-round pick Patrick Bailey opened the scoring with an RBI groundout in the opening frame. Toribia's go-ahead tally in the fourth held up behind starter Kyle Harrison. San Francisco's fifth-ranked prospect surrendered one run on four hits and a walk while striking out six in 6 1/3 innings.
Randy Rodriguez and Cole Waites combined to toss 2 2/3 hitless frames out of the bullpen.
Zac Veen drove in Fresno's lone run with a single in the third. MLB.com's No. 51 overall prospect reached base three times on two singles and a walk.
Grizzlies starter Austin Kitchen was charged with three runs on eight hits and two walks with three strikeouts over six innings.
In other Low-A playoff action:
Bradenton 4, Tampa 3
Trailing by a run in the bottom of the ninth, the Marauders scored twice to snatch the victory in the opener of the best-of-5 series. Abrahan Gutierrez worked a four-pitch walk after a hit batsman loaded the bases for Bradenton. Endy Rodriguez evened the score, 3-3, with his fourth single of the game. The four hits equaled a career best for the No. 19 Pirates prospect, who batted .294/.380/.512 with 46 extra-base hits and 73 RBIs in 98 games this season. Antonio Gomez drove in all three runs for Tampa, capped by a two-run single in the eighth. The No. 25 Yankees prospect opened the scoring with a solo homer in the sixth, one inning before a two-hour rain delay halted play. Gameday box score
Charleston 4, Down East 2
An inning after tying the game with a solo home run, Johan Lopez drove in the go-ahead tally with an RBI single in the fifth to help lift the RiverDogs past the Wood Ducks in Game 1. Rays' No. 26 prospect Osleivis Basabe singled twice and plated an insurance run in the seventh for Charleston, which held Down East scoreless over the final seven innings. RiverDogs starter Ben Brecht was charged with two runs on four hits and two walks with five strikeouts in 5 2/3 innings. Cristian Inoa and Cody Freeman connected on back-to-back homers in the second for the Wood Ducks. Gameday box score