Aliendo Has Another Big Night, Pelicans Take Game One against Charleston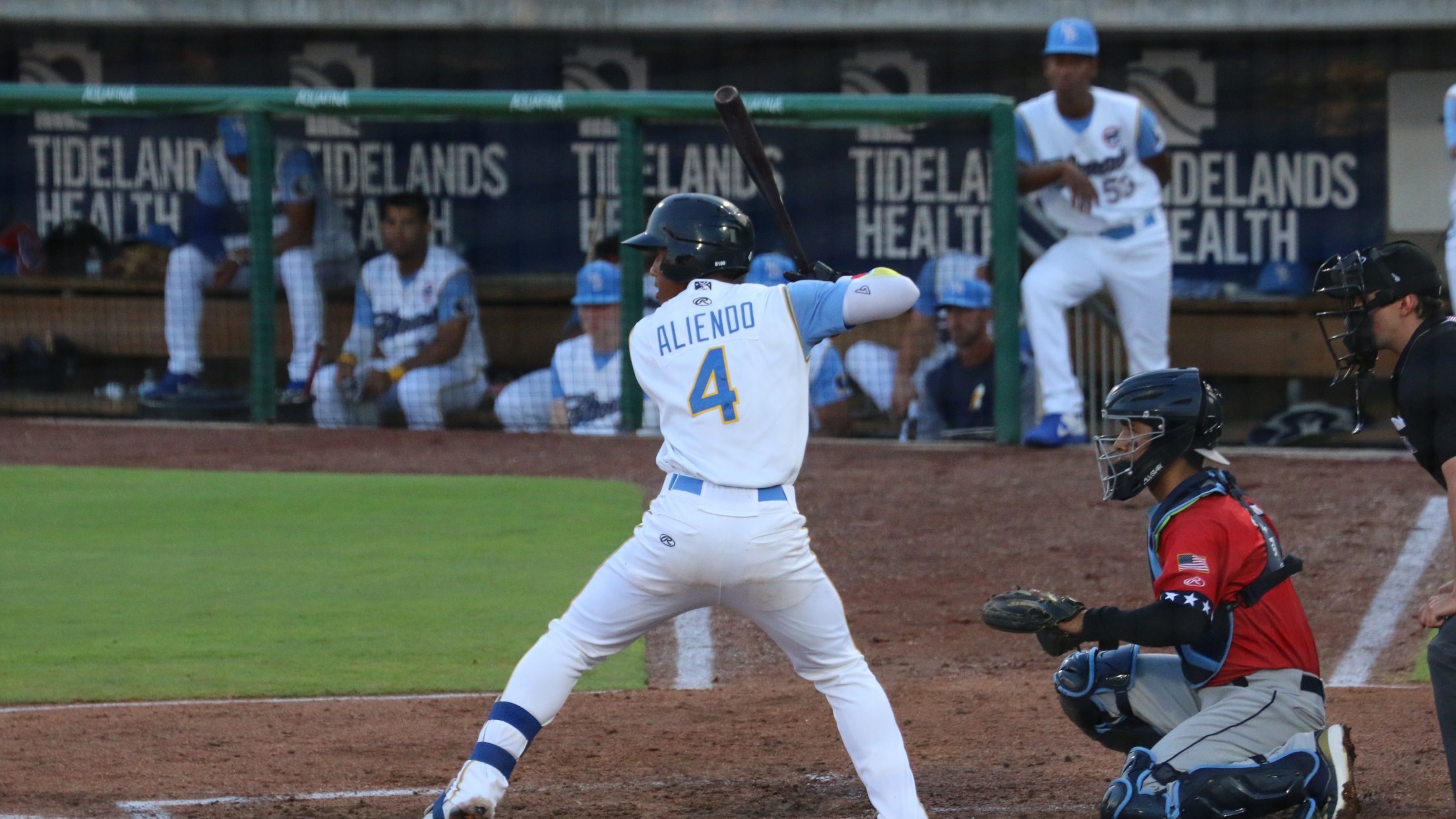 (Larry Kave/Myrtle Beach Pelicans)
By Sam Weiderhaft
The Pelicans' catcher has now hit a go-ahead home run in back-to-back games
It was Pablo Aliendo's night at Pelicans Ballpark as Myrtle Beach snapped Charleston's seven-game winning streak with a 3-2 victory on Tuesday night. The Pelicans have now won three games in a row and improve to 32-35 on the season. The RiverDogs dropped their first game in over a week and move to 46-19.
Aliendo (3-4, HR, 2B, 2 RBI) provided the tying run with a double and the winning run with a home run as he moved up to 19 RBIs on the year in the victory. Ed Howard (1-4) and Fabian Pertuz (1-3) were the only other Pelicans with hits in the game.
The win went to Carlos Ocampo (3-0) as the right-hander threw the final 2 1/3 innings with a solo home run allowed and four strikeouts. Manuel Espinoza started the game and lasted four innings while allowing just one earned run off six hits. He also walked two and struck out six.
The RiverDogs totaled seven hits with just two runs to show for it. Diego Infante (2-4, HR, RBI) led the team with a solo homer in the top of the eighth. Brett Wisely (2-4) also tallied a multi-hit game with Abiezel Ramirez (1-4, 2B, RBI) hitting an RBI double in the second.
Joe LaSorsa (0-1) took the loss after blowing the save and allowing all three runs to score with two of them being earned. Luis Moncada started the game and tossed five innings of scoreless baseball with just two hits allowed.
Charleston started off in front as Garrett Hiott hit a single off shortstop Ed Howard's glove and into center field to lead off the inning. After Espinoza retired the following two batters, Ramirez cracked a double to center field that reached the wall to score a run as Ramirez would reach third on a fielding error by Nwogu.
The RiverDogs nearly added an insurance run in the top of the fifth inning after Osleivis Basabe worked a walk to lead off the inning. Basabe would go on to steal second and advance to third by tagging up on a flyout to left. Infante came up next and hit a grounder to Howard at short, who turned to Aliendo at home and the tag was in time to throw out Basabe at home as Infante reached on a fielder's choice. The inning would end with Aliendo throwing out Basabe at second base as he tried to steal.
Myrtle Beach scored two runs in the bottom of the sixth to take the lead with Yohendrick Pinango leading off with a walk. Aliendo followed with a liner to left field that scored Pinango as Aliendo got to second for an RBI double. Jacob Wetzel followed by laying a bunt down and reaching first by a throwing error by LaSorsa with Aliendo advancing to third. Jordan Nwogu then grounded into a double play as Aliendo came in to score the go-ahead run to put Myrtle Beach up 2-1.
Infante tied the game back up 2-2 with a solo home run to deep center field off Ocampo for his seventh of the season.
Aliendo responded by hitting a moonshot down the left-field line for his fifth home run of the season in the bottom half to put the Birds back up 3-2.
Ocampo struck out two of the three batters in the top of the ninth to end the game.
Myrtle Beach and Charleston will meet for game two of the series on Wednesday night at 7:05 p.m.