Bads Is Headed To The High-A West Championship Series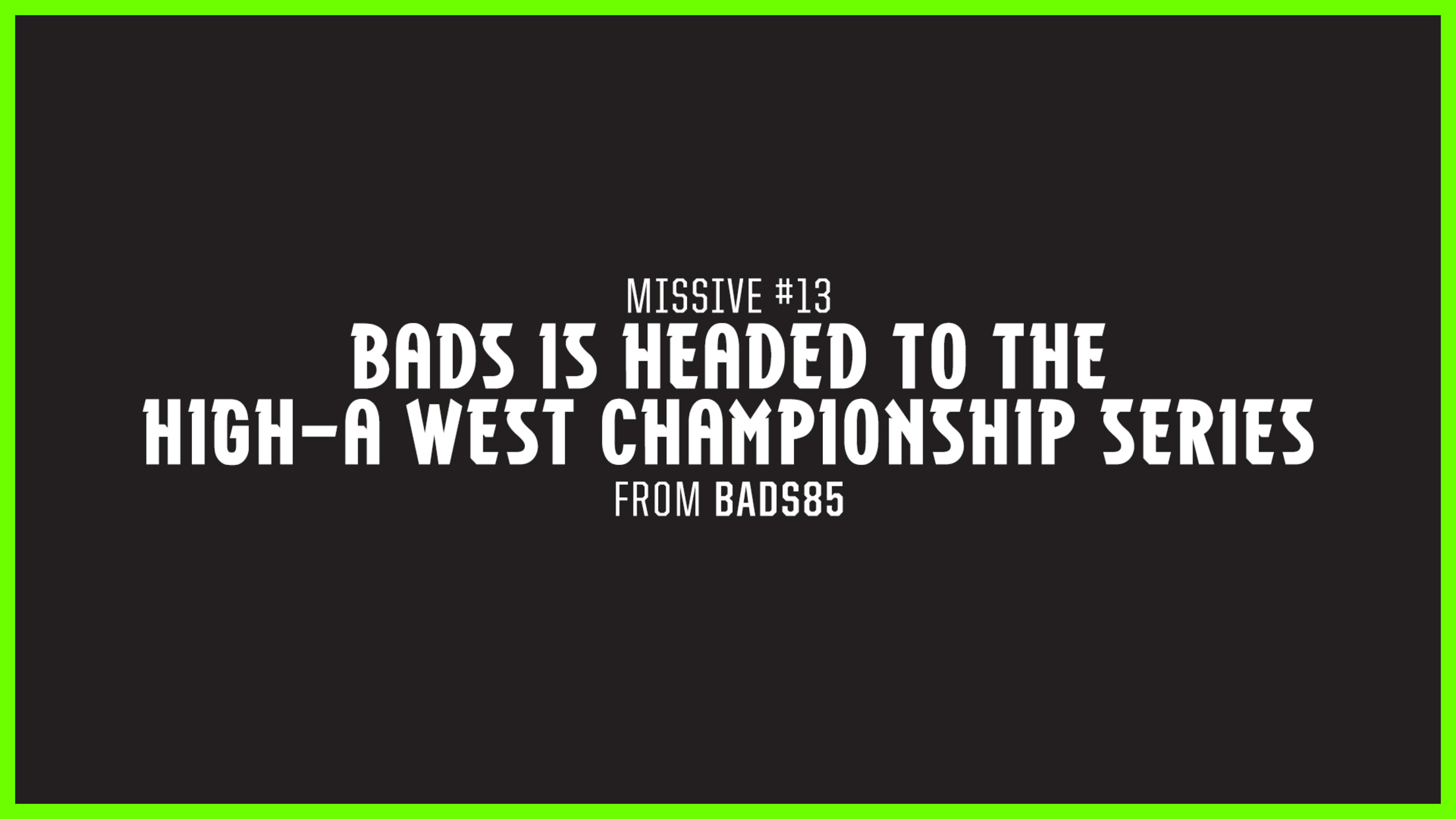 A mysterious, unofficial Minor League Ambassador known only as Bads85 has not been shy about sharing his thoughts with us (specifically, our General Manager Allan Benavides) on a wide array of issues pertaining to the Ems, MiLB, and the game of baseball at-large. Rather than simply diverting his unrelenting e-mails
A mysterious, unofficial Minor League Ambassador known only as Bads85 has not been shy about sharing his thoughts with us (specifically, our General Manager Allan Benavides) on a wide array of issues pertaining to the Ems, MiLB, and the game of baseball at-large.
Rather than simply diverting his unrelenting e-mails into our spam folders, we've decided that we'll be sharing them with you, the masses, throughout the 2021 baseball season.
[Dear Allan Benavides General Manager; Eugene Emeralds]:
By now you have certainly heard the news that shook the foundation of Minor League Baseball: I am playing in the Inland Empire 66ers' front office fantasy football league, and this week I play Joe Hudson [General Manager and two time Cal League Executive of the Year]. Much is at stake as Mr. Hudson is rumored to be a degenerate gambler, and he put a great deal of spiritual wealth on the line with a wager that his anemic team will score more points than my juggernaut team designed to steal my opponents' souls. If his team wins, I must wear the bacon costume from the hot dog launch to work. If I win, I get to design new golf polos to be sold in the Team Store, plus I will be in charge of the 66ers' Twitter account.
Yes, you read that correctly. Bads85 could be in charge of a MiLB Twitter account as early as next Tuesday. As you well know, this will change the face of social media in MiLB. Right now, there are quite a few sports management and mass communication grads that are whimpering in a fetal position in a dark room somewhere as they know there could be a new sheriff in town.
This missive is not entirely about me, however. It is about our great journey to Spokane this week for the High-A West Championship Series. Rumor is that your are bringing much of your front office staff in a brisk seven hour dash across the wasteland of rural Washington. While I am excited to see your wonderful staff again, I must ask, "Are they emotionally ready for a High-A Championship Series?" This is not some cuddly short season playoff matchup in which there are friendly mascot wars; LIVES ARE IN THE BALANCE next week. There are two types of fans in the High-A Playoffs: the Quick and the Dead. Fortunately, I will be there for your staff because I am riding this train all the way to the end.
We should probably go over some basic ground rules to share with your staff:
If the stadium has an organist, no applauding when they pause.
No one should be asking for receipts to take to their IRS audit.
No paper towels in public toilets.
No tapping stemware to see if it rings.
Don't ask what your country can do for you.
Don't leave long messages on voicemails.
Don't ask people how they got their limp.
Don't bite into a stadium delicacy, then say, "All the taste of butter without the calories."
Don't forget to sign your Christmas cards.
Don't belabor a point.
Don't belabor a point.
You might be thinking, "Wow, Bads85. That is a great deal of mandates. I thought you were footloose and fancy free, not some road trip control freak." Let me remind you we live in a society, and societies have rules.
Anyway, I don't have any really good looking, official looking Emeralds' gear, just the stuff you guys sell at your hide a bed team shop. Maybe you could find a coupe nice polos around your office and bring them to Spokane so I don't look like an unkempt slob. I, of course, will reimburse you for this expense. I am sure my Blockbuster video card is a fine way to settle any debts with you.
I need to get some sleep. I have a big weekend in store, plus I need to prepare some Tweets to release shortly after my impending victory.
Your friend in baseball,
Bads85
You can find more missives and musings from the mind of Bads85 by visiting Bads85.com.